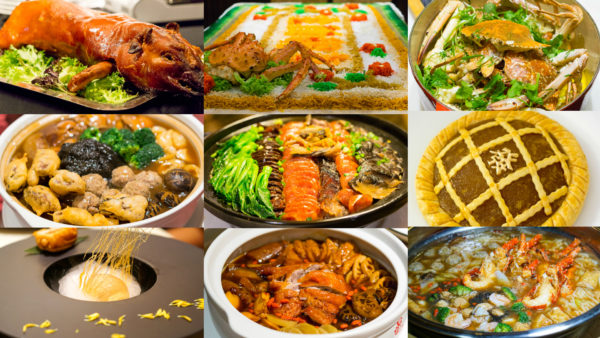 Seems like it was barely a rainy Christmas, and now we're fast approaching the sweltering season of the Fire Rooster.
If you're still looking for the perfect reunion dinner spot with your loved ones—though we hear most of the dine-in slots may have already been snatched up—here's a roundup of some delicious and auspicious dishes from top restaurants this season to consider.
---
The Carvery, Park Hotel Alexandra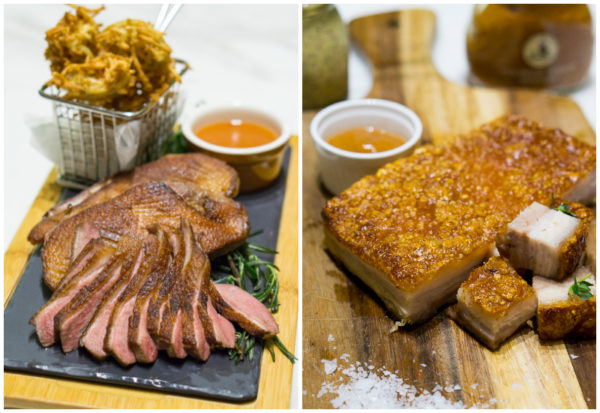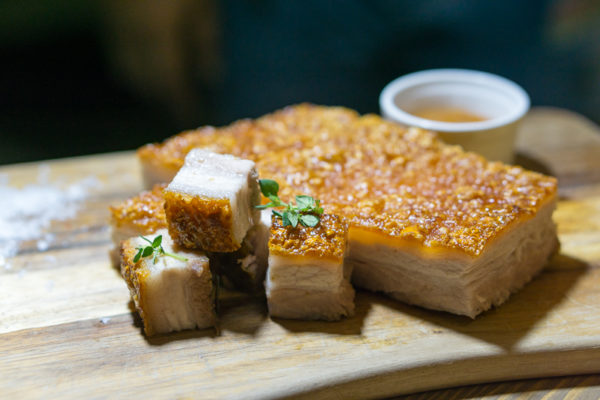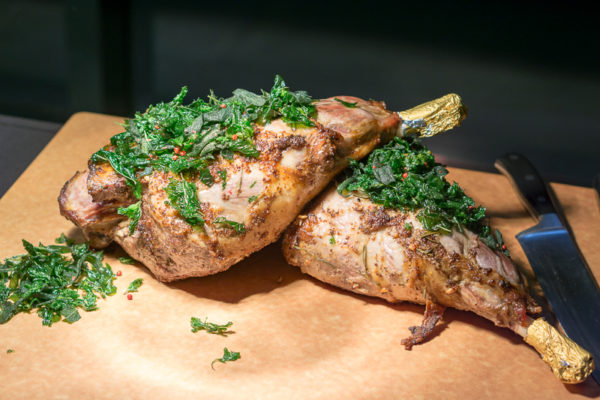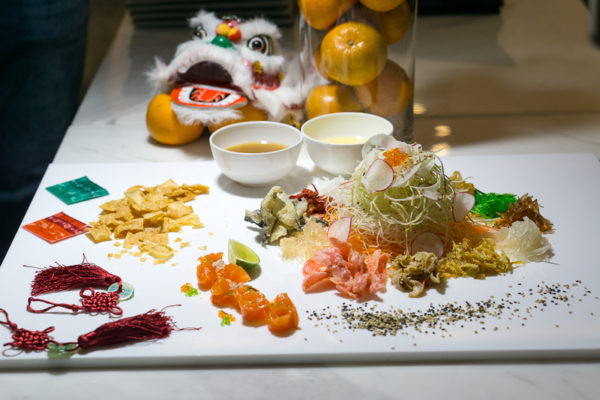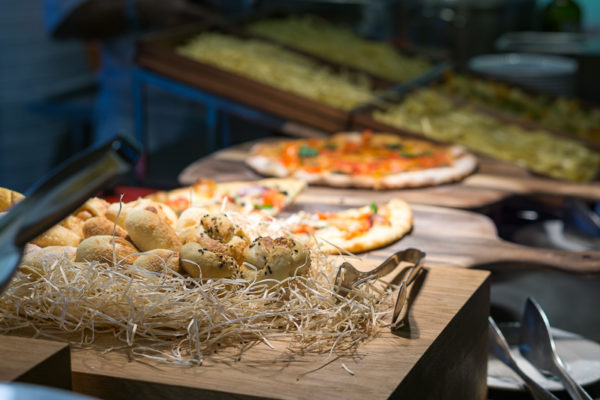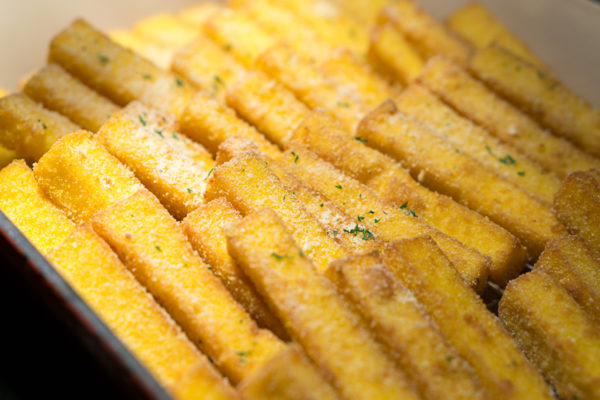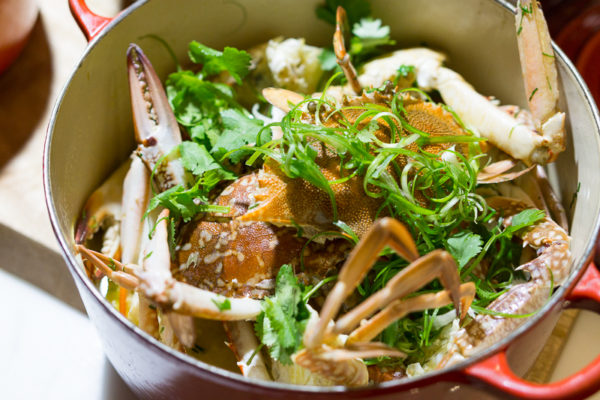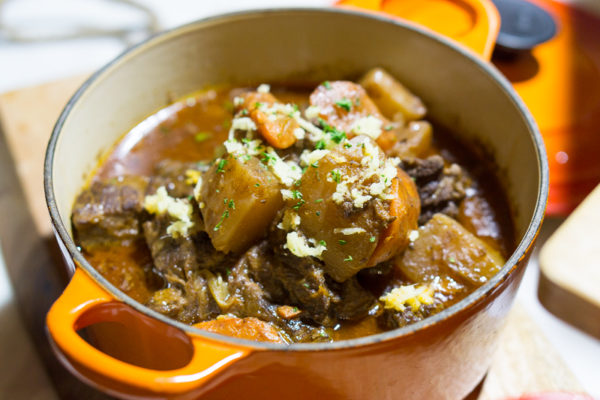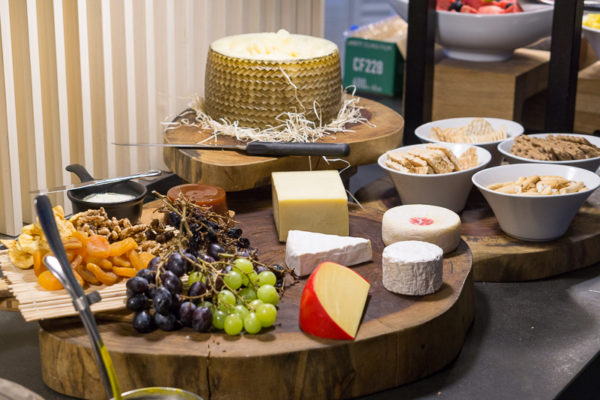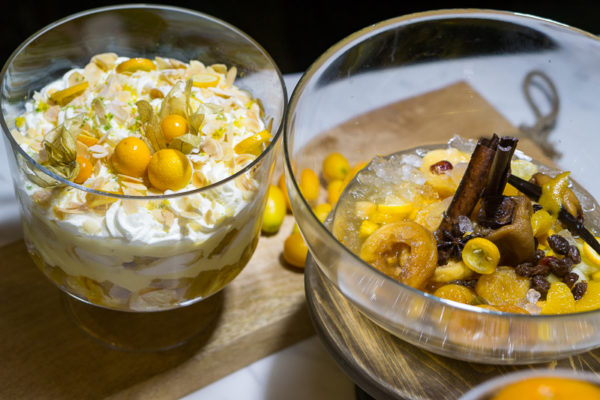 If meats and festive buffets speak to you more than the typical 'lou hei', The Carvery at Park Hotel Alexandra is probably where you should head down to this Chinese New Year.
From 10 January to 11 February 2017, their selection of premium roasts—the regular spread already exceptional and return-worthy—will be supplemented with all-you-can-eat festive specials, such as the succulent Salt Baked Chicken; slow-roasted, honey mustard-glazed New Zealand Leg of Lamb; and chef's perfectly executed, glorious Crispy Pork Belly, paired with an apricot ginger sauce.
The buffet lineup will also be spruced up with more deliciousness. Making their debut are comforting Braised Beef Brisket, Flower Crab Stew packed with natural seafood sweetness and fleshy crabs, and wonderfully done Roasted Duck Breast enjoyed with rosemary-perfumed yam croquette.
Diners may also add-on the Golden Eight Treasure Yusheng ($38.80, feeds 4-6 persons) with cured Norwegian trout, salmon roe, marinated baby octopus, jelly fish, scallops, pleasantly accentuated with crisp fish skin and deep-fried, pickled Japanese ginger.
Price for Chinese New Year meal at The Carvery starts from $45 for lunch, dinner from $55. For enquiries and reservations, please call +65 6828 8880 or email thecarvery.phal@parkhotelgroup.com.
Address: Level 7, Park Hotel Alexandra, 323 Alexandra Road, Singapore 159972
---
Cherry Garden, Mandarin Oriental Singapore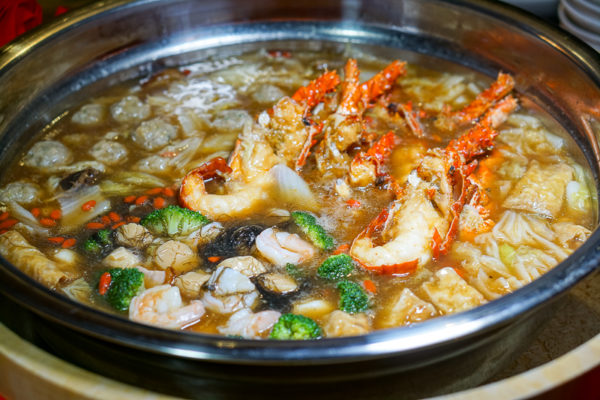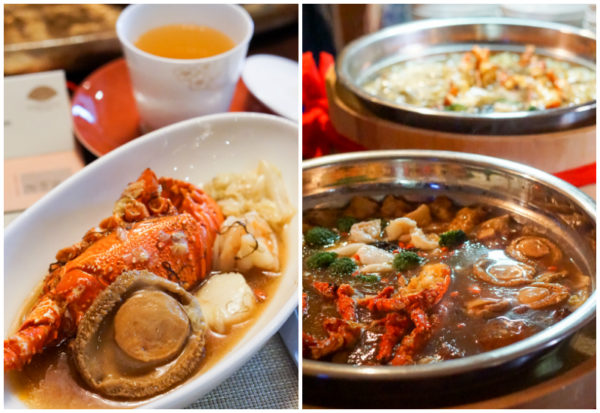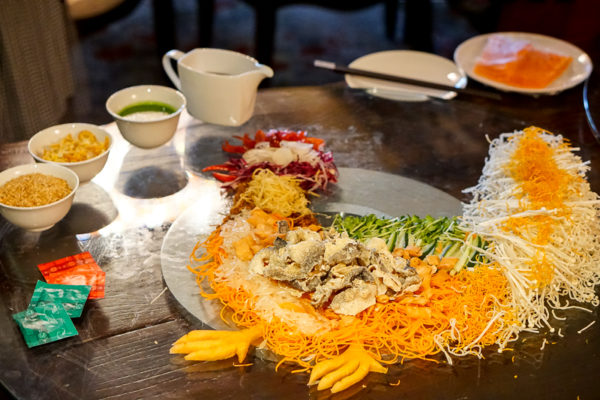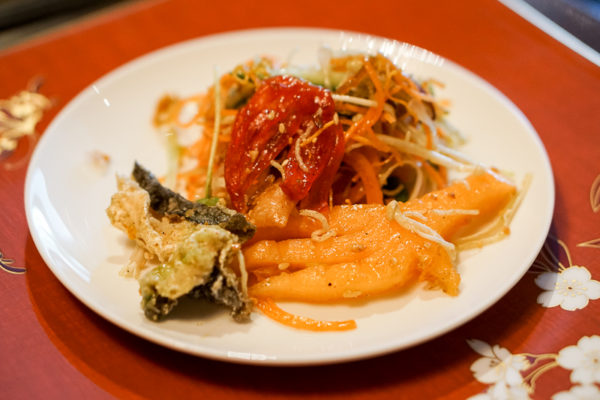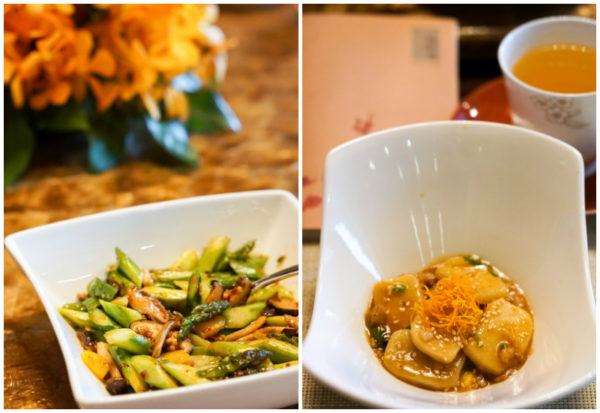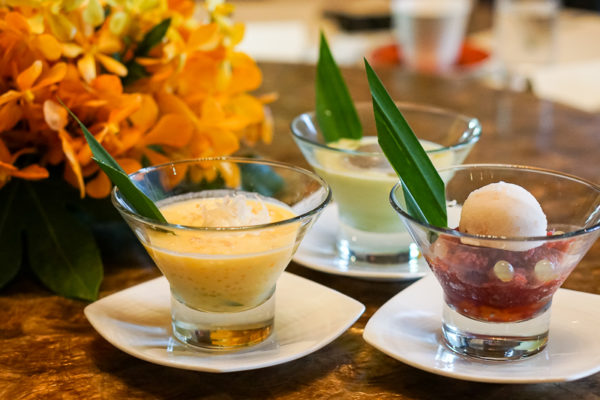 Welcome the Year of the Fire Rooster at Cherry Garden, Mandarin Oriental Singapore with celebratory Chinese New Year set menus and exquisite takeaway options, available from 5 January to 11 February 2017.
Star of their festive offerings is no doubt their prodigious Cherry Garden Luxurious Pen Cai, also Singapore's largest Pen Cai. Measuring up to 45-centimetres in diameter and weighing an astounding 25-kilogrammes, the mammoth 'bucket' comes filled with 16 premium ingredients, such as four-head abalone, lobsters, scallops, sea cucumbers, prawns, dried oyster rolls, roasted duck, lotus chicken, roasted pork belly, waxed sausages, and dace fillet.
A smaller version is also available for takeaway. The Cherry Garden Treasure Pot ($340 for 5 persons, $680 for 10 persons, takeaway only) is packed with 13 ingredients (sea cucumber, abalone, conpoy, dace fillet, scallop, prawn, dried oyster, roasted pork, roasted duck, Chinese sausage, black moss, mushroom, and cabbage).
Another noteworthy dish is chef's savoury take on Nian Gao. The Braised Shanghai Nian Gao features chewy rice cakes draped in a delectable sauce, enjoyed with Kurobuta pork and mixed greens.
For restaurant reservations, please call Cherry Garden at +65 6885 3500 or e-mail mosin-dining@mohg.com. For takeaway orders or enquiries, please e-mail mosin-festive@mohg.com or call 6885 3081.
Address: Level 5, Mandarin Oriental Singapore, 5 Raffles Avenue, Singapore 039797
---
Golden Peony, Conrad Centennial Singapore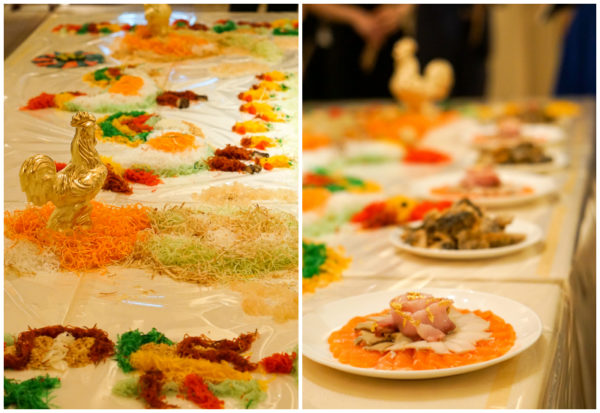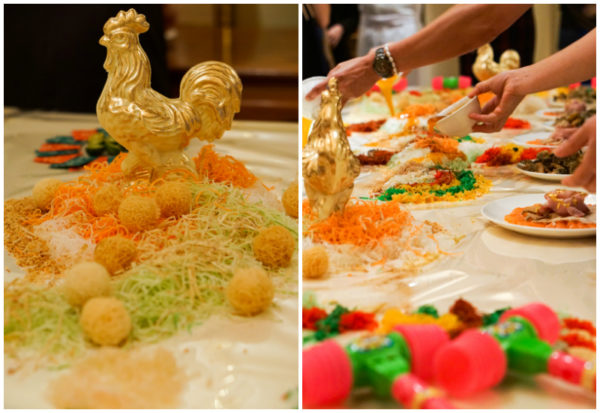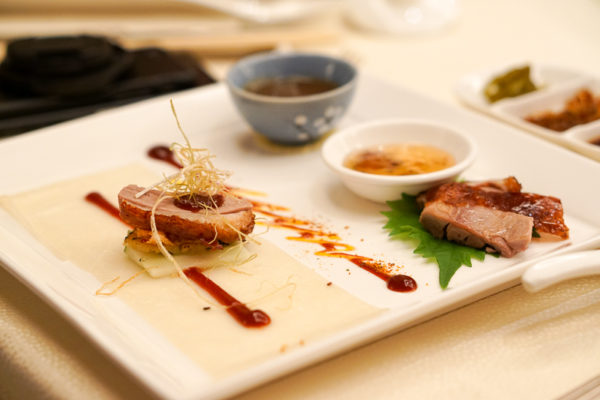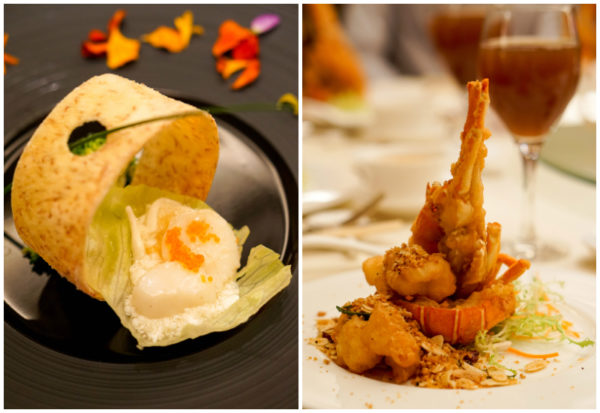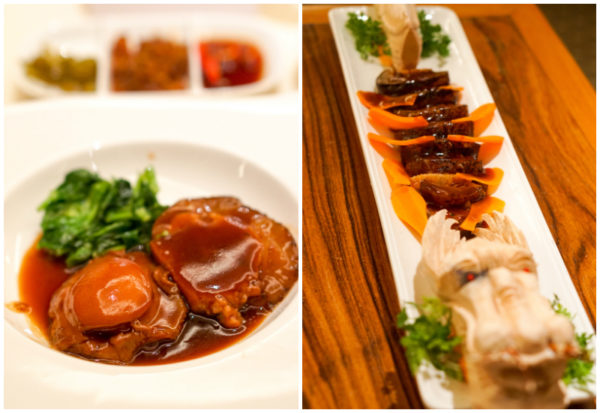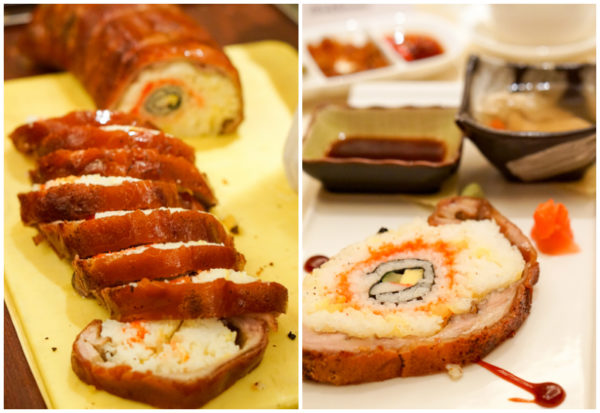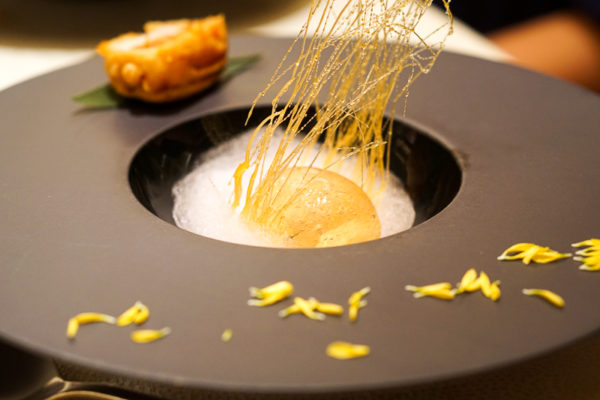 Award-winning Golden Peony at Conrad Centennial Singapore rolls out some new and innovative prosperity dishes this year, available 10 January 2017 to 11 February 2017.
The more typical creations include the delicious 'Bi Feng Tang' Golden Half Lobster with Spiced Almond Flakes ($38) that's exploding with spice and flavour, and their impressive Fortune 3D Fiery Rooster Yu Sheng ($888) that comes with with abalone, kanpachi, salmon, crispy fish skin and white bait. The setup comes with toy hammers that you diners can use to 'smash' open the golden chocolate roosters to reveal chocolate ingots.
Other notable highlights include the masterfully executed Braised Abalone & Sea Cucumber stuffed with Minced Shrimp and Pork, blanketed in a savoury sauce, and chef's gorgeously plated Golden Egg Bird's Nest Jelly ($28) that teams childhood memories of cotton candy with an almost egg-sized globe of bird's nest.
The more adventurous can go for Executive Chinese Chef Ku Keung's Whole Roast Suckling Pig ($338). This time round, a giant California maki fills the space, under that brilliantly crisp skin and satisfying meat, where glutinous rice stuffing is usually found. I much preferred Hainanese chicken rice stuffing from previous year.
For reservations, please call +65 6432 7482/88 or email sinci.goldenpeony@conradhotels.com.
Address: Level 3, Conrad Centennial Singapore, 2 Temasek Blvd, Singapore 038983
---
Goodwood Park Hotel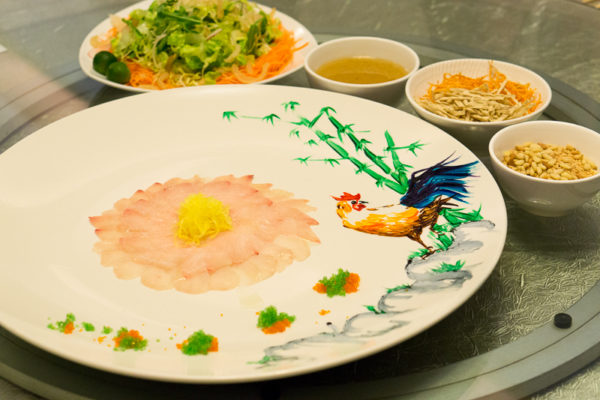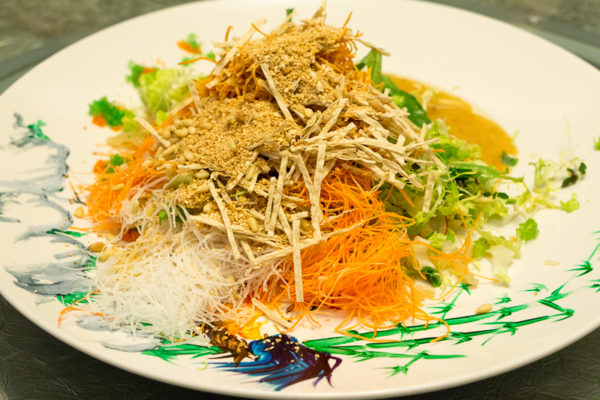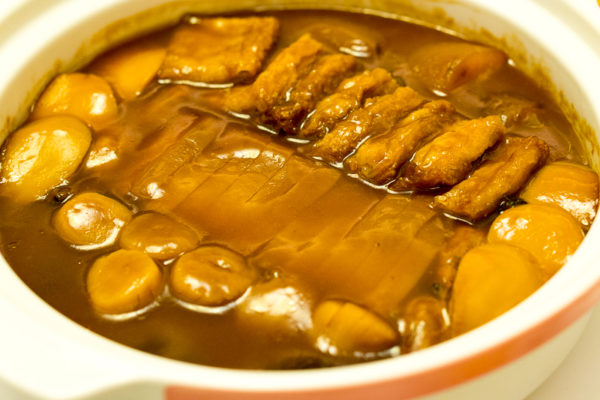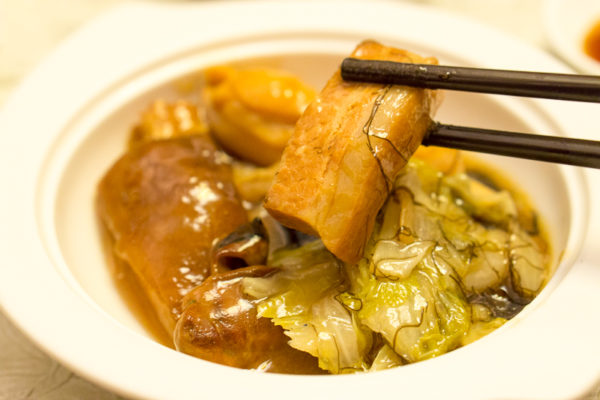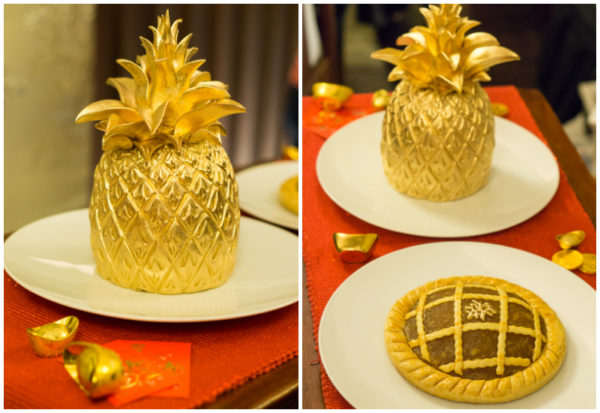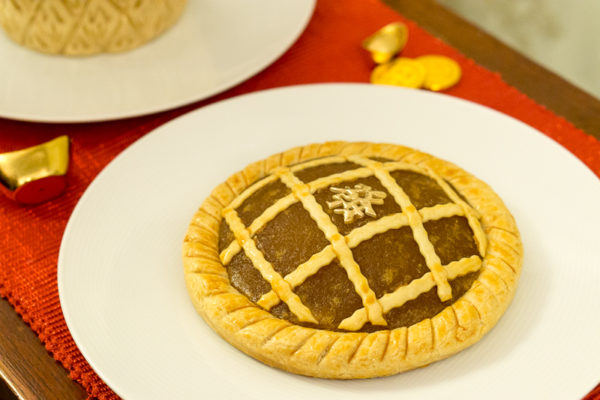 Goodwood Park Hotel gives abundance of reasons to be joyous this Chinese New Year with a plethora of festive offerings, available 10 January to 11 February 2017 that you can savour from Min Jiang, Min Jiang at One-North and The Deli—each serving up their own sumptuous specialities.
A definite highlight is the unique Prosperity Amberjack Yusheng ($168 large, dine-in at Min Jiang only) by Master Chef Chan Hwan Kee that comes served with an vibrant rooster illustration. Enjoyed with a homemade dressing blend of mustard, lime juice, sesame, peanut and plum sauce, the wonderfully textured dish—thanks to crispy strips of fried sweet potato and baked cod—is zesty, nutty and creamy all at once with an intriguing, underlying heat.
For takeaways, go straight for Braised Pork Belly with Sea Treasures in Claypot (feeds 6 persons, available only at Min Jiang at One-North; dine-in $268, takeaway $286.75) where melt-in-the-mouth tender Dutch pork belly meets a party of Australian 10-head abalones, sea cucumber, dried oysters, dried scallops, and more, in a lip-smacking brown gravy.
Or go ultra festive with The Deli's Auspicious Golden Pineapple ($94.15, 1kg) or 'king of pineapple tarts' The Huat Tart ($40.65, 500g), an extravagant 6.5-inch creation of delectable, homemade fresh pineapple reduction infused with vanilla.
For enquiries and reservations, please call Min Jiang at +64 6730 1704 or email min_jiang@goodwoodparkhotel.com, Min Jiang at One-North at +65 6774 0122 or email mj1n@goodwoodparkhotel.com, and The Deli at +65 6730 1786 or email deli@goodwoodparkhotel.com to place reservations or takeaway orders.
Alternatively, visit http://festivepromotions.goodwoodparkhotel.com.
Goodwood Park Hotel Singapore
Address: 22 Scotts Rd, Goodwood Park Hotel, Singapore 228221
Min Jiang at One-North
Address: 5 Rochester Park, Singapore 139216
---
Jade, The Fullerton Hotel Singapore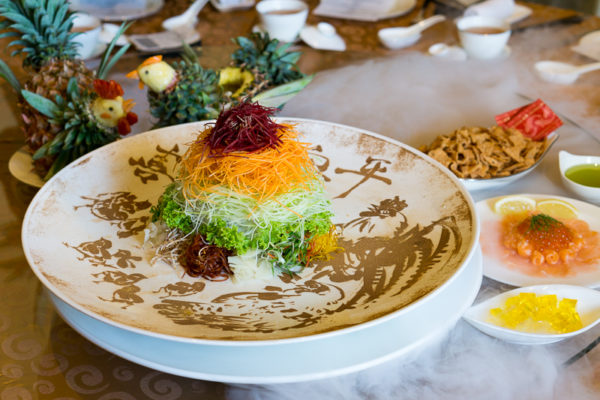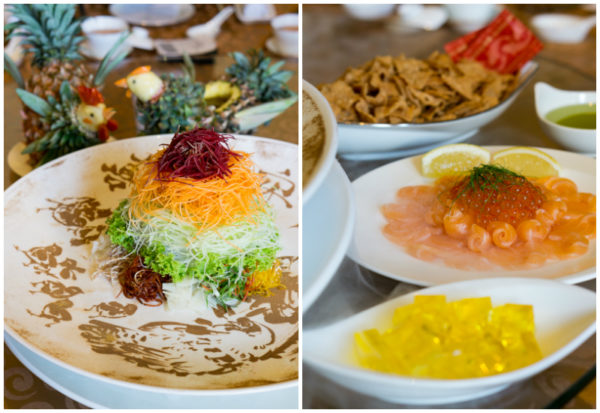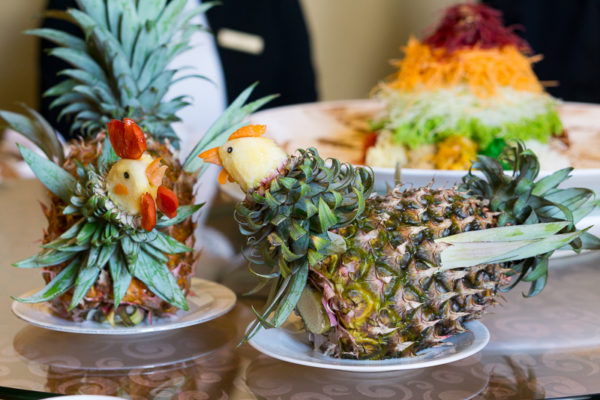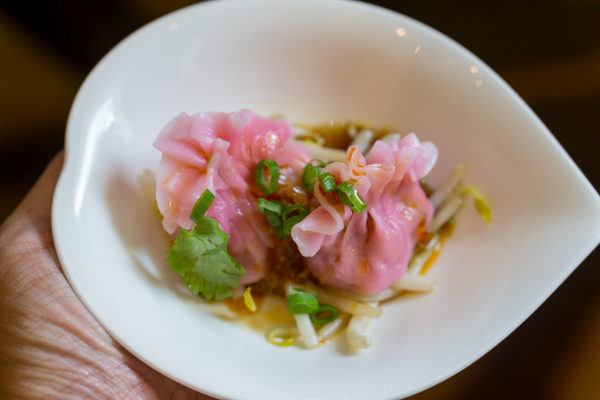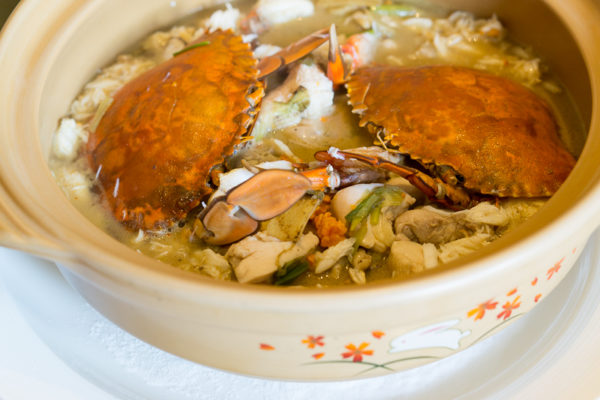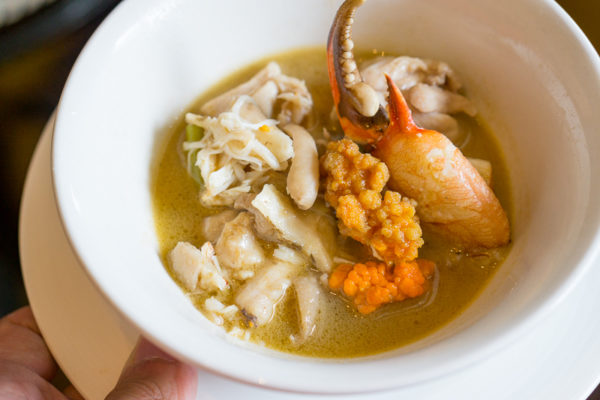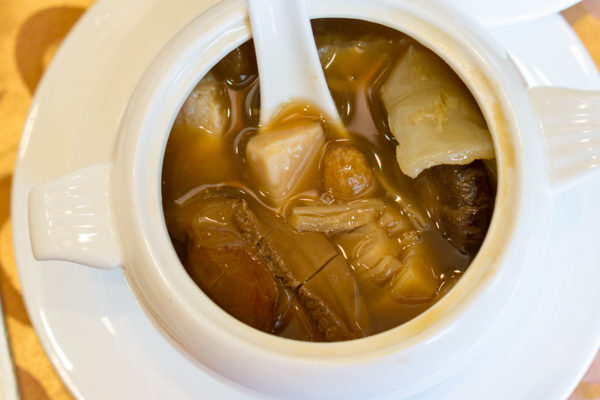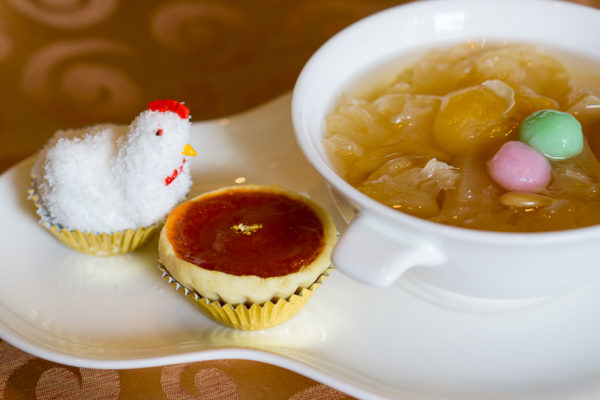 Master Chef Leong Chee Yeng of Jade, The Fullerton Hotel Singapore presents a delightful spread of festive-filled a la carte dishes, set menus and festive takeaways to usher in good tidings this Chinese New Year, available 9 January 2017 to 11 February 2017.
His signature Eight Happiness Gold Rush Yusheng ($68 small, $98 medium, $138 large), spotting hand-painted calligraphy, is updated with champagne jelly, salmon, and umami bursts of roe to punctuate chef's tangy honey-pineapple dressing.
Must-tries include chef's surf 'n' turf Stewed Chicken with Crab Meat & Duo Chinese Wine in Claypot ($68 half, $128 whole), as well as the full-flavoured 'mini Pen Cai' of Braised six head Abalone, Fish Maw, Sea Cucumber, Deep-fried Fish Maw, Chinese Cabbage, Flower Mushrooms, Roasted Garlic and Roasted Pork ($68 per person). I say start with a bite of the roasted garlic—that hearty deep, slightly sweet taste forms a base to give the dish more oomph.
Also delicious are his exquisite dim sum offering of Poached Chicken Dumpling in the adorable style of a cockscomb, and the Simmered Boston Lobster in Premium Soya Sauce ($88, 700g per lobster), enjoyed with a festive-filled 'gold' ball packed with crab meat and foie gras.
If you like something refreshing, try the dessert of Double boiled Apple, Snow Fungus & Almond Sweet Soup with Glutinous Dumpling ($10) that has an uncommon touch of tangy apricot.
For enquiries and reservations, please call +65 6877 8911 / 8912 or email festive@fullertonhotel.com. Online orders may be made at http://shop.fullertonhotel.com/.
Address: Lobby level, The Fullerton Hotel Singapore, 1 Fullerton Square, Singapore 049178
---
Li Bai Cantonese Restaurant, Sheraton Towers Singapore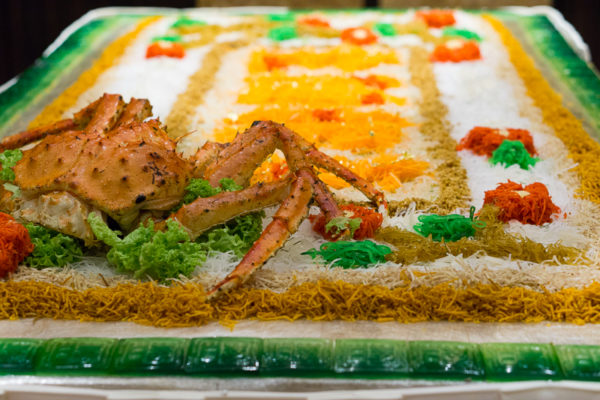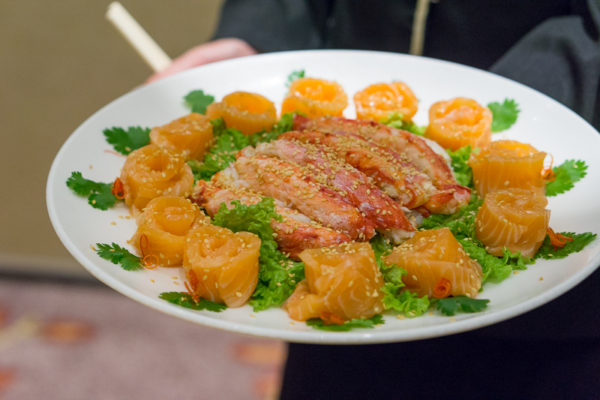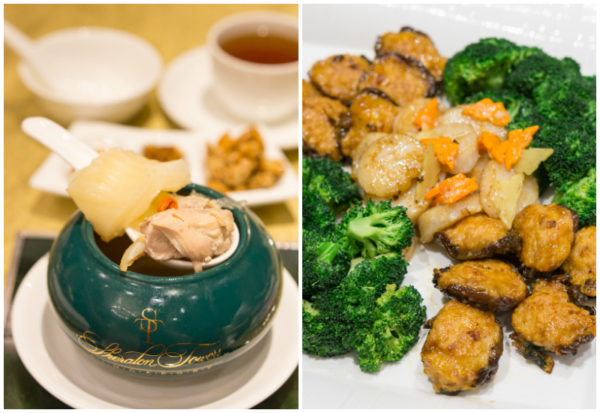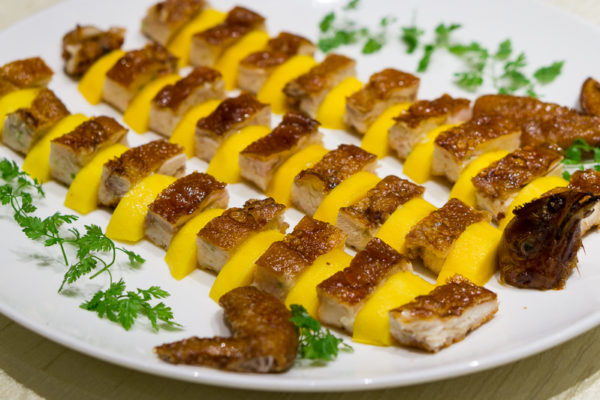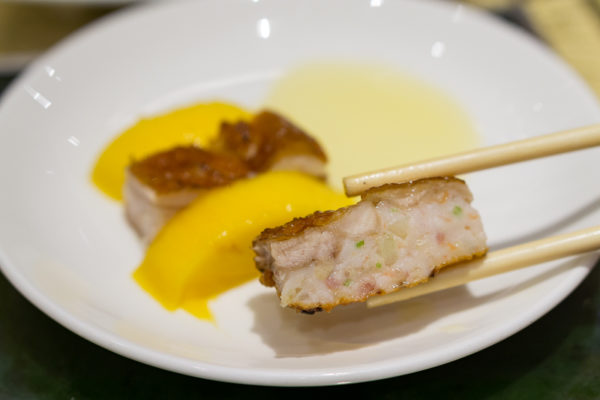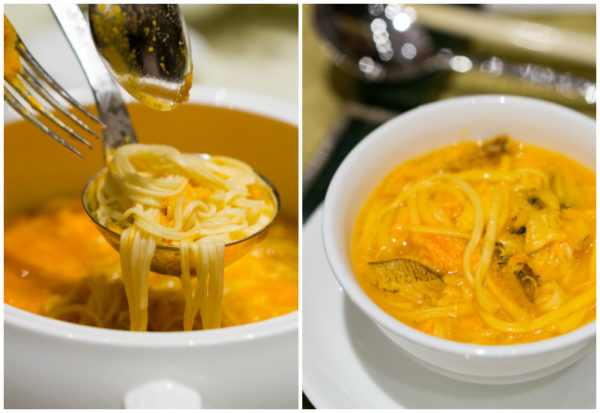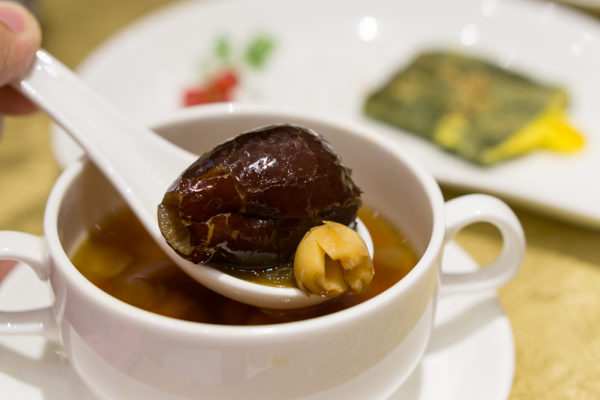 Traditionalists, relish in Li Bai Cantonese Restaurant's exquisite classics this Chinese New Year from 11 January to 11 February 2017.
Their range of finessed double boiled soups—chef delighted us with a Double Boiled Bird's Nest Soup with Fish Maw & Chicken, enhanced with American ginseng at the media preview—is always a highlight, and their Yusheng's, a grand and tasty spectacle.
New to their Yusheng menu is the Alaskan Crab Yusheng ($138.00 small, $260.00 large) spotlighting succulent, sweet flesh expertly removed from Alaskan crab legs. Despite the large amount of ingredients and sauce, the flavour-packed mix is kept light with addition of crisp, thin fried sweet potato strips.
Other must-tries include the highly popular Lobster & Abalone Fortune Pot ($398.00 for 6 persons, available for takeaway) that makes a return this year, as well as silky Ee-fu Noodles enjoyed in a rich, slurp-worthy crab roe and crabmeat soup, reminiscent of the hairy crab season.
For enquiries and reservations, please call +65 6839 5623 or email reservations@sheratonsingapore.com.
Address: Lower Lobby Level, Sheraton Towers Singapore, 39 Scotts Road, Singapore 228230
---
Man Fu Yuan, InterContinental Singapore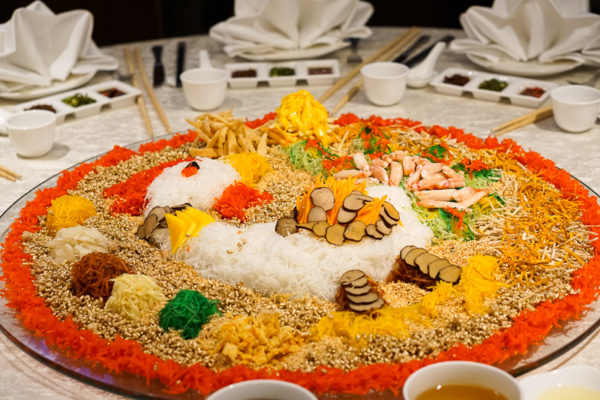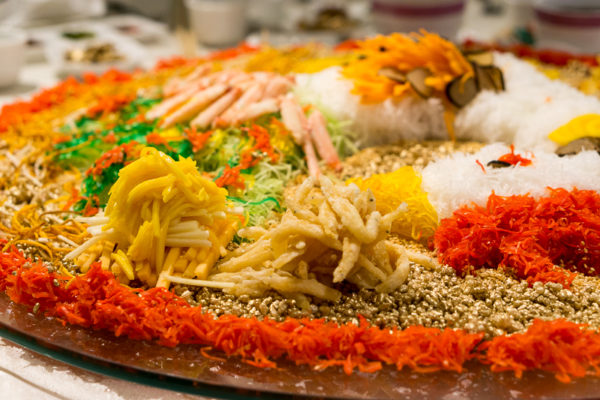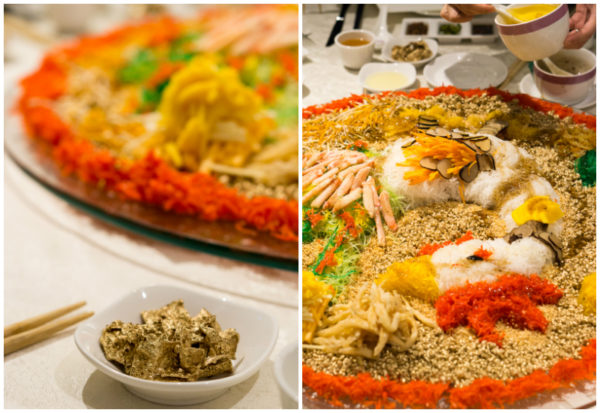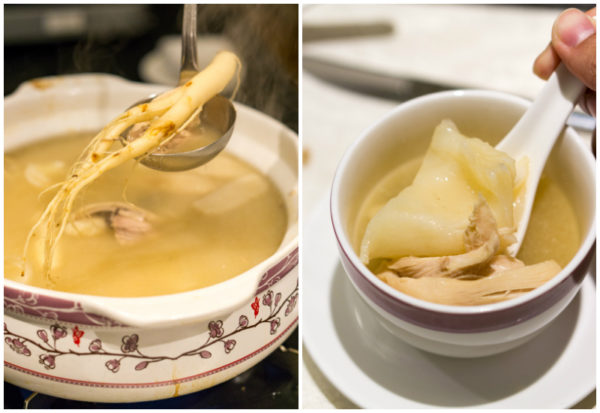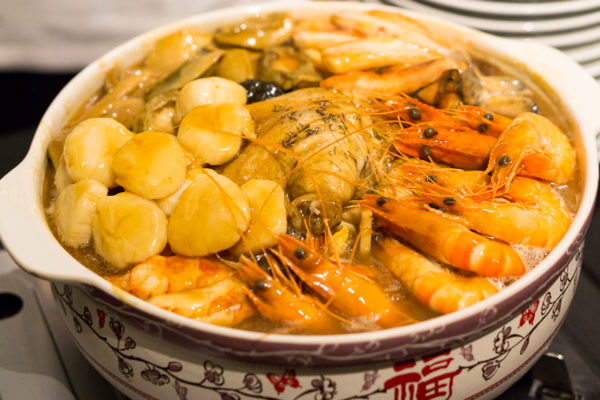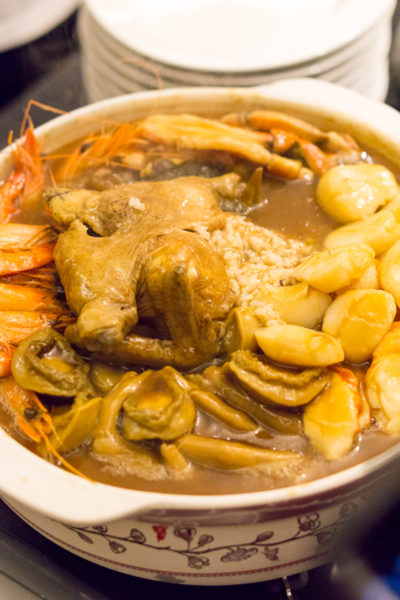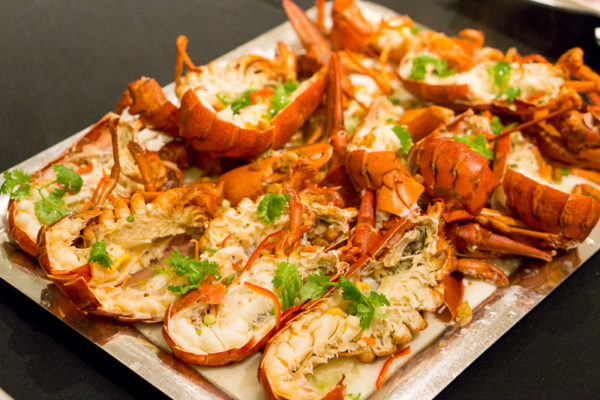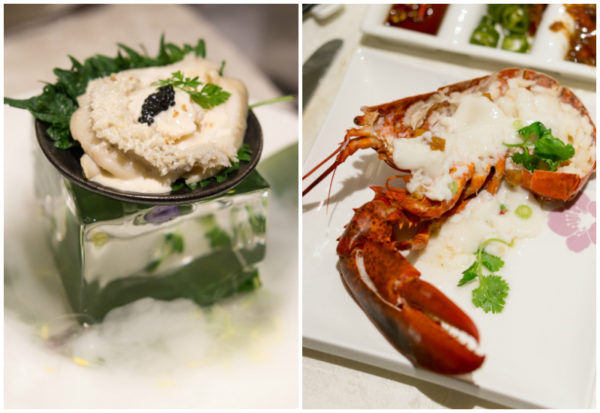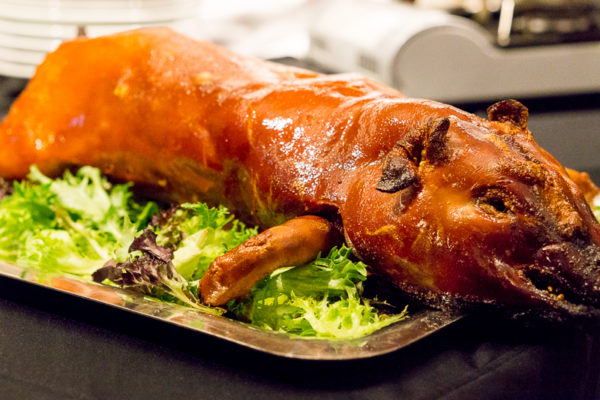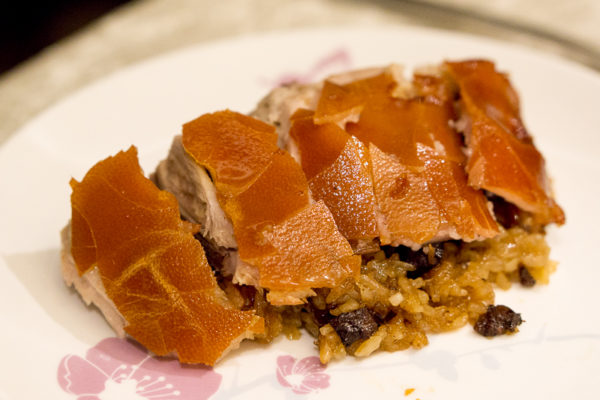 If you're looking to impress, I recommend welcoming the year of the rooster at Man Fu Yuan, InterContinental Singapore where reunions are elevated to new heights with excellent service and an elaborate bevy of masterful Chinese New Year set menu and dishes by Executive Chinese Chef Kwan Yiu Kam featuring both premium delicacies and luxe ingredients, available 2 January till 11 February 2017.
Must-orders include the lavish Black Truffle Yu Sheng with Deep Sea Red Crab, Silver Bait Fish & Fresh Fruits ($138, feeds 8-10 persons)—earthy, aromatic notes of black truffle and vibrant, ripe fruits work in tandem to accentuate the natural sweetness of deep sea red crab—as well as the nourishing, warm Double-boiled Chicken Soup with Korean Ginseng & Fish Maw ($298, serves 5).
Not-to-be-missed perennial highlights are, of course their Man Fu Yuan Supreme Pot ($398, serves 5)—a treasure trove filled to the brim with over 18 prized ingredients, such as 10-head while abalone, whole spring chicken stuffed with aged Hua Tiao wine and pearl rice, deep sea red crab, Canadian lobster, Australian scallops, selection of preserved meat and liver sausages, and more—and the top-notch signature Whole Suckling Pig stuffed with Glutinous Rice ($388). Satisfyingly, crisp skin breaks to reveal succulent meat over toothsome, wok-fried glutinous rice.
For enquiries and reservations, please call +65 6825 1007 or email sinhb-festive@ihg.com, or visit singapore.intercontinental.com/manfuyuan.
Address: Level 2, InterContinental Singapore, 80 Middle Road, Singapore 188966
---
Silk Road, Amara Singapore Hotel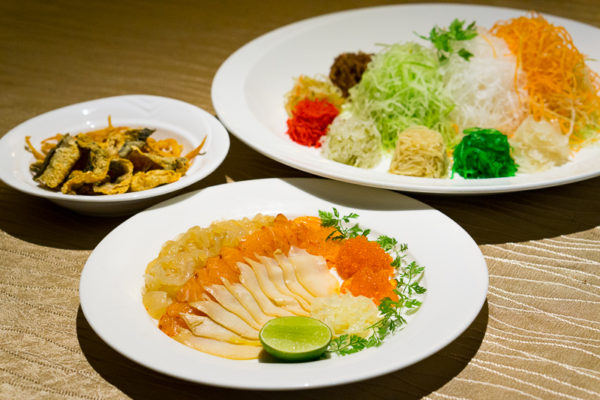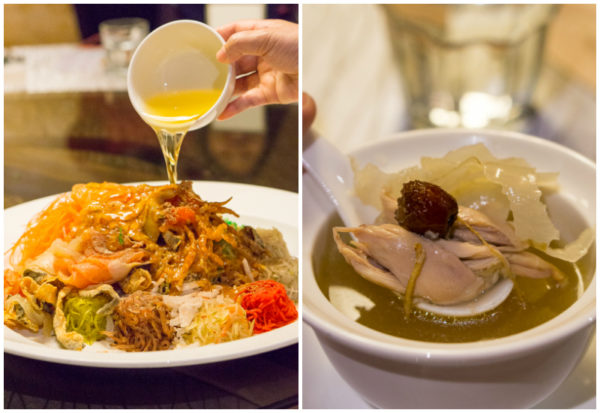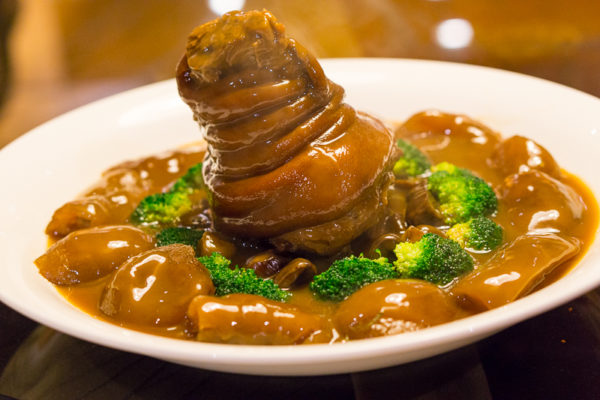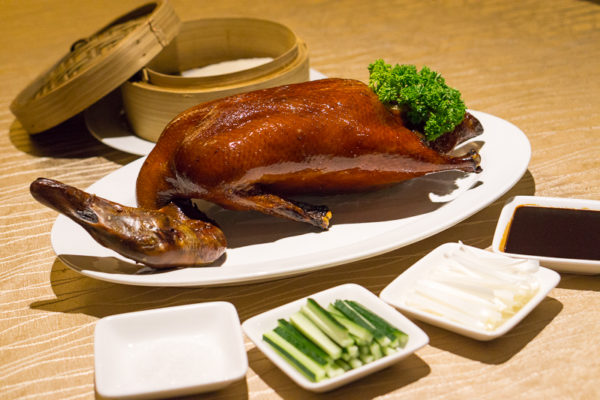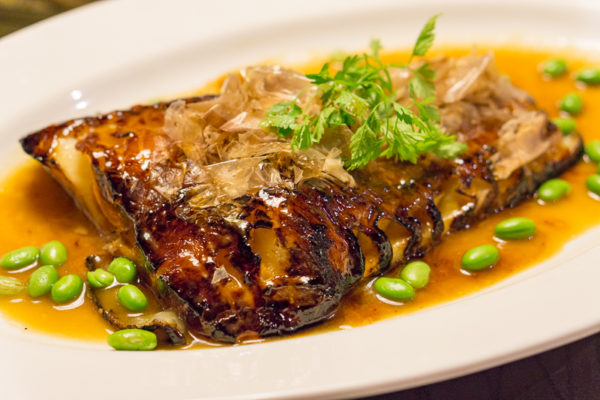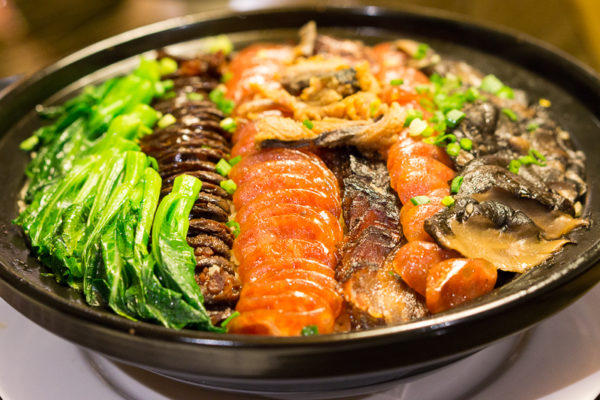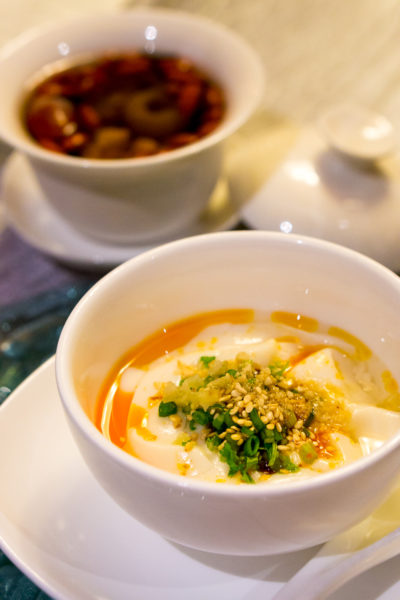 Spice-lovers will relish the tantalizing Chinese New Year creations (available 3 January till 12 February 2017) at Silk Road, Amara Singapore bearing authentic, beautifully balanced flavours of Szechuan cuisine.
A definite highlight is their signature Prosperity Eight Treasures Yusheng. The platter, featuring abalone, cured salmon, jellyfish, whitebait and crisp salmon skin, is drizzled with an appetizing and robust Szechuan dressing sauce, then uniquely balanced with umami from Ikura (salmon roe) and Tobiko (flying fish roe) and sweetness of pomelo.
Also delicious is their brilliantly tender Braised Pork Knuckle with Sea Cucumber & Chestnut in slurp-worthy gravy accentuated by a dash of bonito, s well as chef's masterful Steamed Fragrant Rice with mouth-watering, heady aromas of salted fish and preserved meat sausages.
The Szechuan-style Tofu, served with condiments, is a dish even 'Mala' beginners will love. Smooth, silly tofu is topped with bright, aromatic Szechuan sauce that gives the typically sweet dessert an alluring, spicy kick.
For enquiries and reservations, please call +65 6227 3848 or email silkroad@amaraholdings.com.
Address: Level 2, Amara Singapore Hote, 165 Tanjong Pagar Road, Singapore 088539
---
Wan Hao, Singapore Marriott Tang Plaza Hotel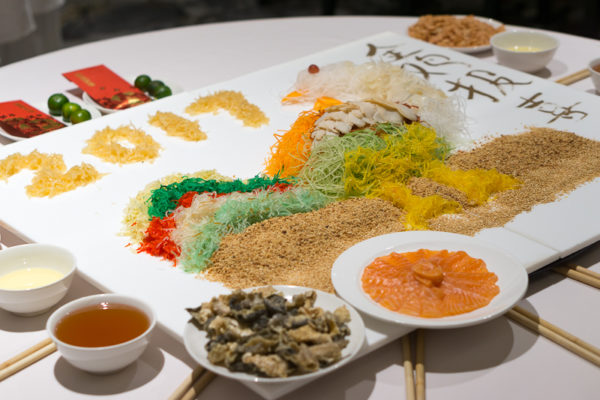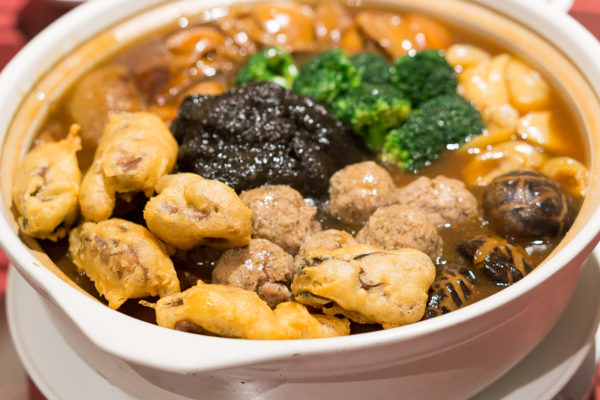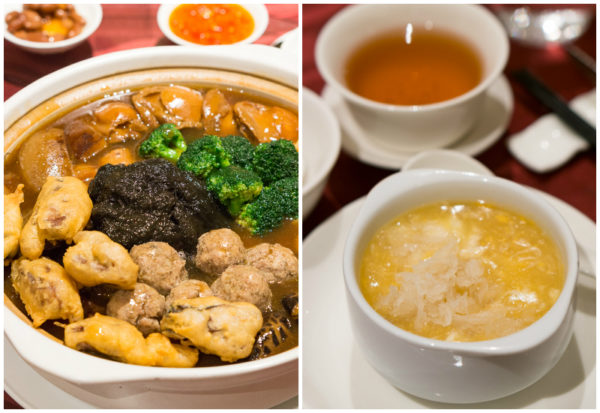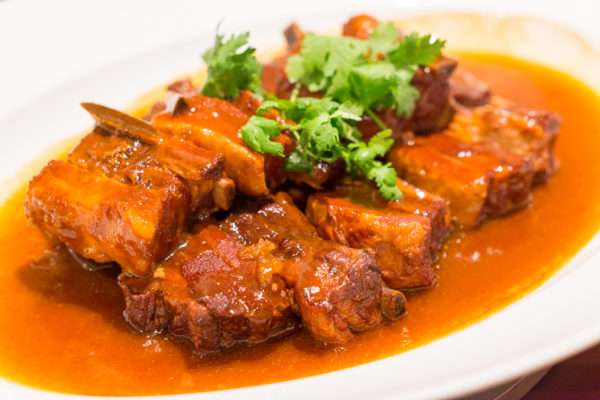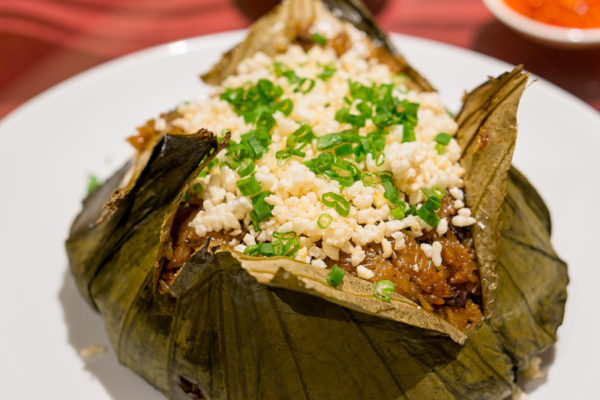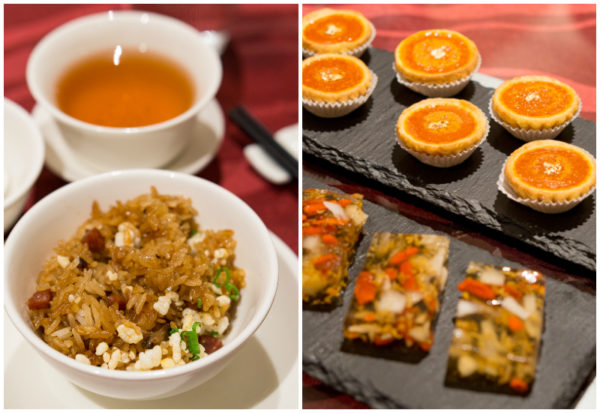 Between 9 January 2017 and 11 February 2017, celebrate the lunar new year with your loved ones at Wan Hao Chinese Restaurant, Singapore Marriott Tang Plaza Hotel as Executive Chinese Chef Brian Wong presents some elaborate set menus, ranging from $98.80 per person (4 to 8 persons) to the more lavish at $1888 per 10 persons.
Key highlight this year is their Wan Hao Nourishing Pen Cai ($688 feeds 6 persons; $1088, 10 persons) featuring 3-head Australian abalone, black moss Iberico meatballs, and more, with mouth-watering accompaniments of collagen-rich, whole pig trotter and crispy, almost crunchy fried dried oysters.
Close seconds are chef's flavoursome Braised Bird's Nest Broth—made from a base of chicken, Chinese ham and pork, that's swimming with crab meat, conpoy and wolfberries, as well as the Stewed Spare Ribs with an interesting hawthorn and preserved plum sauce ($30 per portion).
I also particularly like their modern sweet treat of Golden Nian Gao & Yam Tarts ($28nett for 8 pieces) of little pastry shells filled with sweet yam paste and chewy, fragrant glutinous rice cake.
Wan Hao also has a wide variety of vegetarian options, such as the Braised Vegetarian Bird's Nest with Vegetarian Crab Roe & Assorted Mushroom ($48 per person), Deep-fried Vegetarian Prawn with Wasabi Mayonnaise ($26 per portion), Hot & Sour Soup with Vegetarian Abalone & Sea Cucumber Broth ($18 per person), and more.
For enquiries and reservations, please call +65 6831 4605 or email mhrs.sindt.fb.reservations@marriotthotels.com.
Address: 320 Orchard Road, Singapore 238865
---
Xin Cuisine, Holiday Inn Singapore Atrium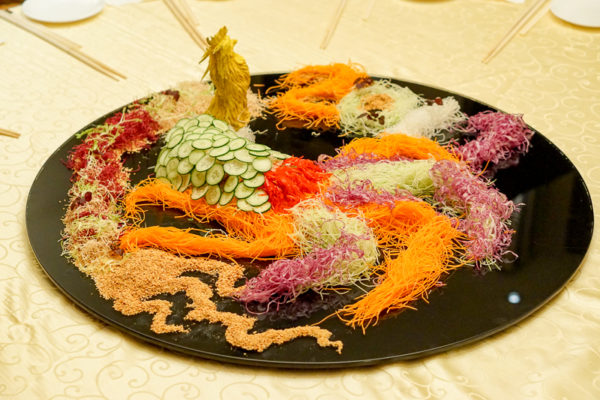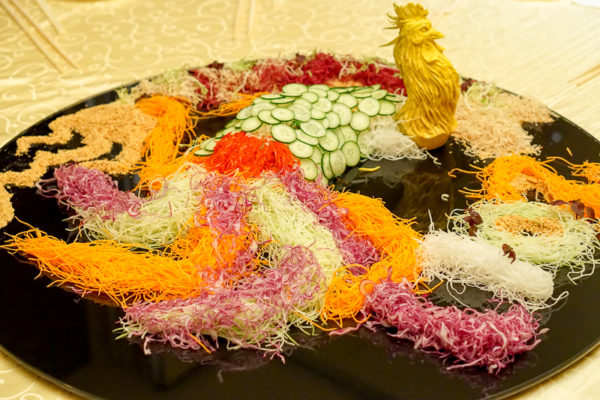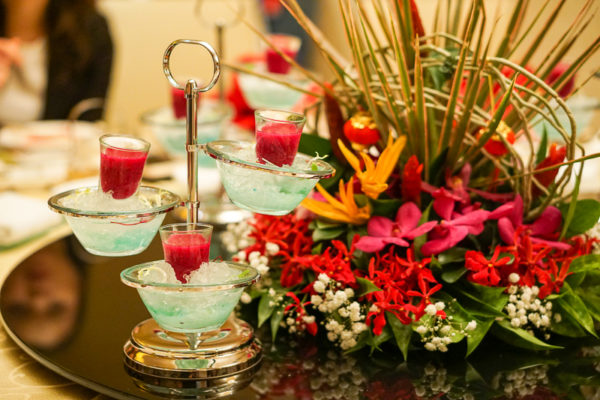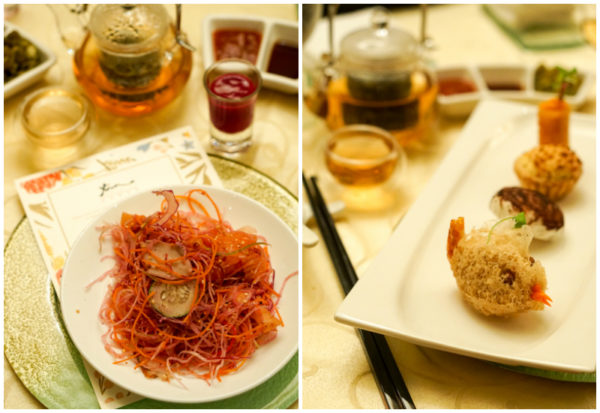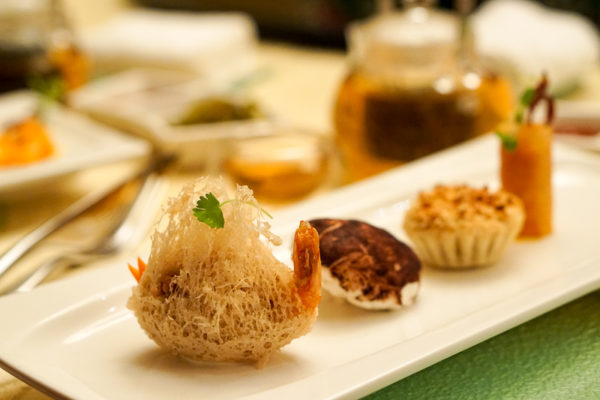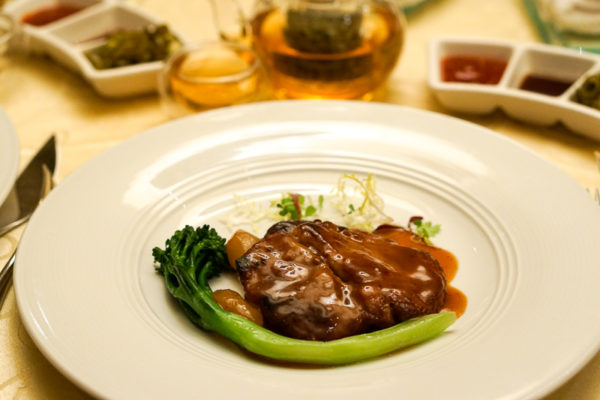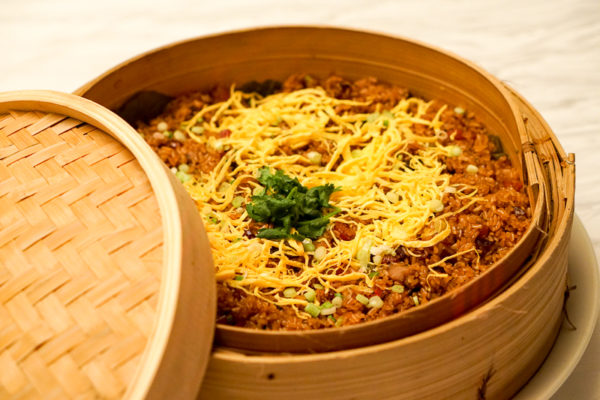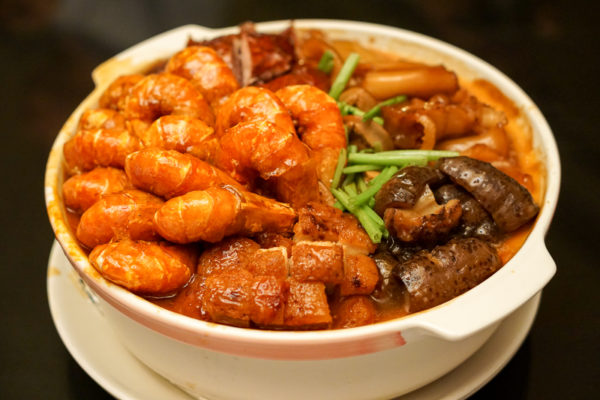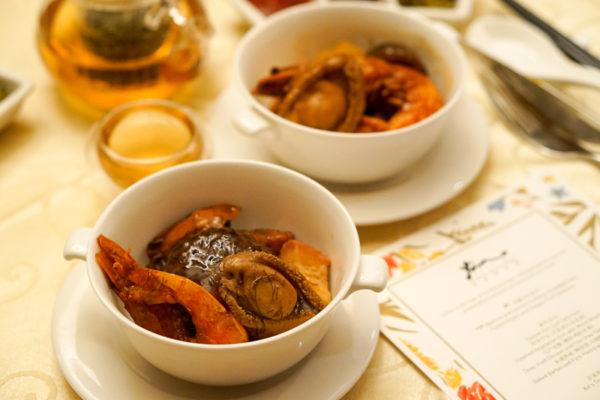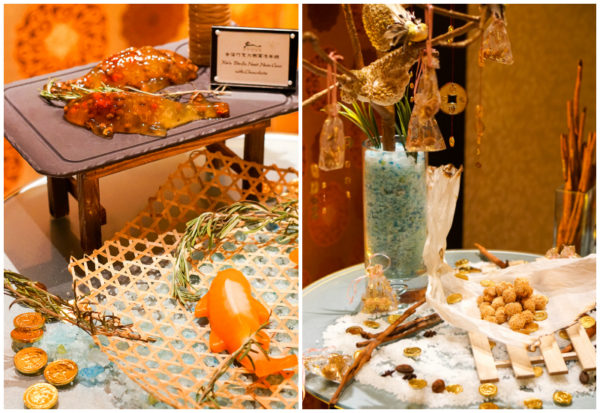 Indulge in the traditional with masterful Chinese New Year creations, available (2 January to 12 February 2o17), at the highly underrated Xin Cuisine, Holiday Inn Singapore Atrium.
Toss to a year of great health with their new, healthier Abalone & Salmon Yusheng with shredded yam, sweet potato with a homemade, vibrant dragon fruit dressing ($98 small, $138 large). Chef also uses less oil, so the result kept refreshingly lighter, yet still flavoursome.
Other highlights include their delicious Wok Fried Glutinous Rice, generously studded with preserved sausages, and their winning Pen Cai's. The Xin's Traditional Pen Cai ($288 small, $388 large, available for takeway and dine-in) comes packed with ingredients such as abalone, fresh scallop, dried oyster, superior fish maw, sea cucumber, sea whelk, roast duck, roast pork, 'live' prawn, and more.
Or opt for the more impressive Xin's Imperial Pen Cai ($999) featuring ingredients such as Australian 3-head abalone, bird's nest, dried scallops and deer tendon.
This year, the team has also introduced a number of Chinese New Year take-home goodies, such as a version of Nian Gao, made opulent with bird's nest and chocolate ($88).
For enquiries and reservations, please call +65 6731 7173 or email xin.sinhi@ihg.com. Online orders, visit http://holidayinnfestive.oddle.me/.
Address: Level 4, Holiday Inn Singapore Atrium, 317 Outram Road, Singapore 169075
---