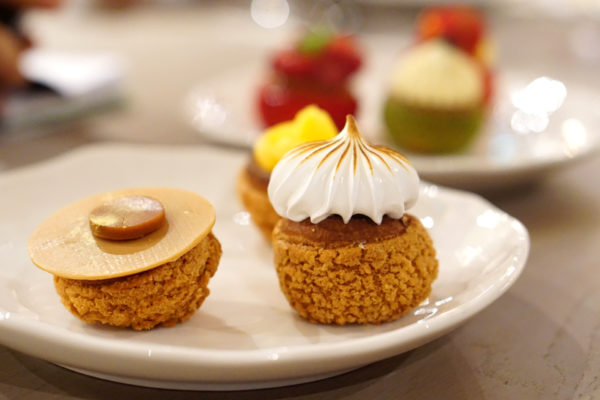 Angela May, famed international culinary host and TV Presenter opens her very own contemporary, healthy-eating concept with Asian influences—Angela May Food Chapters.
I half expected to leave only partially satiated, but her star-worthy, hearty creations prepared from locally sourced produce, as well as a selection of brilliant chox, are anything but boring or bland. Housed within a corner unit on the 2nd floor of Robinsons The Heeren, the chic establishment also boasts a stellar view of Orchard Road crossing just outside.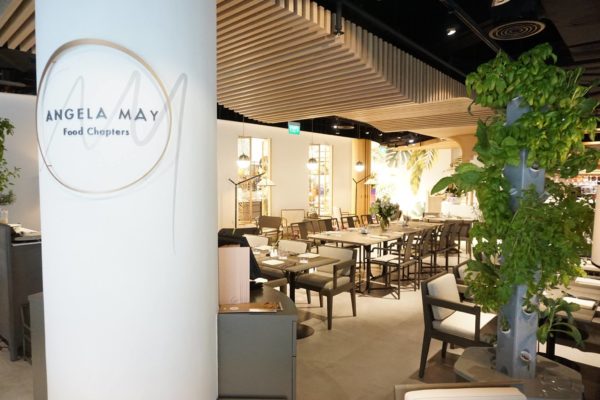 Photo credit: Angela May Food Chapters
Coincidentally, the two best items from the multi-talented host-actress'—now adding the 'chef' hat to her list—feature perfectly done slow-cooked egg.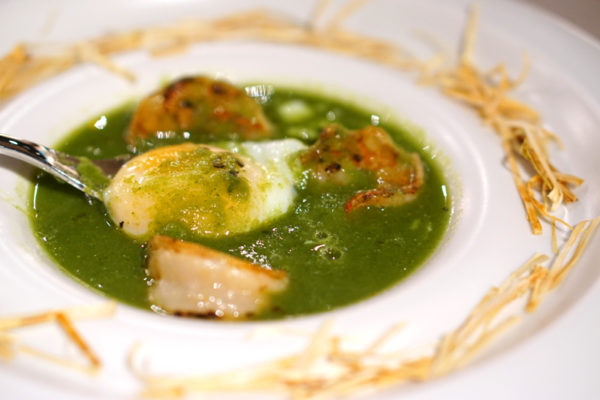 My favourite is the comforting 'Dou Miao' Soup with Tiger Prawns ($22) that's given a twist with pickled, candied leeks that's been slow-dried. The thin yet wonderfully aromatic leek crisps really give it that extra complexity with a hint of almost peppery spiciness.
Order also the beautifully textured Shaved Asparagus & Arugula Mint Salad ($24). It is a scrumptious presentation studded with delicately battered wasabi lettuce—a variety of lettuce that packs a distinct mustard heat. I recommend breaking the egg and mixing it all together before you dig in.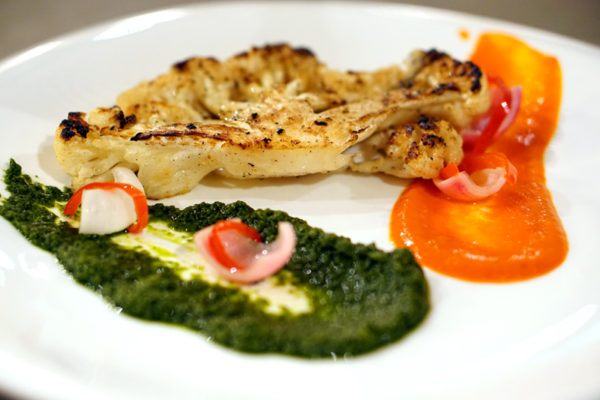 Or you if prefer another sort of heat, try the Spiced Minted Sugar Snap Pea Salad ($22) served with chilled, velvety smooth—I daresay one of the smoothest I've tried—housemate tofu and a throat-tingling dressing of chilli oil.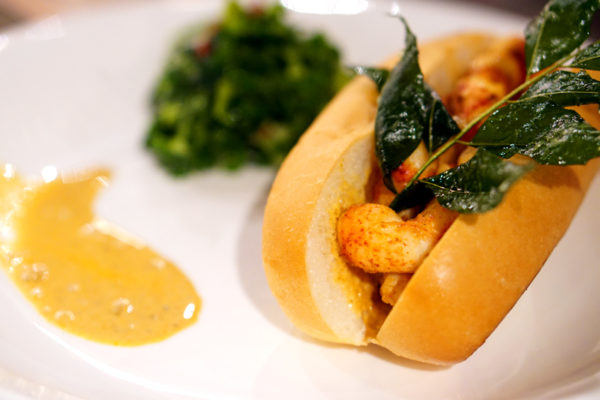 Some may argue that Angela May Food Chapters is more of a 'ladies' place where pedestrian carbs have been switched out for lighter, complex carb options spiked with generous servings of ultra fresh herbs—in amazing combinations, I must say—but you can also expect some solid meat-focused mains.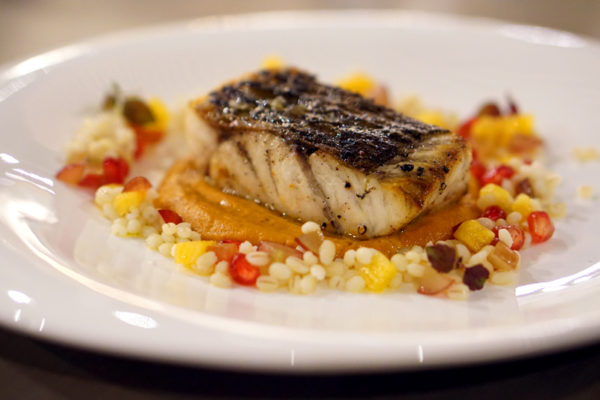 Despite Singaporeans, in general, finding increasingly fewer reasons to head into town, Chef Angela's Barramundi & Cashew Red Curry ($39) is a dish I'd gladly make a trip down to town for.
Prepared using only locally farmed barramundi, the expertly executed fish is teamed with a bright, red curry base with a lovely nutty fragrance, accentuated by a tangy pomegranate pineapple barley salad.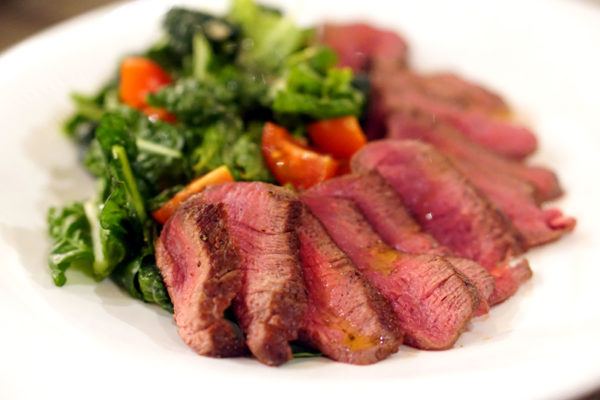 Also delicious and return-worthy are the Kurobuta Pork Collar ($39)—tender, Josper-grilled pork, enjoyed with an arugula mint pomelo pomegranate salad, over a thick white bean paste mash—and the Grass-fed Beef Tenderloin ($54) paired with unexpectedly bold notes of cool mint, chilli padi and lime.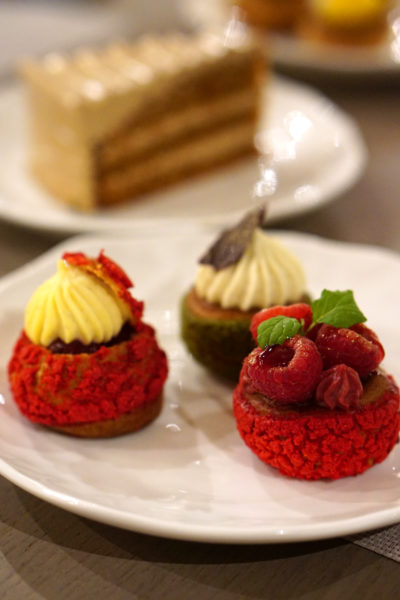 When it comes to desserts, I say be adventurous and you will not be disappointed. Go straight for Chef Angela's tasty selection of Choux—available both a la carte or on her High Brunch and High Tea sets.
My personal pick is a rendition that teams refreshing, cool cucumber hints with floral jasmine hints, topped with a mint-infused chocolate leaf.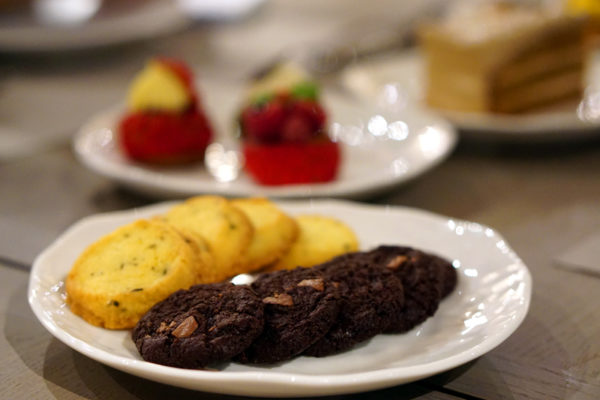 Also good is her cookies. The Rosemary Cookies present delicious, heady herby flavours that flood the palate, and the decadent Triple Chocolate Cookies are rich yet superbly balanced with a good touch of salt.
Address: Robinsons The Heeren #02-02, 260 Orchard Road , Singapore 238855
Tel: +65 6681 7440
Operating hours: Daily. Breakfast & High Brunch 10.30am-2pm, High Tea 2pm-5pm, A La Carte Menu 12pm-9.30pm