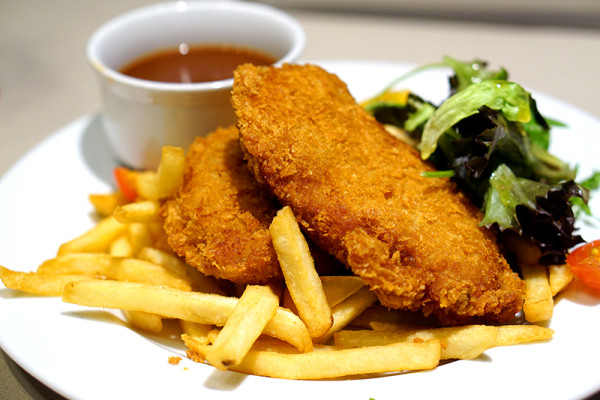 Hainanese Pork Cutlet
Not all cafes are created equal, some are more equal than others. After the roaring success of picturesque Bishan Park hideaway GRUB and Halal-certified poolside cafe FIX Cafe, The Food Explorer Group team strikes gold again with their latest concept, Redpan.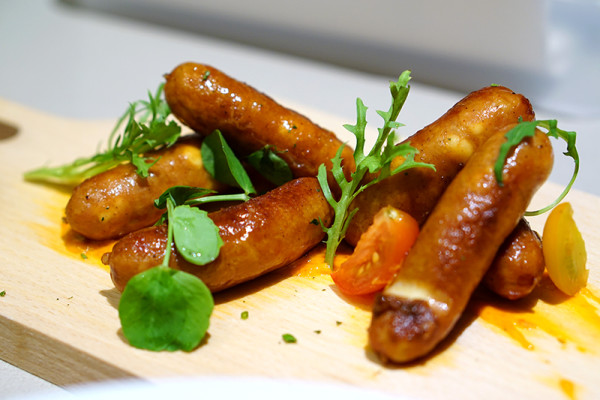 Chicken Cheese Arabiki Sausages
A collaboration with homegrown architecture practice DP Architects, the restaurant at Marina Square—which also doubles as a meeting space and staff canteen of sorts—differentiates itself with sleek interiors and an extremely affordable, creative menu spotlighting local ingredients and familiar flavours, such as the wobbly Coconut Panna Cotta ($7) with grilled pineapple compote and Gula Melaka.
Guests can also look forward to the popular Strawberry Basil Soda ($5) from FIX on the menu and cakes from Tampopo Deli.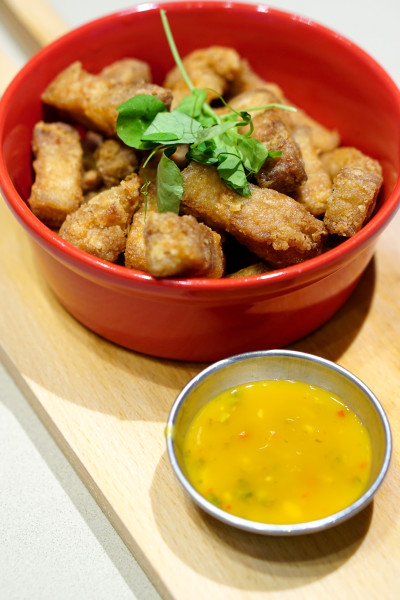 Pork Pops
Go straight for the frighteningly addictive Pork Pops ($9), fried strips of marinated pork belly enjoyed with a tangy and spiced mango sauce, and Fried Calamari ($9) with a robust, homemade sambal mayo dip—the perfect grub to match with their list of Happy Hours-priced alcoholic beverages (cocktails priced at $12, beers and ciders from $10-12).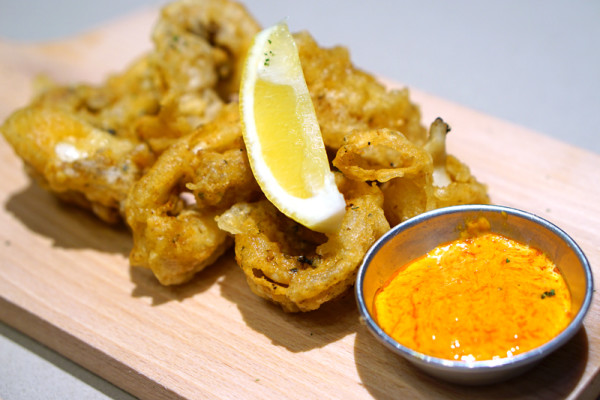 Fried Calamari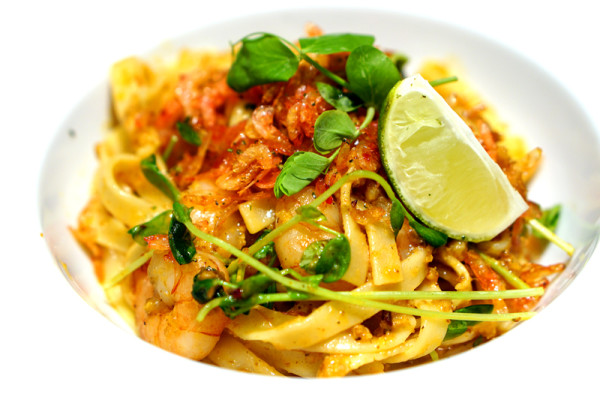 Prawn & Hae Bi Hiam Pasta
Other interesting modern Singaporean offerings include the tasty Prawn & Hae Bi Hiam Pasta ($16)—tagliatelle tossed with a lip-smacking, housemade spicy shrimp paste with a spicy yet 'shiok' kick, then topped with sakura ebi and sautéed prawns—and the Char Siew Chilli Fries ($7), torched before serving to release more of that comfortingly nostalgic Char Siew aroma and flavours.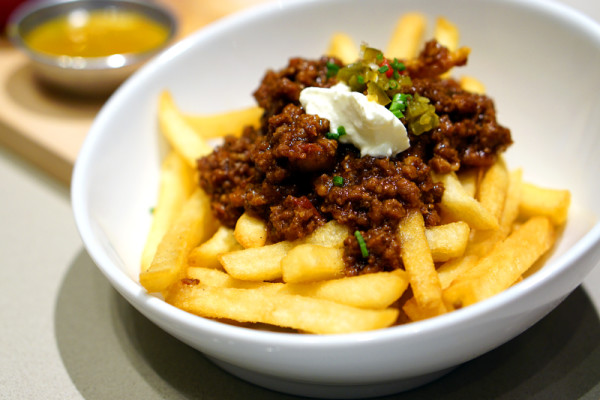 Char Siew Chilli Fries
For those who prefer something more sweet than savoury, there's also a unique Truffle Floss Fries ($8) option of crisp fries, truffle aioli, sesame and chicken floss.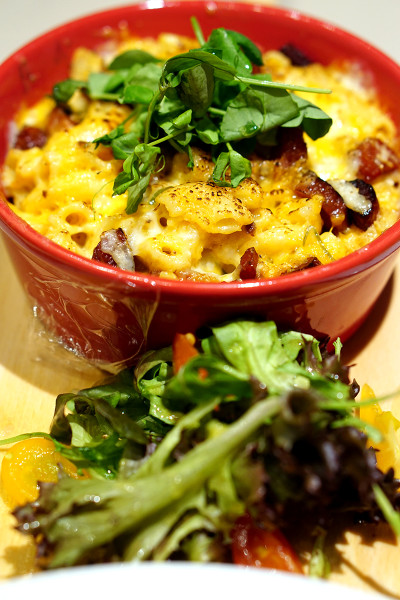 Lup Cheong Macaroni & Cheese
Steak & Chinchalok
Another standout is the Steak & Chinchalok ($22), where grilled-to-perfection sirloin steak (250g) is served with housemade spicy Chinchalok (fermented baby shrimps), pickled onions and sautéed smashed potatoes. Personally I'm not the biggest fan of Chinchalok, so am appreciative of the execution: mild, but enough to lend an unexpected, beguiling depth.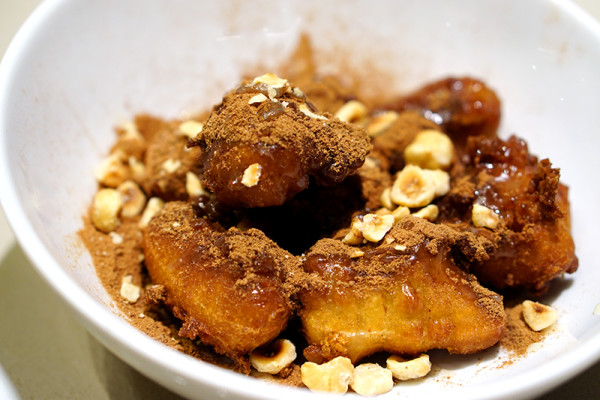 Banana Donuts Milo Dinosaur
Be sure to save space for desserts. I recommend the Banana Donuts Milo Dinosaur ($7) that's a cross between 'Pisang Goreng' (banana fritters) and my favourite Milo Toast from Tuk Tuk Cha. Crisp, banana-infused donuts are indulgently doused in condensed milk, milo powder, even more condensed milk before a final topping of hazelnuts for that added earthy crunch.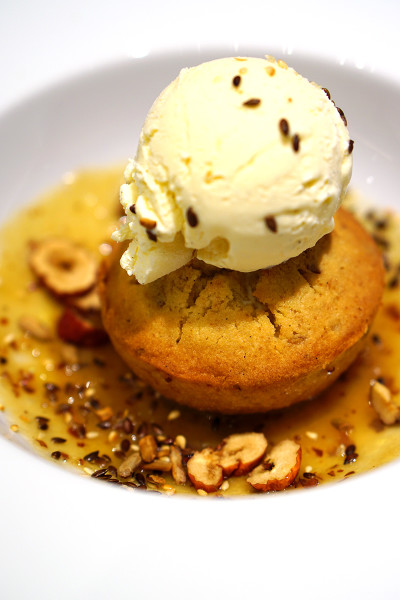 Sticky Red Date Cake
Also noteworthy is the ingenious Red Date Butter Cake ($8) where fragrant, rich butter cake is teamed with a vanilla ice cream crown and a bed of sticky caramel sauce given a twist with the homely sweetness of red dates.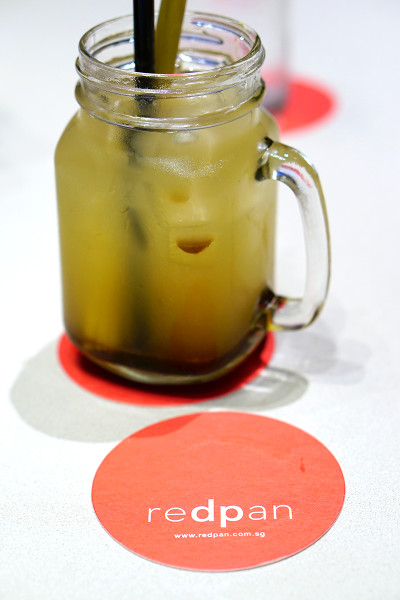 Lemongrass with Gula Melaka
Address: #02-03/04 Marina Square, 6 Raffles Boulevard, Singapore 039594
Tel: +65 6255 5850
Operating hours: Daily 11am-10pm