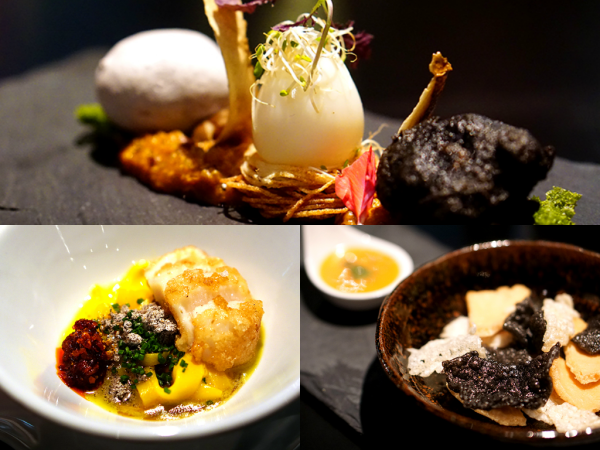 Restaurant Labyrinth continues its journey of gastronomic wonderment with its avant-garde Neo-Singapore cuisine at The Esplanade. Previously a cozy spot on Neil road, its brand-new space seats up to 60 diners, has a bar and lounge, and three private rooms, and also features pre-theatre ($48 for a four-course dinner, 5.30-7.30pm) and post-theatre ($30-40 a person, 10.15pm till late) menus.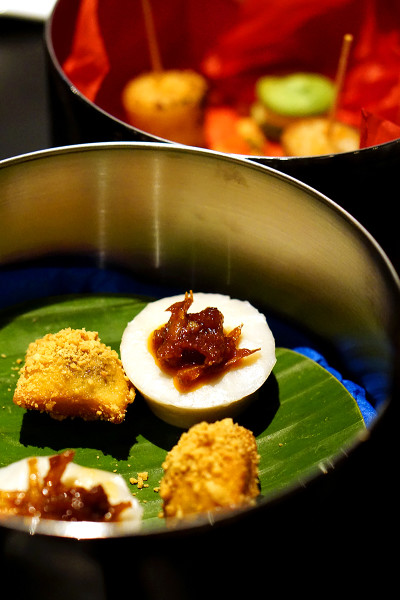 "What you see is not what you get" is the phrase that perfectly defines Chef Han Liguang's style of cuisine that both challenges and celebrates traditional recipes and local flavours with fine, locally-sourced ingredients in some extremely novel, bold executions.
For those who has yet to experience Labyrinth, I highly recommend the new 9-course "A Day in the Life of a Singaporean" Experience tasting menu ($168, wine pairing option available at $60 supplement), where he masterfully re-interprets nuances and flavours close to heart, that will have even the most hawker-eschewing, serial restaurant-hopper – myself included – reminiscing with delight.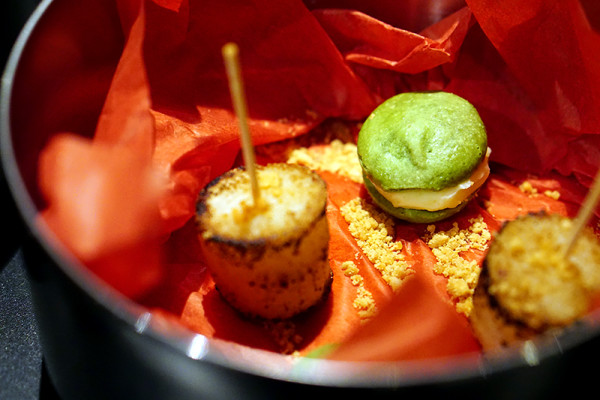 The "A Day in the Life of a Singaporean" tasting menu starts off with a series of tricky but delicious lookalikes: 'toasted marshmallows' that are actually radish cakes with bits of dried scallops and shrimp; 'macarons' of dehydrated kaya and creamed salted butter; 'peanut puff pastry', housemade You Char Kway filled with a thick, piquant Rojak sauce; and rich Nasi Lemak, complete with sambal, sculpted to look like Chwee Kueh.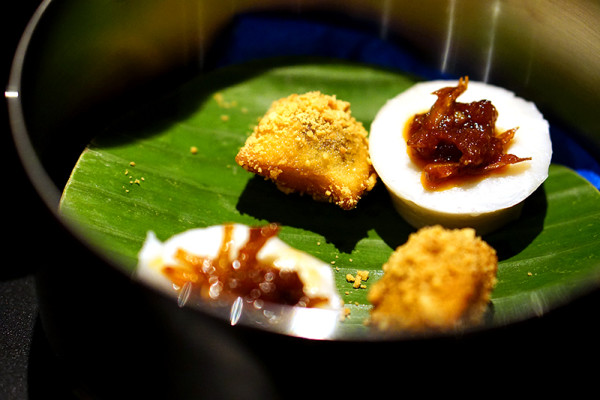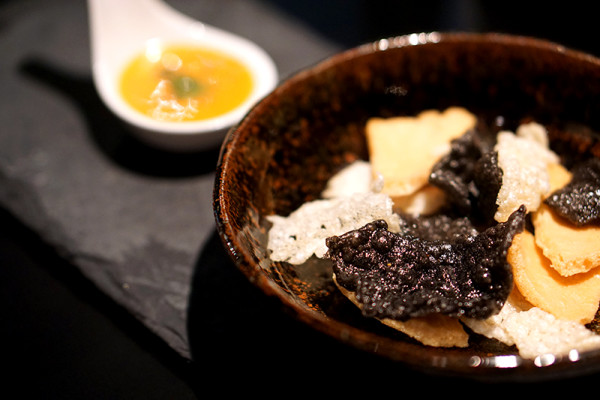 Next arrives a light, deconstructed Paella in the form of crisp 'Keropok' – squid ink and chilli flakes keropok, prawn keropok and rice crackers – paired with a lip-smacking garlic mayo that has just the right amount of heat.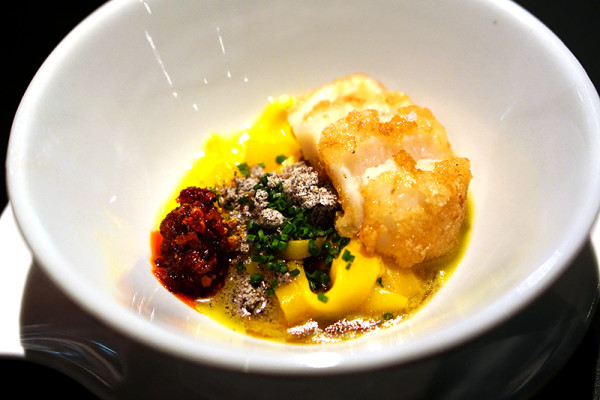 The seafood theme continues with chef's moreish 'Bak Chor Mee' of saffron-infused squid 'noodles' (thinly-sliced squid), sambal, scallops lightly coated with cornflour then fried and sliced to resemble fish cake, topped with seasoning of 'mince meat' anchovy-olive oil powder; and a scrumptious presentation of Otoro.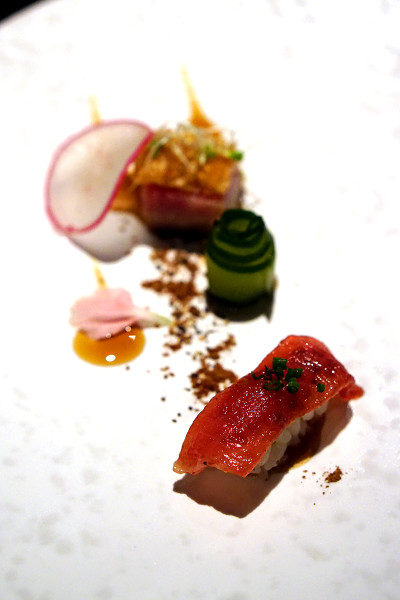 For the 'Char Siew Sushi', radish is stuffed between otoro that's been swathed in a savoury char siew marinade and torched rice dotted with mustard for extra bite and depth.
In the background, the 'Siew Yoke' – half pan-fried otoro (the fried parts to reconstitute the 'pork' meat and the uncooked part, the fats) crowned with fried-crisp, crunchy pork skin – a beautiful bite of highly comforting, fatty bliss.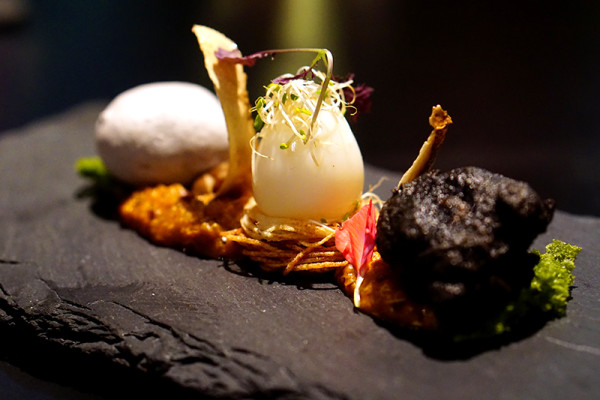 Probably the most innovative Hainanese Chicken Rice I've savoured so far, a quail egg gingerly nested within a garden of curry quinoa risotto 'soil', 'grass' of coriander sponge, 'black rock' chicken mousseline and clay potato 'stone'. To enjoy, break the egg to reveal a runny yolk and mix in the various elements.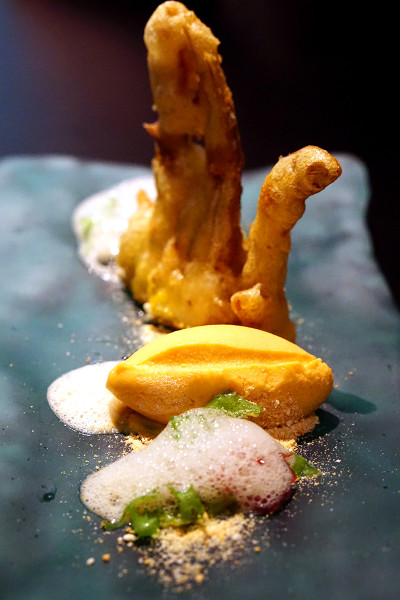 The signature Labyrinth Chilli Crab – a beautiful mess of flower crab bisque 'foam', mantou 'sand', caviar, chilli ice cream and delicately light, tempura soft shell crab – is also part of the Experience menu.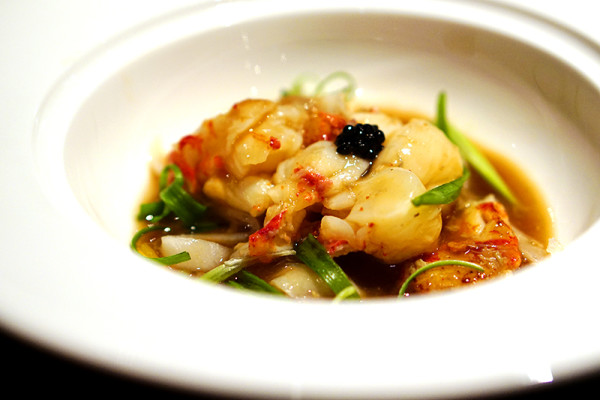 Spectacularly good and itself alone return-worthy is Chef Han's show-stealing take on 'Hokkien Mee', a winning combination of Boston lobster with sinfully indulgent, glistening strings of apple wood-smoked lard – yes, oh yes, lard – and egg yolk noodles, swimming in a disarmingly robust, rich gravy prepared from lobster roe and head.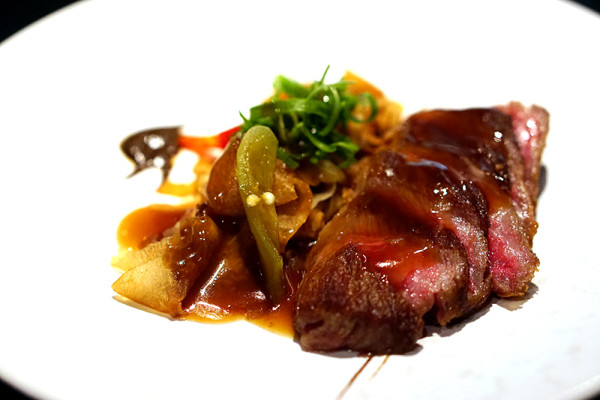 Equally outstanding is his delicious 'Beef Hor Fun' that features stunningly melting Grade A4 Kagoshima Wagyu with thinly sliced turnip and radish 'noodles' blanketed with positively divine, beef stock gravy of wagyu trimmings.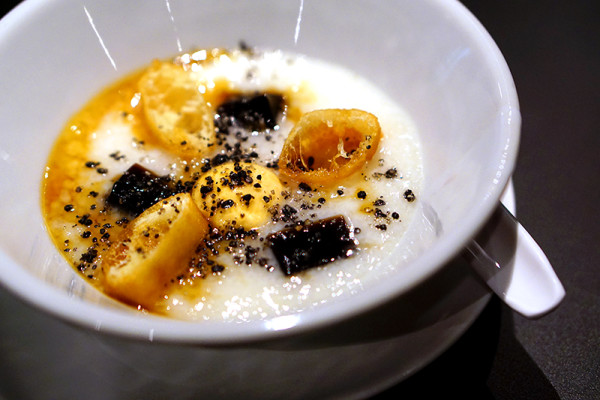 Creativity doesn't stop at desserts, as I soon learnt after downing a shot of 'Bubble Tea' – an intriguing, chilled Bak Kut Teh-Pu'er tea mix studded with soya sauce and pork stock pearls – and a 'Century Egg Porridge' of tang yuan crumbs, soya bean milk, gula melaka, salted egg custard and grass jelly.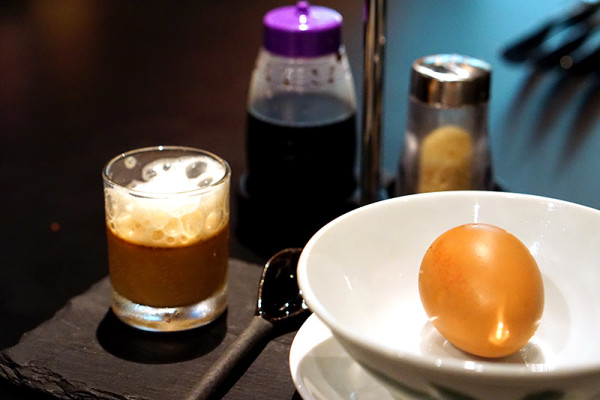 The Experience tasting menu goes a full round back to breakfast, and ends with a creamy, rich Teh Tarik Crème Brulee and 'Soft Boiled Egg' dessert of deconstructed mango pudding.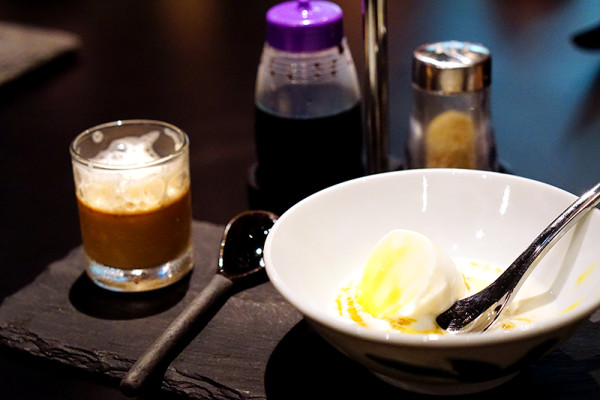 The new 9-course "A Day in the Life of a Singaporean" Experience tasting menu is available only for dinners, and is priced at $168 per person, wine pairing option available at $60 supplement.
Address: #02-23, Esplanade Mall, 8 Raffles Avenue, Singapore 039802.
Tel: +65 6223 4098
Operating hours: Mon-Fri 12pm-2:30pm. Mon-Sun 6.30pm-10.30pm.