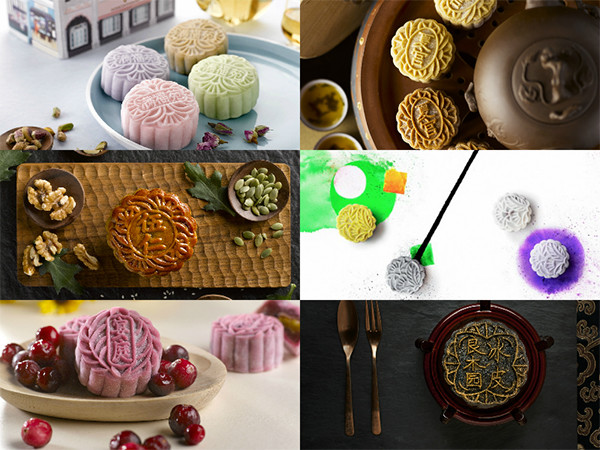 Get over the moon with this year's selection of mooncakes that range from distinctly local flavours, such as mung bean or Chendol, rare organic options featuring pesticide-free durian pulp to the perennial must-have, alcohol-infused creations.

---
Bakerzin
Order: Online at www.bakerzin.com or at any of their outlets, Jurong Point #03-58, United Square #01-07/60, Vivo City #01-207, MyVillage (Serangoon Gardens) #01-27, Gardens by the Bay #03-03, Connexion@Farrer Park #01-05/07, Century Square #01-19/22.
Discount: HSBC and OCBC Cardmembers enjoy a 15% discount (on top of the early bird discount) for purchases made in Bakerzin outlets and online.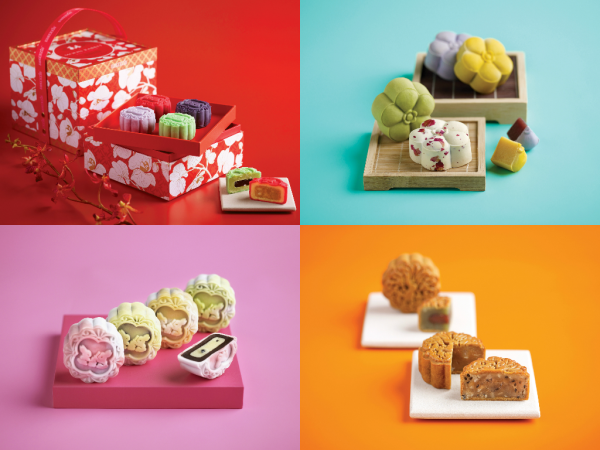 What's new: Probably the most extensive mooncake range this festive season, Bakerzin boasts nine different ranges—three of which are new—including the newly introduced Momoyama range. It features a baked skin made from butter bean flour, resulting in a shell high in protein and low in sugar and fat. It is available in four flavours: Osmanthus Lotus, Purple Sweet Potato & Water Chestnut, Egg Custard, and Green Tea Kumquat.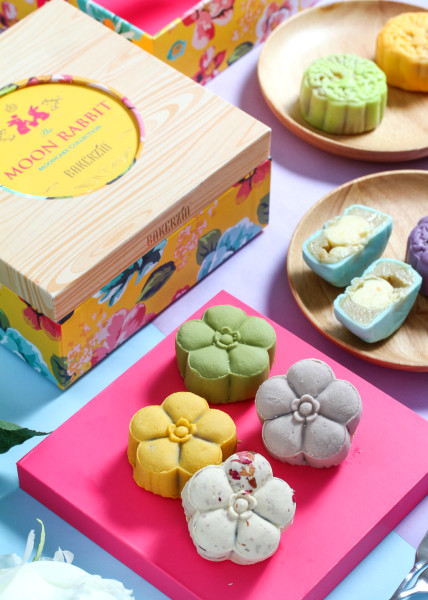 Credit: Miss Tam Chiak
---
BreadTalk
Order: Online at www.breadtalk.com.sg or at any of their outlets islandwide.
Discount: 20% Early Bird Special available till 12 Sept, UOB Cardmembers enjoy 25% off 2 boxes of Prestige + 3% SMART$ rebate from now till 20 Sept 2015.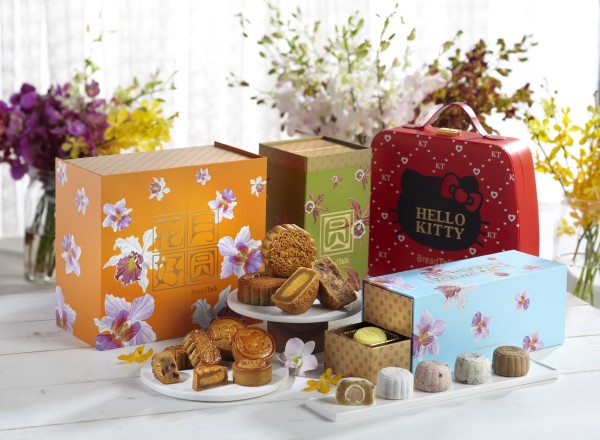 What's new: Besides a limited edition Hello Kitty-motif traditional mooncake collection, BreadTalk also has eight new mini mooncake variations, from the luscious Mao Shan Wang Durian, Green Tea Azuki, Chocolate Brownie, Yuzu Lotus, Jasmine Tea, Black Sesame to alcohol-laced adaptations like Cherry Brandy Truffle and Lychee Martini Truffle.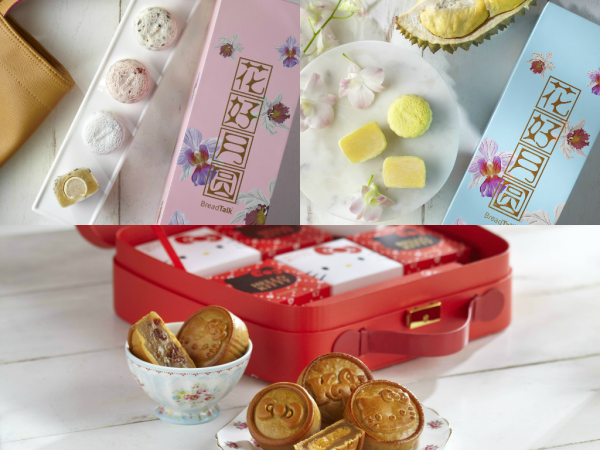 ---
Carlton Hotel Singapore
Order: Online at www.carltonhotel.sg
Discounts: UOB, Citibank, DBS/POSB, BOC and AMEX Cardmembers enjoy 20% off for order of 1 to 30 boxes of mooncakes purchased between 29 Aug-11 Sept, and 15% off all orders from 12-27 Sept 2015.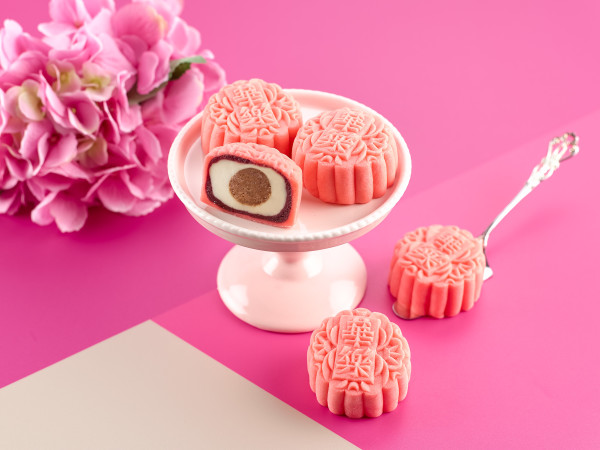 What's new: Nothing new this year, but their popular and pretty-in-pink Mini Red Velvet Snowskin Mooncakes ($62, box of 8) with velvety smooth cream cheese filling and a crunchy royaltine center makes a pleasing gift.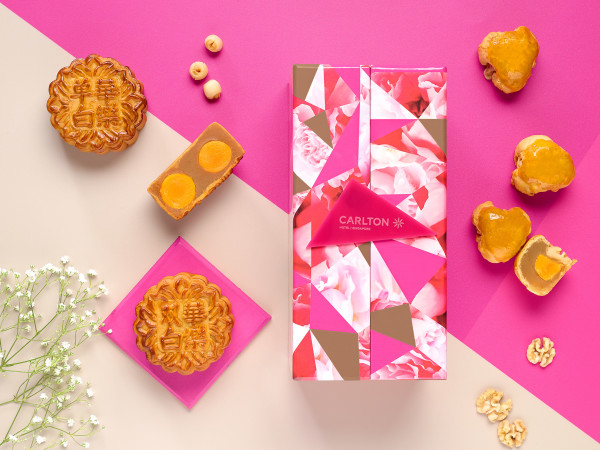 ---
Concorde Hotel Singapore
Order: For more information, please call 6739 8370 or email spices.chs@concorde.net.
Discounts: UOB and DBS/POSB Cardmembers enjoy 15% off for orders of 2 to 20 boxes, 20% for 21 to 50 boxes, and 25% off for 51 boxes and above. Each Pioneer Generation Card holder can purchase a maximum of 2 boxes of Mooncakes at a special rate of $50.00 nett per box.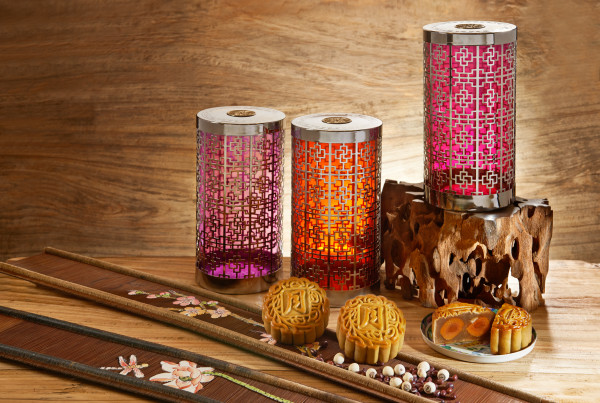 What's new: The East-meets-West, traditional baked Supreme Manju ($64, box of 4) presents a savoury mix of maple white lotus paste with crunchy pecan nuts and melon kernel seeds, with a surprise salted egg yolk-wrapped custard mung bean centre. This year, their mooncakes also comes in an interesting, carved lattice stainless steel jar.
---
Conrad Centennial Singapore, Golden Peony
Order: Online order form. For enquiries, call +65 6432 7486/7487 or email sinci.fb@conradhotels.com.
Discounts: Early bird discounts available till 11 Sept 2015: 15% off for purchases of 10-50 boxes, 20% off for 51-200 boxes, and 25% off for 201 boxes and above.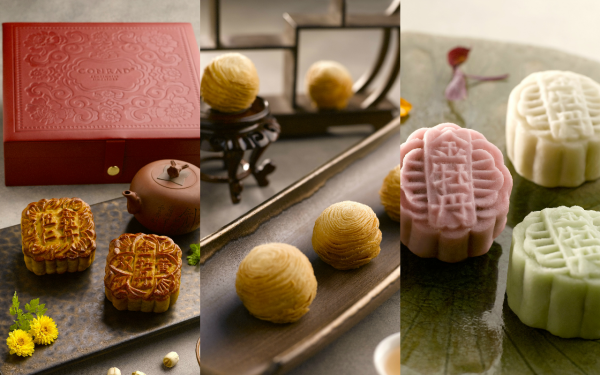 What's new: Nothing new, but it's increasingly difficult to reject their deliciously nostalgic, signature Sweet Potato Mooncake in Crispy Filo Pastry ($62, box of 8)—smooth, lightly whipped sweet potato enrobed in a delicately crisp filo pastry—redolent of sweet childhood memories.
---
Dean & DeLuca
Order: Online at www.tfaforms.com/381308 or at any of their three outlets, Orchard Central Mall (#04- 23/34), Far East Square (#01-01) and HillV2 (#01-01).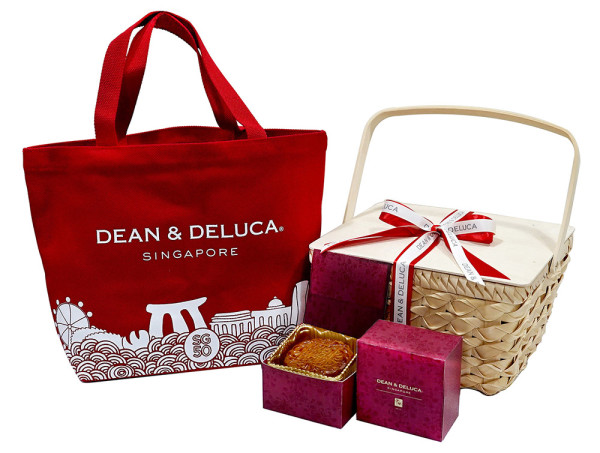 What's new: Also first-timers to the mooncake scene, the upmarket retailer introduces a tantalizing range of four traditional baked creations with Western-influenced flavours: Maple Walnut, Mocha, Earl Grey, and White Lotus with Macadamia (available in hamper sets, price range between $68-128).
---
Fairmont Singapore, Szechuan Court
Order: online at www.celebrationscentral.com.sg. Enquiries, call +65 6338 8785 or email fairmontsingapore.mooncakes@fairmont.com.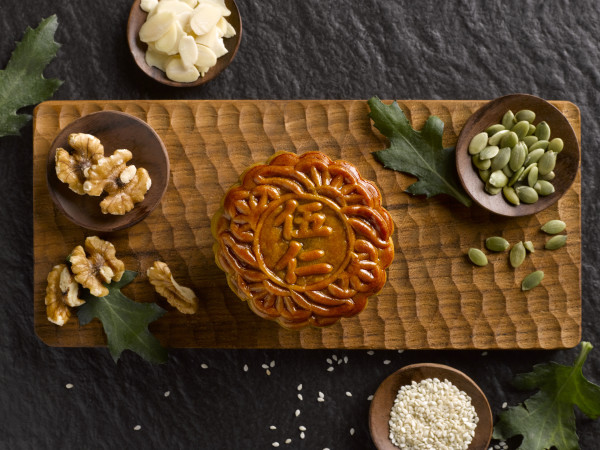 What's new: Szechuan Court celebrates with two new flavours this season, Autumn Treasures Baked Mooncake ($67, box of 4) made with the wholesome goodness of five different grains—sunflower seed, melon seed, white sesame, almond, walnut—and the Yuzu Passion Snowskin Mooncake ($62, box of 8) that marries aromatic yuzu with a creamy, white chocolate praline.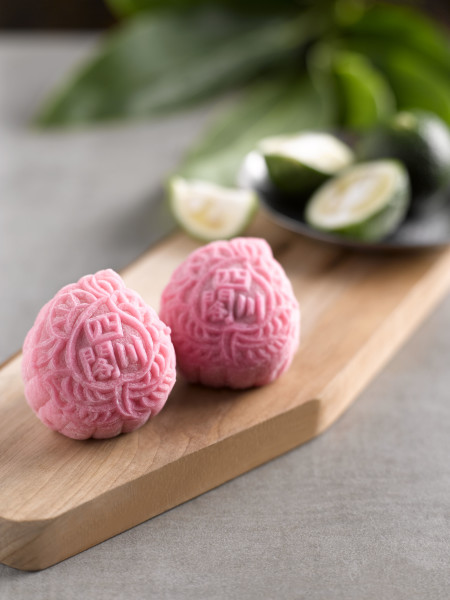 ---
The Fullerton Hotel Singapore, Jade Restaurant
Order: Online order form. For orders, call +65 6877 8943, email fullertonshop@fullertonhotel.com, or at The Fullerton Cake Boutique located on the lobby level of The Fullerton Hotel (1 Fullerton Square, Singapore 049178).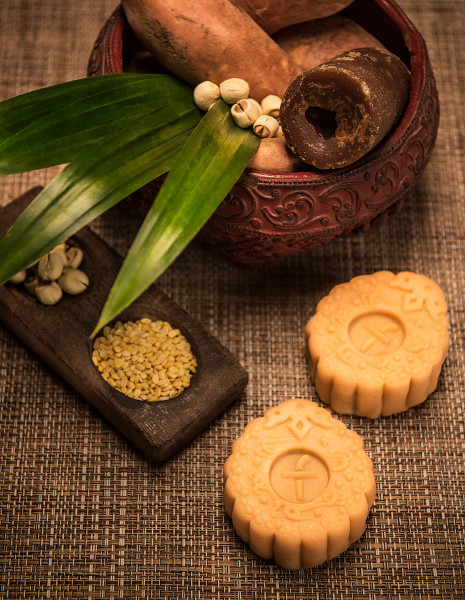 What's new: The brand new Green Bean with Sweet Potato and White Lotus Seed Paste Snowskin Mooncake ($71 for premium box, $58 classic box of 4) that's inspired by the ever-popular, comforting local dessert of green bean soup with sweet potatoes.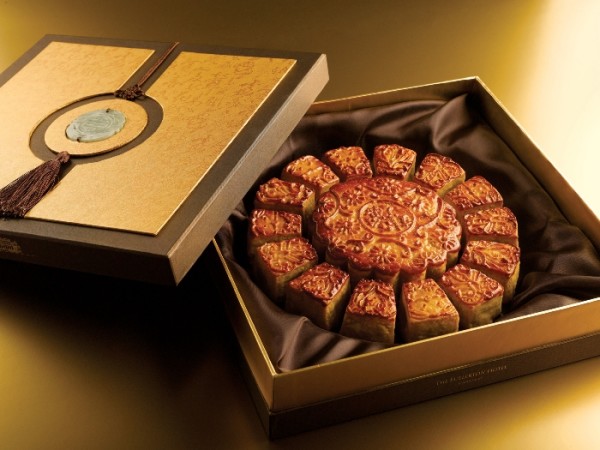 You may also consider going all-out to impress with The Fullerton 15 Treasures Premium Gift Set ($189, limited quantities) that features a lavish eight-yolk White Lotus Seed Paste mooncake, surrounded by an assortment of 14 different miniature baked mooncakes: Red Lotus Seed Paste, Orange, Jasmine, Coffee, Rose, Mixed Nuts and Pineapple, Black Dates, Almond, Pandan, Black Sesame, Cranberry, Red Bean, Osmanthus and Green Tea.
---
Grand Hyatt Singapore
Order: All mooncakes are available for sale at mezza9 or the hotel lobby. Enquiries, visit singapore.grand.hyattrestaurants.com or call +65 6887 5492.
Discount: Enjoy 15% off when paying with selected credit cards, and 20% off for Damai and Club at the Hyatt members, for all purchases till 27 September 2015.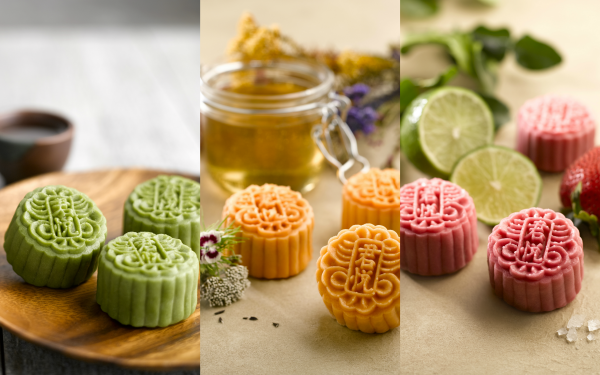 What's new: The team has introduced five new and unique, 100% preservative-free snowskin mooncakes, including the Thousand Flower Blossom Honey Truffle with subtle hints of lavender, a strawberry-infused Lime Margarita Truffle and an interesting Maotai Dark Chocolate Truffle (each $69, box of 8).
---
Goodwood Park Hotel Singapore
Order: Online at festivepromotions.goodwoodparkhotel.com, call +65 6730 1867/1868, visit the Deli at hotel lobby, 22 Scotts Road, Singapore 228221.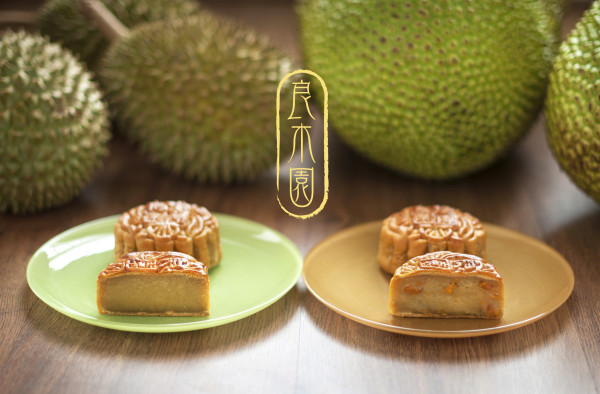 What's new: Sold as a pair, the chefs have—for the first time in the hotel's history—introduced the Tropical Royals ($45, box of 2), a duo of traditional baked mooncakes featuring the two tropical fruit kings. One made with a dreamy blend of rich, pure D24 durian pulp and white lotus seed paste, while the other is studded with juicy jackfruit bits for texture. Quantities are extremely limited, and we hear they're expected to sell out fast.
Also new is the Pineapple, Lemongrass & Dark Cherry Snowskin ($33, box of 2; $54, box of 4) filled with a refreshing, lemongrass-infused pineapple puree and with a macerated dark cherry center.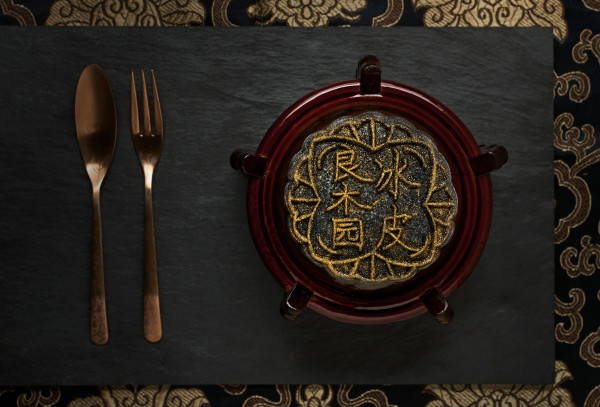 Revered as one of the most premium varietals, the extremely popular and limited edition Black Thorn Durian Snowskin Mooncake ($54, box of 2; $88/ box of 4) returns. Durian-lovers can look forward to creamy, amber-hued flesh and intense bittersweet notes beneath a gold-dusted black charcoal snowskin.
---
InterContinental Singapore
Order: Online at singapore.intercontinental.com/mooncakes. For enquiries, please call +65 6820 8519/8520 or email sinhb-festive@ihg.com.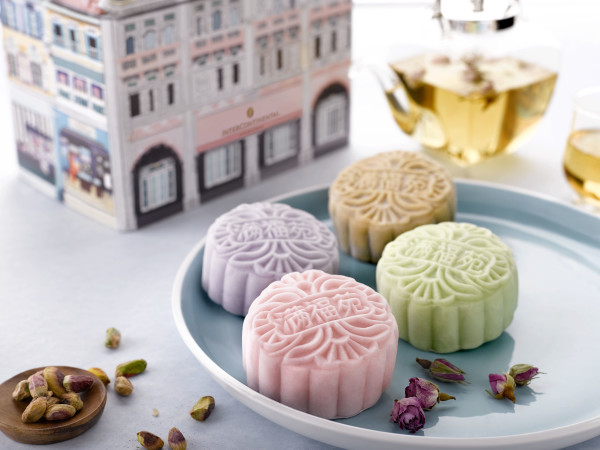 What's new: The masterfully crafted Snowskin Tea Mooncake Selection ($66, box of 4) featuring delicately aromatic blends of various tea. Flavours include Japanese Matcha, Oolong with Black Sesame Paste, Rose & Pistachio with White Lotus Paste, and (my personal favourite) the Earl Grey & Baileys Truffle with White Lotus Paste.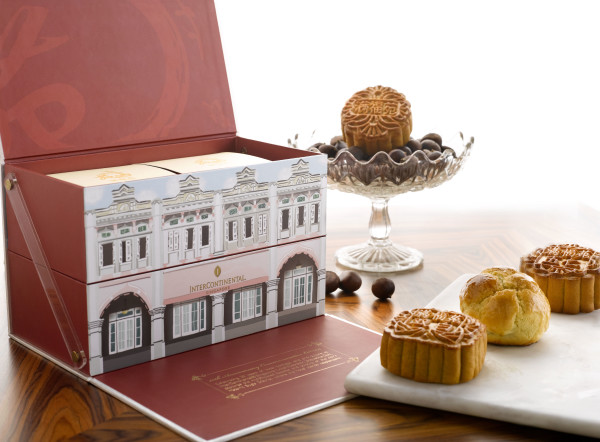 Impress with the InterContinental Singapore's 20th Anniversary Collector's Edition ($105) that comes in a distinctive satin box, bearing local artist Jacqueline Goh's illustrations of multifaceted facades of the historic Bugis district, containing four baked mooncakes, including the new and toothsome Baked Mooncake with Chestnut Paste & Candied Macadamia—a limited edition flavour only available in this set.
---
Janice Wong
Orders: Online at janicewong.co/order.
Discount: Enjoy 20% off orders from now till 10 September 2015.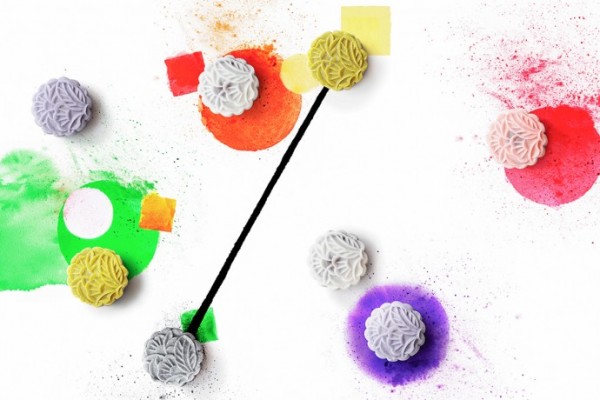 What's new: Singapore-based dessert chef and two-time winner of Asia's Best Pastry Chef at the Asia's 50 Best Restaurants, Janice Wong debuts her first-ever mooncake collection where she puts her spin on nine of our nation's signature flavours.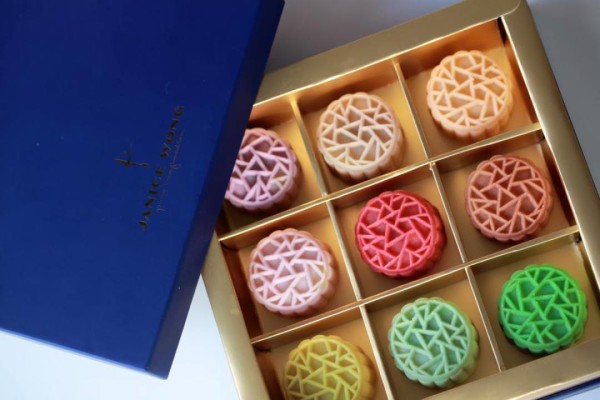 Limited to only 300 boxes, each nine-piece Singapore Flavours box set ($65) features mini lotus paste snow skin mooncakes in flavours such as the evocative Condense Milk Truffle, Gula Melaka Pandan Kaya and Chendol Red Bean to the intriguing Laksa Leaf Lemongrass, Bah Kwa Praline Poprocks and Soya Sauce Ginger, and the bold Chilli Padi, Ginger Flower Rojak and Kaffir Lime Salted Caramel.
---
Kinki Restaurant + Bar
Order: Online at www.kinki.com.sg/mooncake or at the restaurant, 70 Collyer Quay, #02-02 Customs House, Singapore 049323.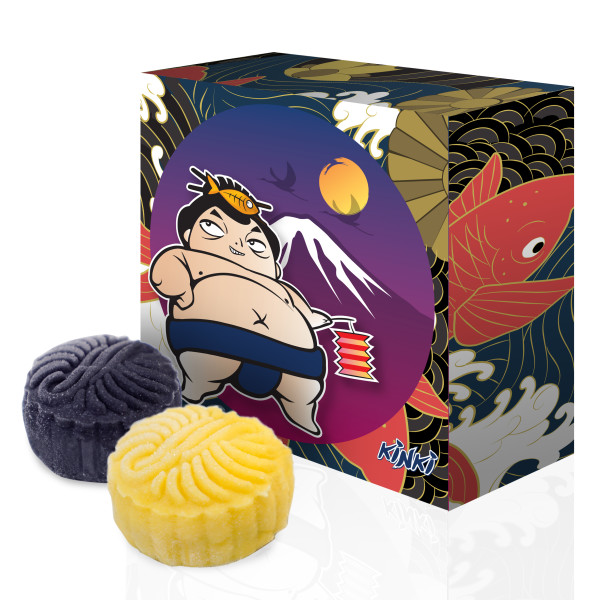 What's new: Chef Kinki marks his Mid-Autumn Festival debut with a series of petite, contemporary Japanese-inspired snowskin mooncakes. Flavours are pretty safe and pedestrian though, ranging from Green Tea Charcoal ($28, box of 4), Yuzu to Cream Cheese Cranberry (both $32, box of 4).
---
Mandarin Orchard Singapore
Order: Enquiries, call +65 6831 6320/6262, email festivedesk.orchard@meritushotels.com, visit the Deli Counter at hotel lobby, 333 Orchard Road, Singapore 238867.
Discount: DBS/POSB Cardmembers enjoy 20% off, while all other credit card holders enjoy 15% off. Discount available only at the hotel's Deli Counter.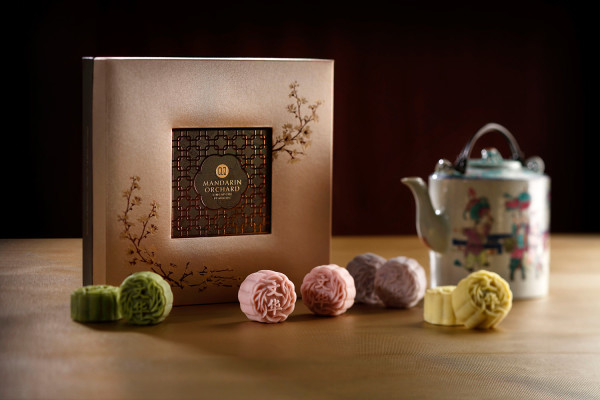 What's new: Popular flavours—such as the Baked Mooncake with Mixed Nuts and Jamon Iberico ($67, box of 4)—make a return at Mandarin Orchard, along with their new creation of Mini Red Wine Cranberry Paste Snowskin Mooncake with a refreshing yuzu-lemongrass twist ($56, box of 8).
---
Mandarin Oriental Singapore, Cherry Garden
Order: Online at www.mandarinoriental.com/singapore/fine-dining/cherry-garden/, call +65 6885 3081, or at the hotel lobby, 5 Raffles Avenue, Marina Square, Singapore 039797.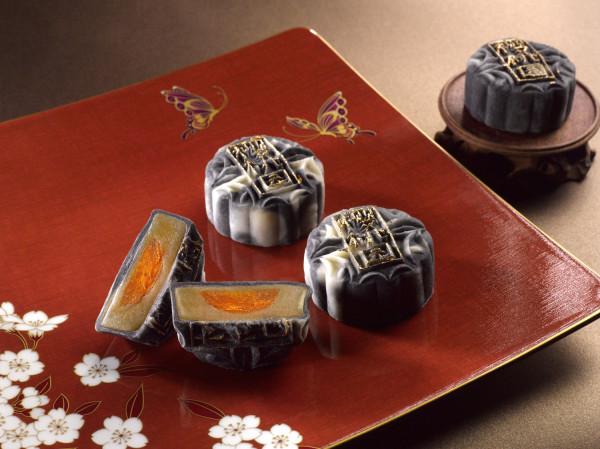 What's new: New this year is the indulgent Charcoal Snow Skin Mooncake ($66, box of 8) with earthy truffle oil lotus paste and a salted egg yolk center. Or opt for the Cherry Garden Limited Edition Treasure Chest for a truly luxurious selection of eight artfully crafted mooncake jewels.
---
Marina Bay Sands, SweetSpot
Order: Online at marinabaysands.com/sweetspot, call +65 6688 8588/5688 or email sweetspot@marinabaysands.com.
Discount: CitiBank Cardmembers enjoy 15% off, while Sands Rewards LifeStyle members enjoy 20% off orders.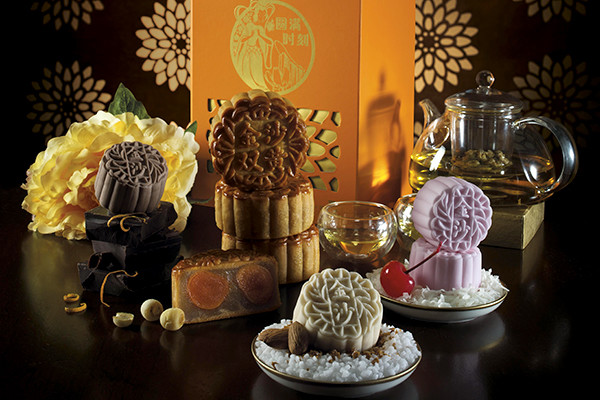 What's new: Inspired by a childhood favourite candy of chocolate and coconut, Marina Bay Sands' Executive Chef Christopher Christie has created the new Chewy Coconut and Cherry Snowskin Mooncake ($62, box of 8) that contains a white chocolate ganache centre with Malibu rum, macerated maraschino cherry and filled with candied coconut flakes, white lotus seed paste and butter cake crumbs for contrast in textures and flavours.
---
Marina Mandarin Singapore, Peach Blossoms
Order: Online order form. Enquiries, call +65 6845 1118, email promotions.marina@meritushotels.com, or visit www.marinamandarin.com.sg/dining.
Discount: Early bird discount of 25% is available for purchases till 12 September 2015.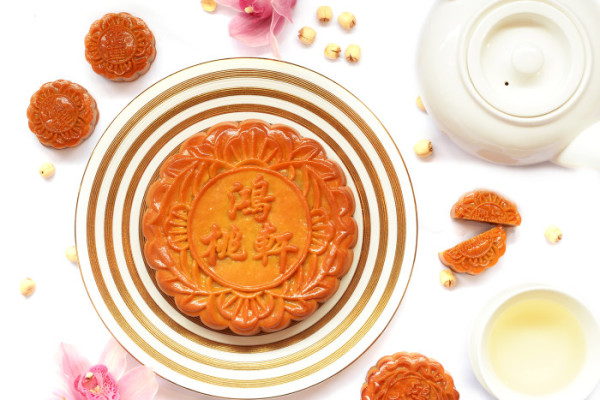 What's new: Nothing new, but their less-sweet, mega eight-yolk Eight Treasure White Lotus Paste Mooncake ($72 for 1 6.5-inch piece) is great for sharing at the workplace or at family gatherings.
---
Singapore Marriott Tang Plaza Hotel, Wan Hao Chinese Restaurant
Order: Online at www.singaporemarriott.com/mooncakes. Call +65 6831 4708, or hotel's Forecourt Stall at 320 Orchard Road, Singapore 238865.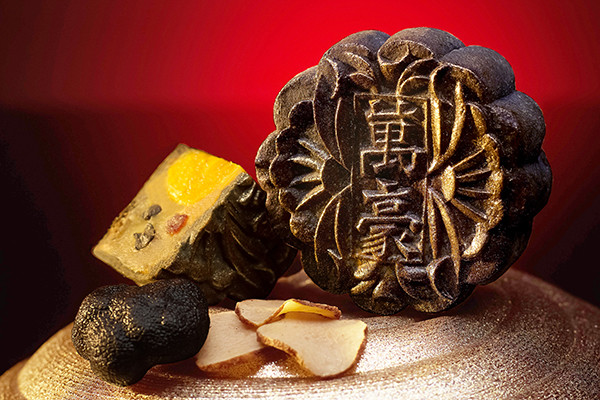 What's new: The gold-dusted black charcoal baked Black Truffle, Roasted Chestnut, Waxed Duck Mooncake ($78, box of 4) sees the unique fusion of two premium ingredients that intriguingly work well together, as well as the SG50-inspired Teh Tarik with Chocolate Pearls Snowskin Mooncake and sweet-tart Sour Plum with Portuguese Custard Paste and Lime Puree Snowskin Mooncake (both $60, box of 8).
---
Mei-Xin
Order: Check out their stalls at various locations. Takashimaya square B2, Vivocity, Change Alley, Junction 8, Bugis Junction, Serangoon NEX, Causeway Point, Tampines Mall and Bedok Mall.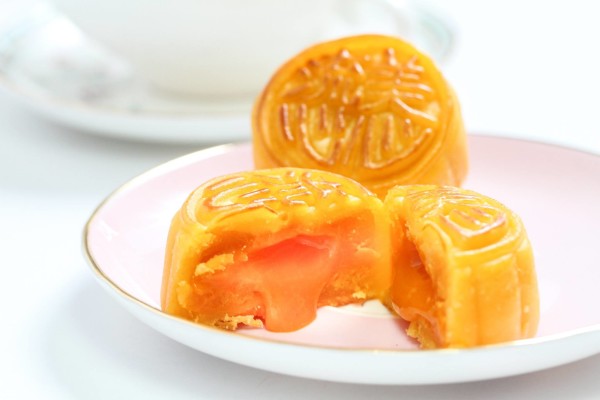 Credit: Miss Tam Chiak
What's new: Known for their time-honoured recipes and tasty Egg Custard Mooncake, Mei-Xin debuts a new Lava Custard Mooncake creation filled with a luscious, rich custard and crushed salted egg yolk.
---
Paradise Group
Order: Online at www.paradisegp.com, or their various outlets. ION Orchard, Marina Bay Financial Centre, 91 Defu Lane, I12 Katong Mall, AMK Hub, ARC, Bedok Mall, Compass Point, The Star Vista, Causeway Point, Vivo City, Westgate, The Seletar Mall and City Square Mall.
Discount: HSBC, OCBC Cardmembers and Paradise Gourmet Rewards members enjoy early bird discount of 25% off all mooncakes till 13 September, and 15% off till 23 September 2015 for online orders.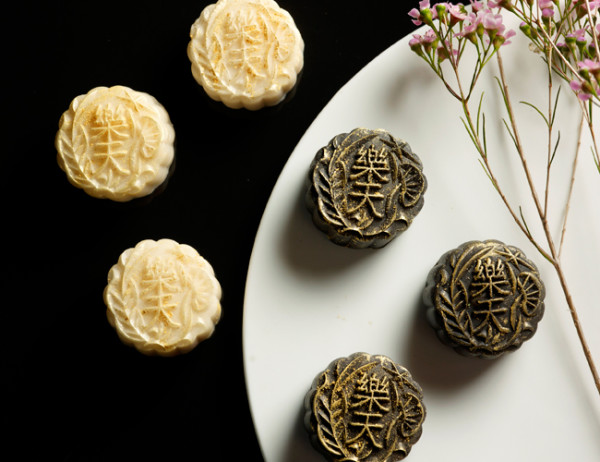 What's new: Nothing new, but their crowd-pleasing, gold-dusted Divine Dark Chocolate and Opulent White Chocolate Snowskin Mooncakes ($56, box of 8; $31, box of 4), each containing a white and black chocolate truffle center respectively, makes a return.
---
Peony Jade
Order: Online at www.pjmooncakes.com/, or their various stalls. Takashimaya Shopping Centre, Chevron House, Vivo City, Jurong Point, Serangoon NEX, Century Square, Junction 8, Lot One and North Point.
Discount: Standard Chartered Cardmembers enjoy 20% off all Peony Jade's mooncakes till 27 September 2015, with exception of all Ex-Crown Prince Flaky Teochew 'Orh Ni' mooncakes.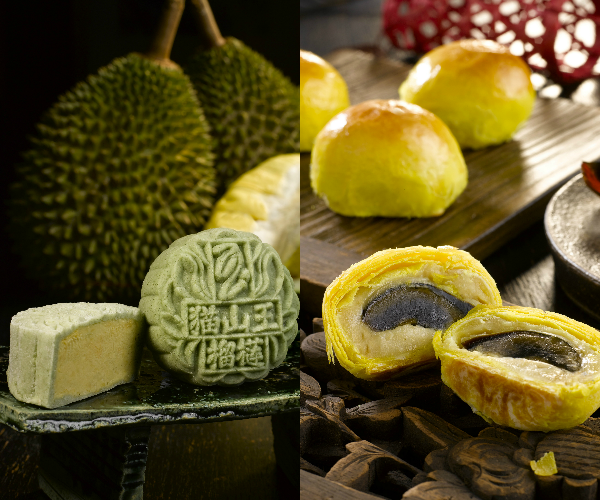 What's new: Peony Jade has some interesting new flavours this year, ranging from pesticide-free 100% Grade A Pure Mao Shan Wang Durian mooncake ($102 for 4-pieces, $60 for 2-pieces) in organic pandan snow skin to the exotic Mini Century Eggs Pastry Mooncakes ($62, 8-pieces), and fruit-inspired creations like the Peach-Passionfruit-Chocolate with Champagne Mousse centre available in the 4 Little Heavenly Kings Premium Fruitti Mini Snowskin set ($76, box of 8).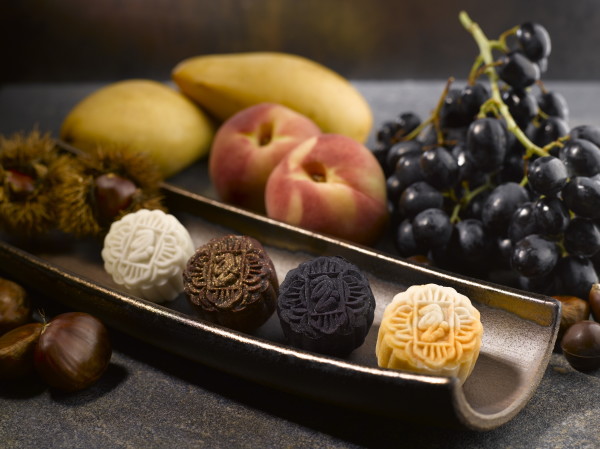 ---
Raffles Singapore
Order: Online at www.rafflesmooncake.com/order/ or at The Raffles Singapore Mooncake Shop, 1 Beach Rd, Singapore 189673. Enquiries, call +65 6412 1122 or email mooncake@raffles.com.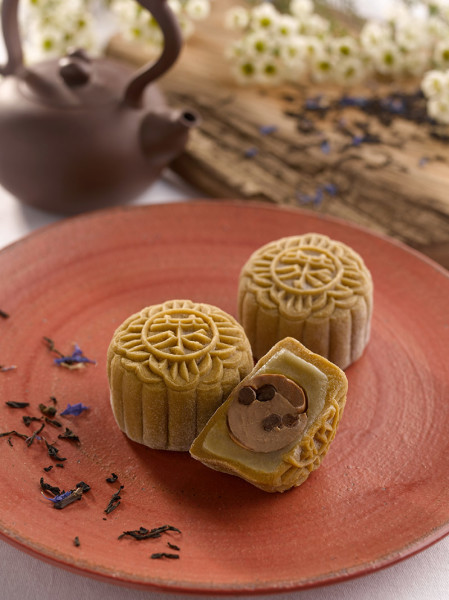 What's new: Adding to their delectable range of snowskin creations is the Earl Grey Tea and Pearl Truffle Mooncake ($70, box of 8), featuring a rich milk chocolate truffle infused with premium earl grey tea and studded with tiny, dark chocolate-coated cereal puffs for that delicate crunch.
---
Regent Singapore, Summer Palace
Order: Orders may be placed at the hotel lobby, 1 Cuscaden Road, Singapore 249715. Enquiries, call +65 6725 3239 or email foodbeverage.rsn@fourseasons.com.
Discount: Amex, ANZ, Bank of China, CIMB, Citibank, DBS, Diners Club, HSBC, JCB, Maybank, OCBC, POSB, Standard Chartered and UOB Cardholders enjoy 15% off till 27 September 2015.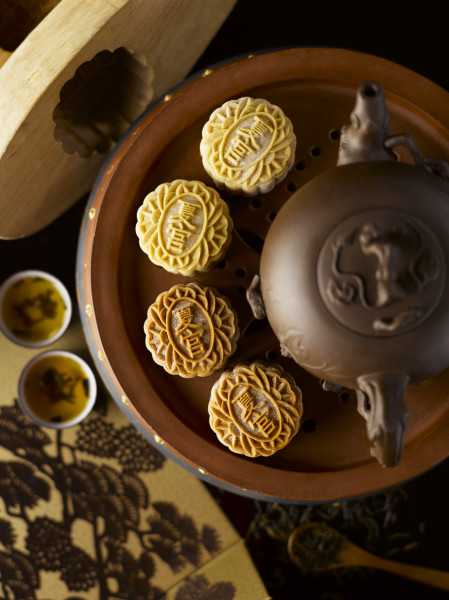 What's new: Dim Sum Chef Leong Kwok Sing presents two new, exquisite tea-infused snowskin mooncake flavours: the Regent Blend Tea (Darjeeling and Jasmine tea) Snowskin with a refreshing lemon paste, and a premium 18-year old Pu'er Tea with Red Dates Snowskin (both $60 for box of 8).
---
Sheraton Towers Singapore, Li Bai Cantonese Restaurant
Order: Orders may be placed at the hotel, 39 Scotts Road, Singapore 228230.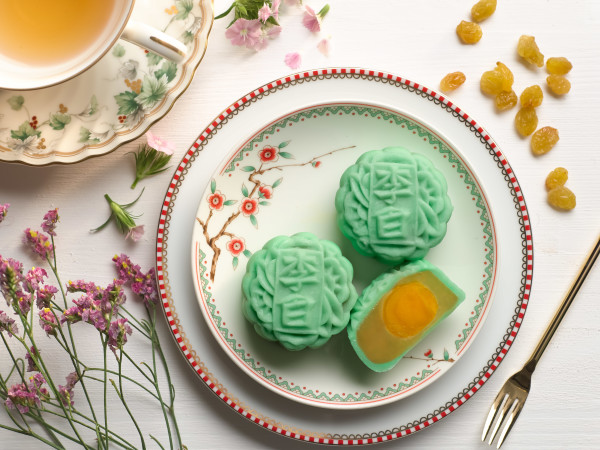 What's new: Chef Chung Yiu Ming balances out his yolk-heavy creations of Traditional Baked White Lotus Seed Paste Mooncake with Four Yolks ($88, box of 4) and the raisin-studded Mini White Lotus Seed Paste with Salted Egg Yolk Snowskin with refreshing, healthier options like the Mini Red Date Paste with Apricot Snowskin (snowskins at $56, box of 8).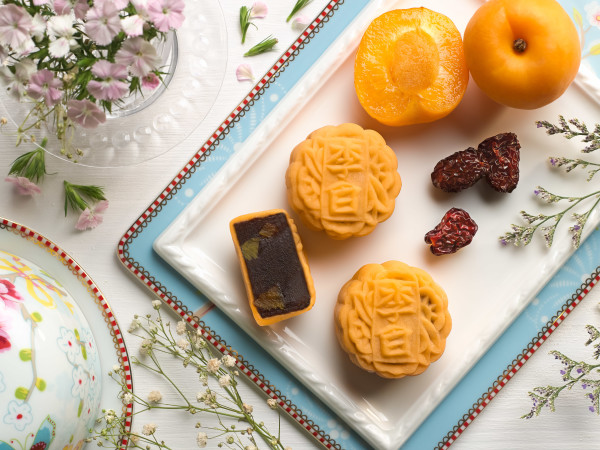 ---
The St. Regis Singapore, Yan Ting
Order: Online at www.yantingrestaurant.com/midautumn2015 or at the hotel, 29 Tanglin Rd, Singapore 247911. Enquiries, call +65 6506 6887 or email yanting@stregis.com.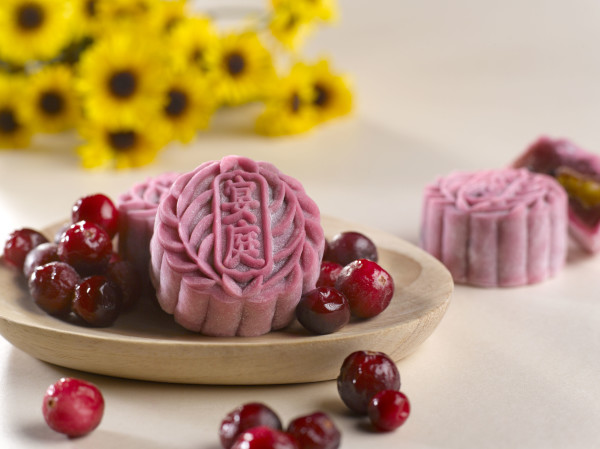 What's new: New in 2015 are the rosy Cranberry Paste with Salted Egg Yolk Snowskin Mooncake—the sweet cranberry paste nicely balancing the salty egg yolk centre—and the White Lotus Paste with Lemon Truffle Snowskin (both $73, box of 8) featuring a mouth-watering notes of citrus and a sweet chocolate truffle.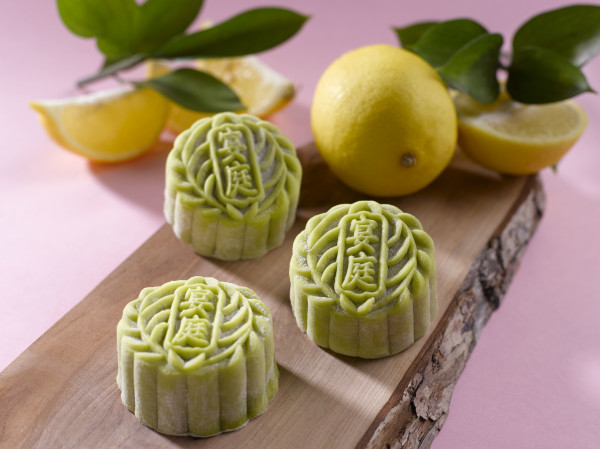 Also, impress with Yan Ting's premium gift box—each lacquered solid box box contains a premium Pu Er tea and clay teapot set—that comes with either eight assorted snowskin mooncakes ($147) or four traditional baked mooncakes ($167).
---
The Ritz-Carlton Millenia Singapore, Summer Pavilion
Order: Purchase online at rcmilleniapresents.com.sg, or at various retail locations islandwide.
Discount: Enjoy 20% early bird discount for purchases till 12 September 2015.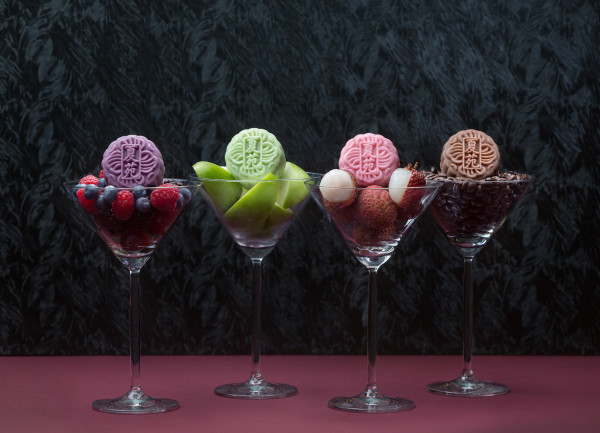 What's new: Inspired by their signature Mini Lycheetini Snowskin, they've introduced some other creations based off other popular martinis, such as the Mini Appletini, Berrytini and Coffeetini Snowskins ($64, assorted box of 8 pieces).
My personal pick is their new classic option of Baked Red Date Ginger Tea with Longan Mooncake ($60, box of 4) where red dates and ginger slices are mixed into the white lotus paste for that full-bodied flavour and real longan pieces are added for texture.
---
Shangri-la Hotel Singapore, Shang Palace
Order: Online at www.slsrewards.com.sg/mooncakes. Enquiries, call +65 6213 4511 or email dining.sls@shangri-la.com.
Discount: 20% discount for all online purchases, as well as CitiBank Cardmembers.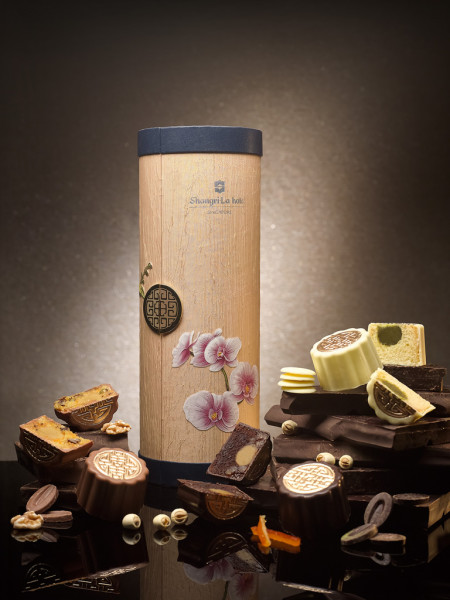 What's new: Together with Area Pastry Chef Hervé Potus, Master Chef Steven Ng has boldly forgone snowskin creations altogether for the new Chocolate Trilogy collection ($116, box of 6) that features an almost cake-like, lotus paste mix filling—such as candied orange, green tea and coconut, and mixed nuts with carrots, pumpkin and melon seeds—nested within delicate chocolate shells.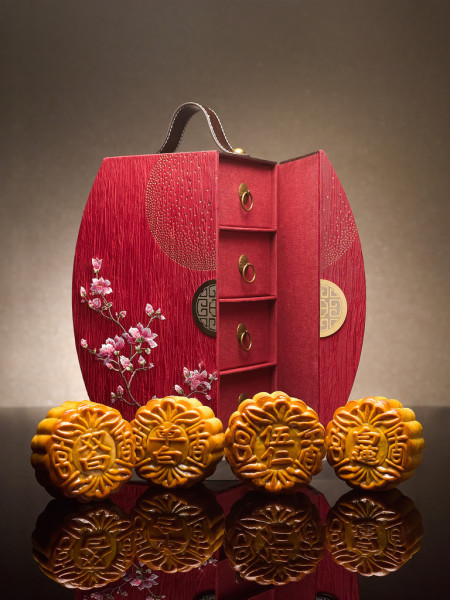 Fans of the baked variety can also enjoy three refreshingly innovative mooncake flavours: Baked Salted Green Bean Paste Mooncake with Coconut ($66, box of 4), Mini Baked Salted Kumquat Mooncake with Egg Yolk and the Mini Baked Custard Mooncake (both $78, box of 8). All mooncakes are presented in customised satin boxes with elegant peach-blossom embroidery.
---
TungLok Group
Order: Mooncakes are available at all TungLok restaurants till 27 September 2015, or whilst stocks last.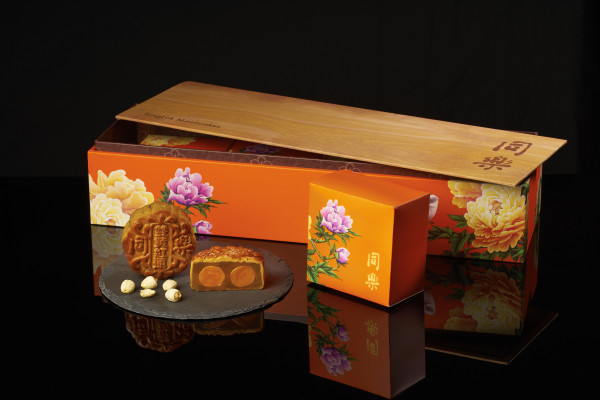 What's new: Besides updating this year's packaging for the Perfect Duo ($62, box of 4) and Bite-sized Mooncakes sets ($54, box of 16), TungLok has also introduced two new snowskin flavours—the milkshake-inspired Banana Milk with Salted Caramel, and the tangy and delicious Orange Apricot with Chocolate ($54, box of 8).