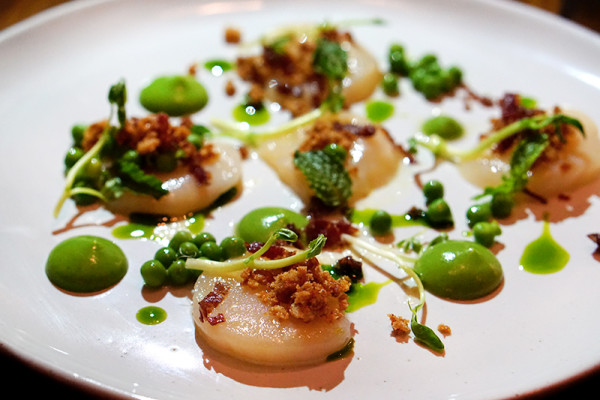 What: Same father-and-son team behind Moosehead Kitchen + Bar, Glen and Daniel Ballis, has launched Maggie Joan's Dining & Bar (opened 31 Aug) , new Mediterranean-inspired concept discreetly tucked away in the backstreets of hip and buzzy Amoy-Telok Ayer area.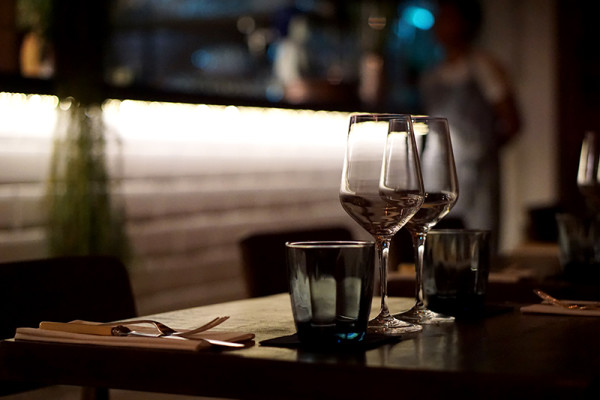 What to expect: The almost-missable entrance opens into a surreal, quirky yet attractive industrial-chic space where various vintage finds and specially designed knick-knacks—from the brocante bone cutlery to crystal chandeliers and raw brick walls—seem capriciously thrown together (though it works). The menu, however, is anything but haphazard.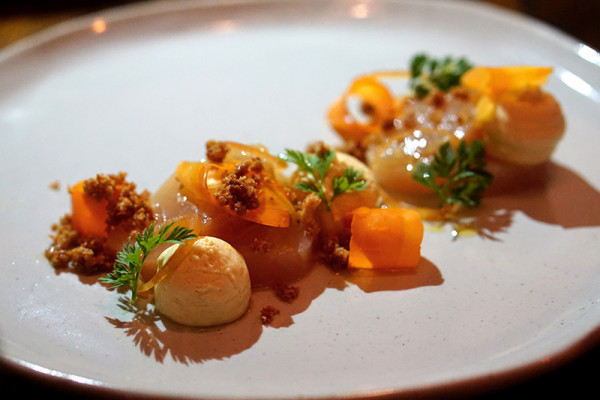 Tidbit: The restaurant is named after Daniel's two grandmothers; Joan being his maternal grandparent, and Maggie being the great cook that inspired Glen himself to become a chef in the first place.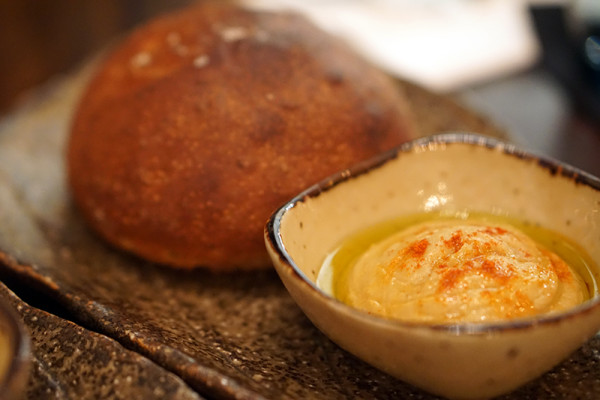 Like Moosehead, the establishment centers around use of freshest ingredients and seasonal produce, as well as making things from scratch "exactly like Grandma would"—like this piquant Garlic & Rosemary Bread ($5) paired with a moreish, cumin-spiked hummus dip.
Menu: Maggie Joan's is still in its soft launch period, so currently only dinner is available. The dinner menu is kept compact, with less than 30 dishes including desserts, though we hear Head Chef Oliver Hyde (formerly of Pollen) will soon be launching a separate lunch menu consisting of 2- or 3-course sets.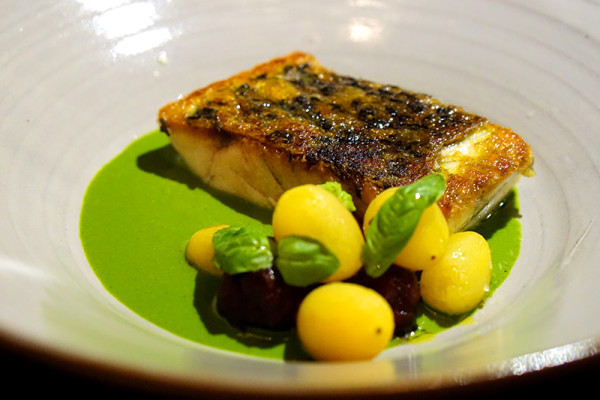 Must-tries include Roast Bass ($28) teamed with a duo of marinated tomatoes—the lighter and sweeter ones prepared with honey and vanilla, and the tart red ones with balsamic and sugar—and a basil pesto sauce. My first impression was that the dish wouldn't work with the contrasting sharp notes, but the addition of pine nuts and Parmesan to the intense green sauce imparted a nice, earthy flavour that rounded it wonderfully.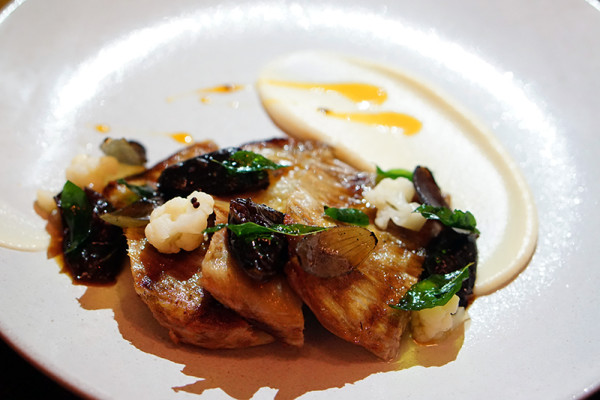 Other menu highlights include the Scallop Carpaccio ($21)—garnished with artful dollops of pea puree, peas, Paleta Iberica bits, fried-crunchy sourdough crumbs and a flourish of bright mint notes—and the mouth-watering Grilled Iberico Pork Jowl ($34).
First brined for deeper flavour and sous-vided for 12-hours till tender perfection, the pork is then finished off in an Inka charcoal oven for that enticing, charred smokiness and served with marinated prunes, pickled cauliflower, woody curry caramel (rasel hanout) and fried curry leaves on a swirl of smooth and creamy cauliflower puree.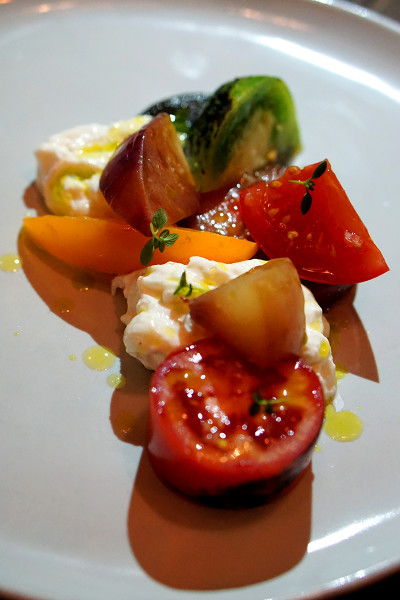 Also delicious and return-worthy at Maggie Joan's are the Roasted Heirloom Tomato Salad ($21) of compressed peach, olive tapanade and burrata, and the Ravioli ($25) stuffed with a substantial filling of ricotta and fork-smashed, smoked potatoes on a bedding of hazelnut-spinach salad.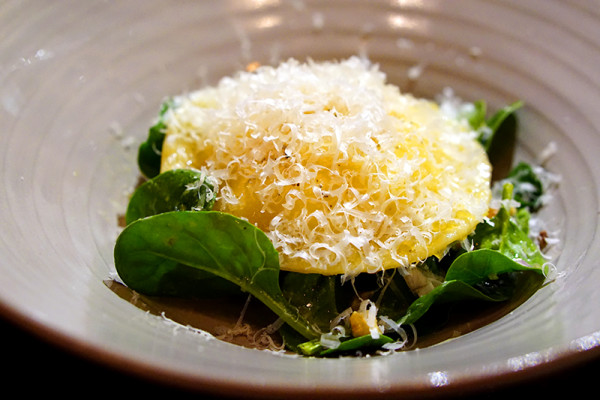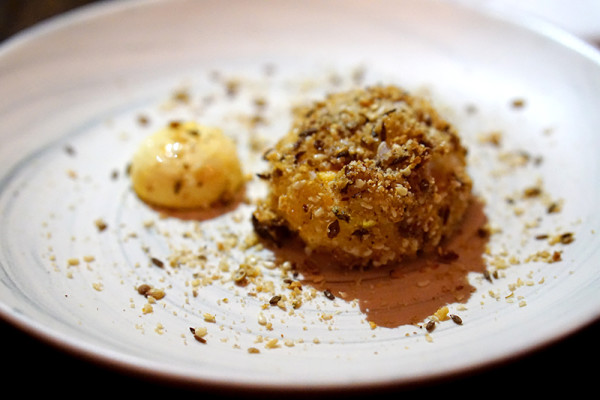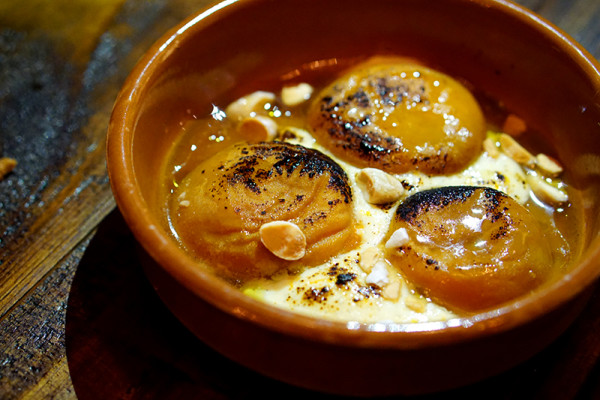 Desserts: I took an instant liking to the White Chocolate Dessert ($10), a beautifully textured presentation of smoked passion fruit, mango gel, chocolate cookie crumble, almost-doughy blobs of white chocolate with hints of spice from Tellicherry pepper and that moist crunch of passion fruit seeds.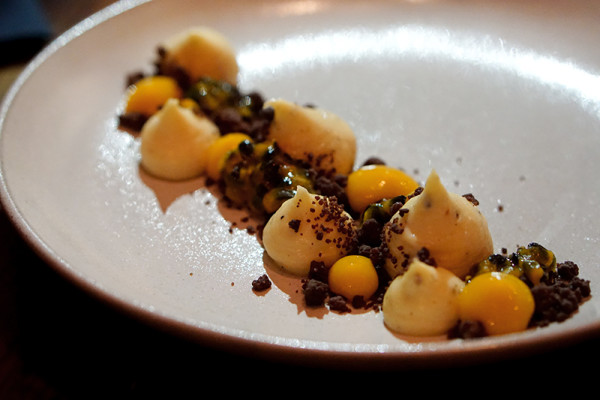 Address: 110 Amoy Street #01-01 (Entrance from Gemmill Lane) Singapore 068579
Tel: +65 6221 5564
Operating hours: Closed on Sundays. Mon-Fri 12pm-2.30pm, 6pm-11pm. Sat 6pm-11pm.