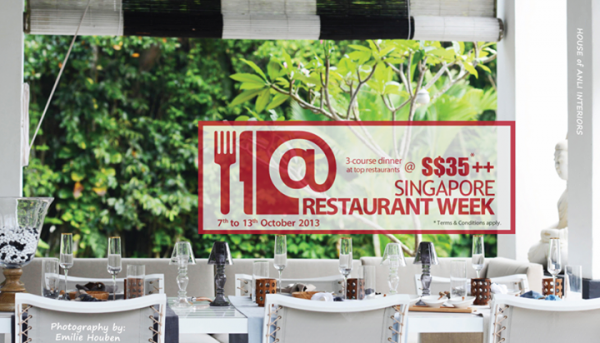 Foodies, mark your calendar as the 7th edition of Singapore Restaurant Week makes a return from 7 to 13 October 2013.
Presented by American Express and organised by DiningCity, the week-long epicurean affair will not only feature the option of some specially created healthier gourmet options, but also some new and notable establishments – like Bacchanalia, Fordham & Grand, Bar-Roque Grill, Oca Grassa, Hashi, and Sabio by the Sea.
American Express priority bookings opens 4 to 8 September 2013 – you will receive the booking code directly via American Express newsletter – with advance bookings for DiningCity newsletter subscribers opening 9 September, and to the public from 11 September 2013.  All bookings can be made online at www.restaurantweek.sg.
During Singapore Restaurant week, participating restaurants will offer 3-course set lunches at $25++, and a 3-course set dinners at $35++ (**restaurants awarded with DiningCity stars have a supplement of $15 for lunch, and $20 for dinner).
List of Participating Restaurants (October 2013)
&MADE
1-Twenty Six
7 Adam
Absinthe**
Alkaff Mansion Ristorante**
Arossa Wine & Grill
Au Jardin by Les Amis**
B@Rochester Restaurant Bar
Bacchanalia**
Bar-Roque Grill
Basilico**
Bistro Du Vin @ Shaw Centre
Bistro du Vin @ Zion Road
Blue Bali on Cluny (Formally The Villa Bali)
Boathouse**
Brasserie les Saveurs**
Bull and Butcher
Buyan Russian Restaurant and Caviar Bar
CANDLENUT
Capricci**
Casa Tartufo Ristorante**
Cassia**
Chef D'Table
Clifford**
Da Luca Italian Restaurant
East 8
Equinox Restaurant**
Etna Italian Restaurant & Pizzeria
Fandango Tapas and Wine Bar
Fern & Kiwi Bar and Eatery**
Fordham & Grand
Forest**
Forlino**
Gaia Ristorante & Bar**
Garibaldi Italian Restaurant & Bar**
Gattopardo Italian Grill & Pizza Bar**
Gunther's Modern French Dining**
Il Lido**
IMMIGRANTS The Singapore Gastrobar
J's
Jade**
JuChunYuan**
Kaixo
Kith Cafe @ Sentosa Cove
Kumo Japanese Kaiseki**
LaBrezza
Latteria Mozzarella Bar
Laurent @ Portsdown
Little Diner
MAD – Modern Asian Diner
Marriott Cafe**
Marugoto Shokudou
Michelangelo's**
My little Spanish Place
Nosh**
Oca Grassa
OChre Italian Restaurant Bar
Onaka Restaurant & Wine Bar
One Rochester
Oosters Belgian Brasserie
Original Sin
Oso Ristorante**
OTTO Locanda
Parsley & Thyme Restaurant
Pepenero**
Picotin Express (Sentosa Cove)
Pool Grill
Praelum Wine Bistro
Privé Grill
Punjab Grill By Jiggs Kalra**
Quayside Fish Bar & Bistro
Roundhouse Pizza, Bar & Grill
Sabio By The Sea**
Salt Grill & Sky Bar**
Salta Argentine Parrilla + Grocer
Shelter in the Woods
Si Chuan Dou Hua**
Stellar at 1-Altitude**
Summer Palace**
Table at 7**
Takumi Tokyo**
Taratata Bistrot
The Exchange
The Glass House
The Knolls**
The Lighthouse**
The Moluccas Room @ Marina Bay Sands
The Royal Mail
The Song of India**
Trattoria Lafiandra**
Violet Oon's Kitchen
Wan Hao Chinese Restaurant**
Wine Universe Restaurant
Yan Ting**
Zafferano Restaurant, Bar and Lounge**
Zaffron
​Hashi Japanese Restaurant**