The grass is always greener on the other side; just as how new restaurants are always more exciting. However, from time to time, I do enjoy rekindling with past loves – the security of the past and the joys of reminiscence do bring some comfort to the heart. My recent visit to Open Door Policy @ Yong Siak Street reminded me of why I fell in love with it years ago, and how it still managed to charm the pants off of me.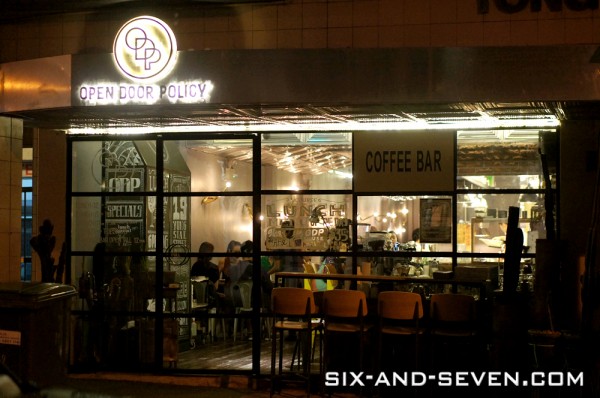 The underground-backdoor-hole-in-the-wall New York City vibe of the restaurant still has not changed, albeit a Sunday night tend to be slightly toned down. Its charm lies in its bustling ambience, and how conversational most of the staff is. Good service is a rare find in Singapore, but Open Door Policy has done a great job in ensuring its staff eases you well into your meal.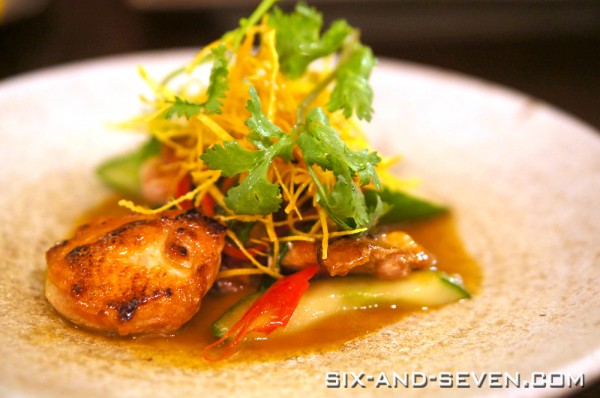 For the starters, I thoroughly enjoyed the Ginger and spring onion roast quail ($22). Largely inspired by traditional Chinese cuisine, this dish was a modern take on the crispy ee-fu noodles that we have come to love in many Chinese restaurants. While it is easy to overcook a quail given its smaller size, the chef had done this just right, and complemented it well with the simple "Chinese" broth.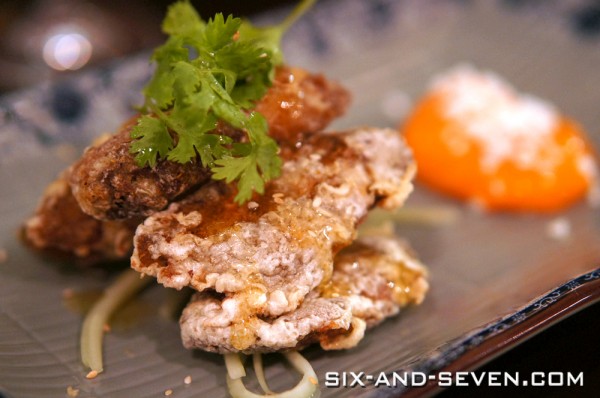 I tend to avoid dishes that require hands, as I absolutely hate excusing myself to the toilet midway out of pure laziness. The Crispy chicken wing ($18) was a gem find to know that the chef had taken into account my idiosyncrasies and deboned the meat. While it is hard to impress, or screw up fried chicken, the curry sauce was not your average McDonald's dip, and the flour topping does give the chicken a lighter taste.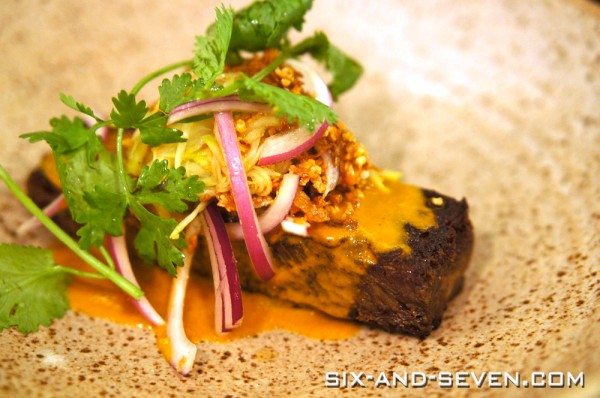 Moving on to the mains, I was impressed with the Slow-braised short ribs ($29). Slow-cooked to a tender consistency with all its flavours intact, the short-ribs is topped with a dash of curry jus and green mango salad that strongly hints at some Thai inspiration. The addition of nuts gives the dish a pleasant occasional crunch.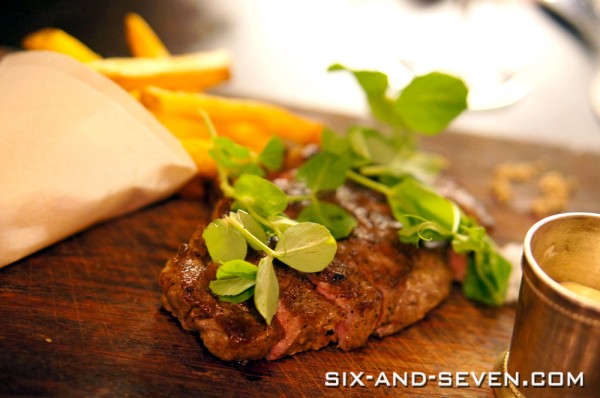 The Argentinian strip loin ($32) unfortunately was more medium done than medium rare. While the cut of beef was nevertheless good, I do think the chef may want to reconsider taking Beef Doneness 101. That being said, there's only so much that a plate of rosemary fries on the side could do to win me back. The evergreen 48 hour braised beef cheeks, still left a warm heartiness with every bite, and I was glad its standard was consistent after all these years.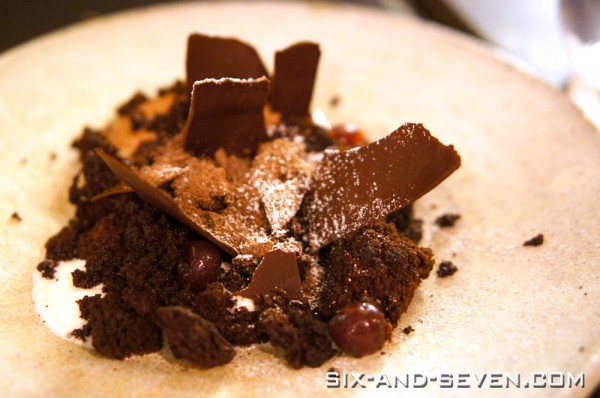 Don't be fooled by the "preserved cherries" in the Black forest mousse cake ($17), for they've been soaked in enough alcoholic to warrant a drink-driving fine. The deconstructed cake was certainly another expression of the chef's creativity, and it was both pleasing to the eyes and palate.
Open Door Policy retains its title as a contemporary restaurant with avant garde dishes stewed from a pot of cultures and backgrounds. The chef is innovative with his take on food, and my dinner there was certainly as memorable as the first. It is true what they say about past loves having a special place in your heart.
Open Door Policy
19 Yong Siak Street
Singapore 168650
Tel: 6221 9307 | enquiries@odpsingapore.com
Opening Hours:
Lunch: 12-3pm
Dinner: 6-10.30pm
Closed on Tuesdays