Jade Restaurant at The Fullerton Hotel Singapore is serving up a luscious, 6-course Peking Duck Extravaganza set dinner ($58), running through 30 April 2013, that will give you just the reason to head back to the CBD area for dinner.
Coming from a family of artists, Chef de Cuisine Leong Chee Yeng—also an avid pottery fan, and even has a few masterpieces of his own placed around the chic Chinese restaurant—helms the kitchen, and believes cooking is another channel to express his creativity, as he so clearly demonstrates with measured restraint yet a contemporary flair.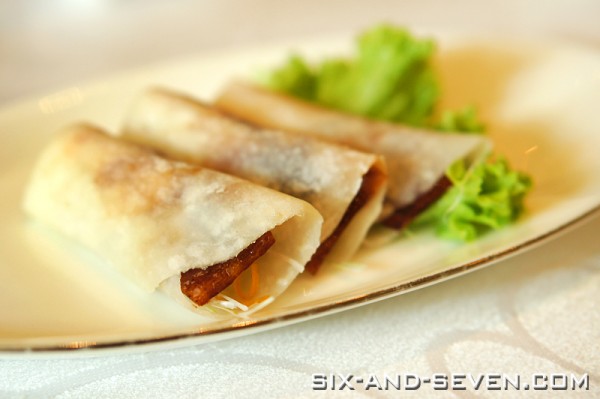 To start off this gastronomic dinner journey centred on the famed Peking duck, Chef Leong presents his signature Roasted peking duck wrapped with pancake. The addition of thin, zesty shreds of marinated orange peel—a Cantonese touch he's picked up over the 20-odd years of cooking—elevates the otherwise simple dish, and balances the flavours and oiliness of the duck.
For diners who can't get enough, Jade Restaurant is also offering their Whole Peking duck with pancakes at a special price of $48 only (usual $76) during this limited period.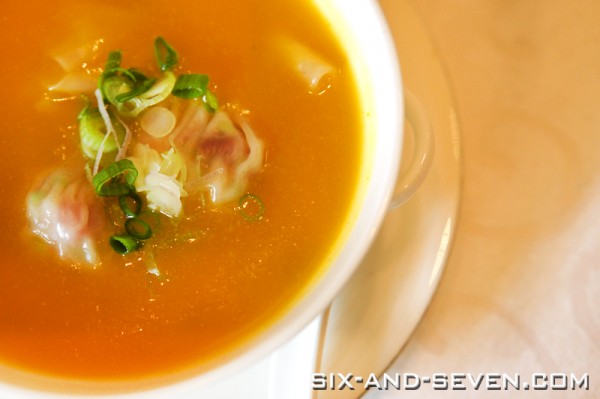 The second course, a comforting Pumpkin soup with wanton, switches out the Peking duck to the sidelines, but not without reason. The smooth soup and velvety wanton skin cleverly accentuates the fresh, firm crunch of encased shrimps and tender duck slices for a pleasing mix of taste and textures.
The aromatic Chawanmushi with crabmeat and mushrooms makes for a welcomed, pillowy intermission from the gourmet duck. With a liberal amount of mushrooms, each silky mouthful has an umami touch that is highlighted with a sweet crabmeat finish at the bottom.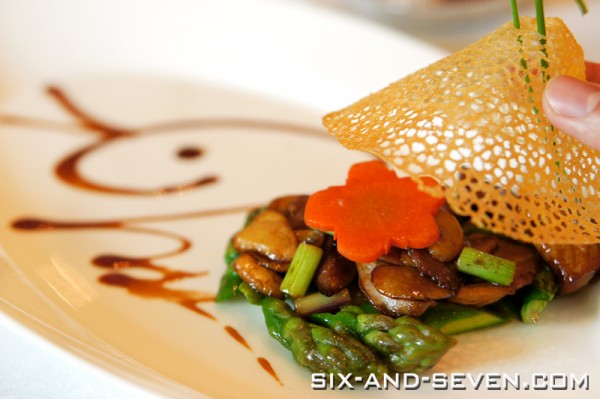 Exquisitely presented with an adorable dressing drawing and waffle shell, this 'snail' dish is most certainly the highlight of the dinner. Brilliantly paired with pan seared foie gras, the deftly executed, succulent Sauteed duck meat is further punctuated by the sweet and piquant balsamic reduction for that extra oomph. My only complaint is that there could have been more foie gras.
Choosing to add scallops and fatty bits from the Peking duck, the usually pedestrian fried rice dish is expertly transformed to possess much more flavour and depth. The crunch of diced cucumber and bean sprouts contrasts the unctuous duck, with the homemade XO sauce to lend some underlying heat.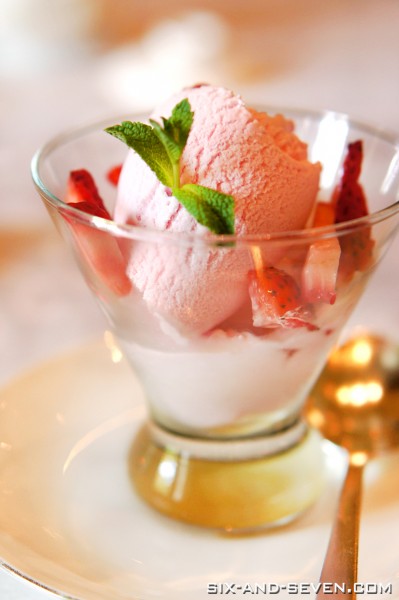 To end off the meal, Chef Leong's delicate Shaved rose coconut ice dessert, paired with fresh strawberries and jelly cubes containing coconut flesh—and also meticulously shaped into the shape of a rose—will surely hit the spot with its creaminess and subtle sweetness.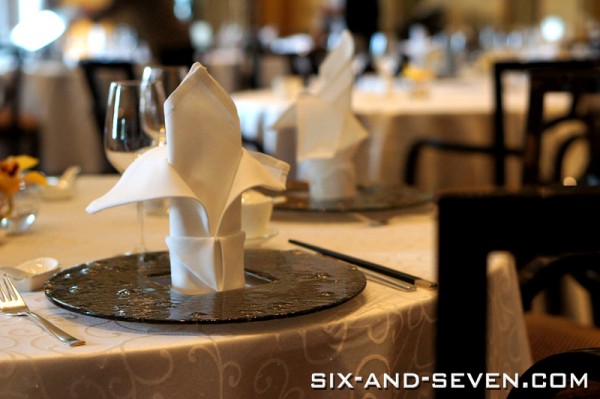 I must applaud Chef Leong for his extremely well-balanced Peking duck set menu. Throughout, and at the end of the meal, I didn't at anytime experience that it was too oily or 'jerlat', which sometimes does happen when you have too much of a good thing.
The Peking Duck Extravaganza 6-course set dinner is available at $58 per person, and runs through 30 April 2013.
Note: This was an invited tasting.
Jade Restaurant
The Fullerton Hotel Singapore, Lobby Level
1 Fullerton Square
Singapore 049178
Tel: +65 68778118