Tune out and indulge yourself with meat—or chips—mead and music at the hip Broadcast HQ.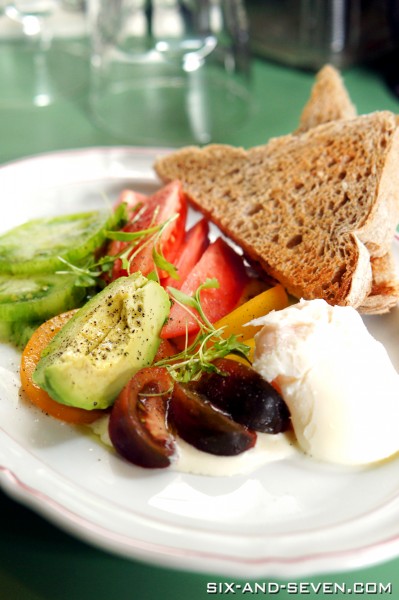 Taking over the now-defunct Post-Museum, Broadcast HQ is the latest genre-bending joint by the joint effort of Spa Esprit Group, Harry Grover (of 40 Hands' fame) and his brother George of Aussie music company Broadcast Events (aka resident DJ Darkwing) that is spicing up Little India.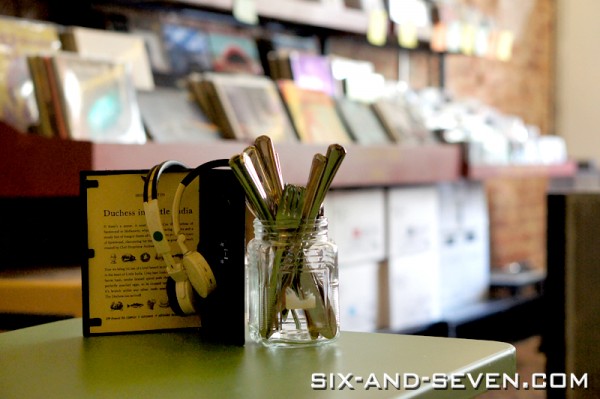 Merging a restaurant specializing in smokey barbecued grub, coffee and cocktail bar, music store retailing vinyl and CDs, and a club space (upstairs) into an industrial chic, two-storey shophouse of hedonism is no easy feat—exposed walls, beams and boards, with a whimsical touch of paintings hung from the ceiling—but they've managed to do so without stealing the limelight from the colourful neighbourhood.
Beyond the large selection of tipples, and marinated barbecue meats and seafood of all varieties, Consultant Chef Andrew Gale (current Chef Proprietor at the much-acclaimed Duchess of Spotswood in Victoria, Australia) recently broadens chow choices with a new brunch menu.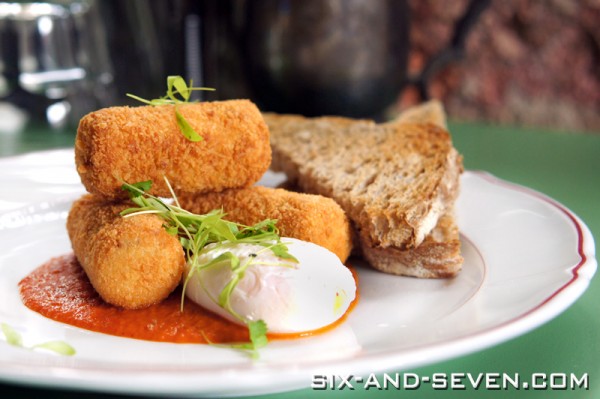 Highlights include the Ham hock croquettes ($15)—its nicely crisp shell breaks nicely to reveal dense, creamy filling—teamed with a peppery, robust tomato compote that left me wiping up with toast, and the Tomato salad with poached egg ($15). The soft, runny goat's cheese pairs interestingly well with juicy, fresh vine tomatoes. While the beautifully poached egg didn't do much for me, or my tasting partner, I did enjoy that salty tang from the marinated avocado that rounds the dish perfectly.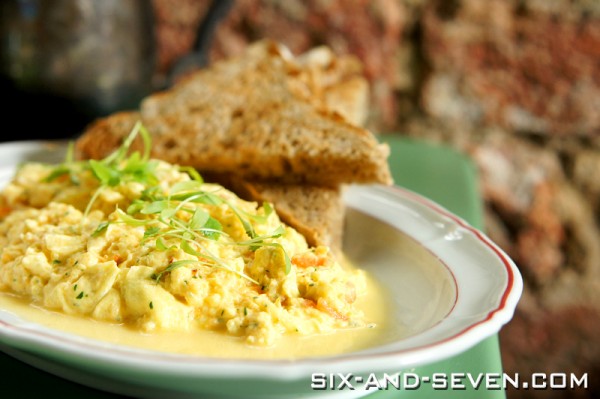 On the watery side, the parsley- and kimchi-studded Sea scramble ($18), packed with smoked salmon and crab, is a pleasantly briny variation that will appeal to those seeking a taste of the sea. I usually prefer my scambled eggs wet, not runny, so do sound out when ordering or you may end up with soggy toast, like me.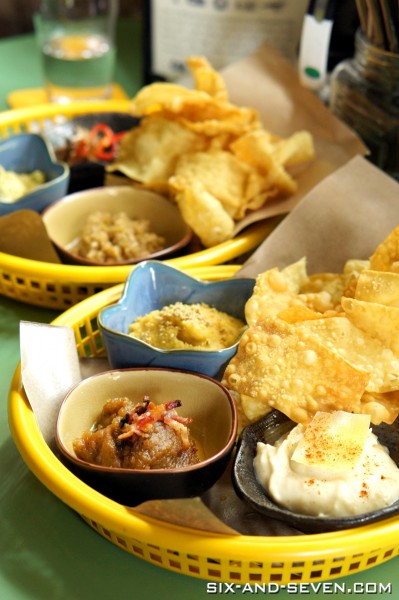 Dangerously addictive, and great to chill along to their in-house podcasts (choose from four different 'stations', including alternative and hip-hop) via their wireless headphones, are the crackling crisp Wanton chips ($12 comes with 3 dips). Favourites include the sinful Onion & Bacon and the savoury Pickled mixed mushrooms in soy, mirin and olive oil.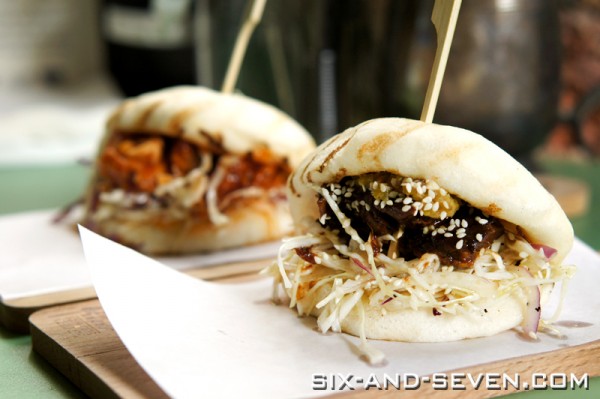 Their Grilled Little India buns ($6) make for a great light bite if you're feeling peckish. I only tried the tasty Crispy boneless habanero chicken wing and the tender Stewed beef short ribs—thankfully not as spicy as the menu writes it to be—but I'd definitely return for more.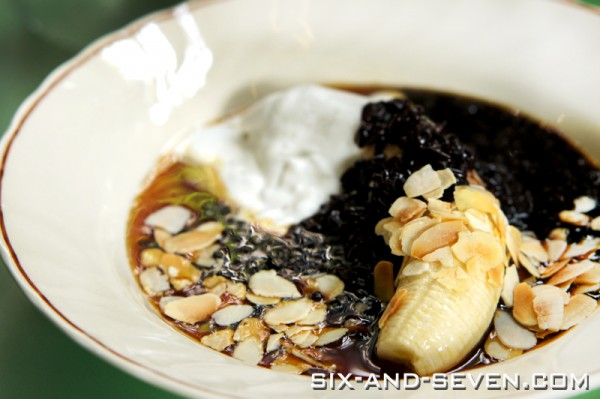 It's unfortunate that their desserts lack the oomph, or perhaps too much in the case of the new Spiced caramel dessert—a potentially scrumptious marriage of black rice, sweet coconut yoghurt and warm banana that is marred by a overzealous mistress of saccharine sweet, spiced caramel—that their usual mains possess.
That said, few establishments have mastered the lethal blend of cool tunes, good grub and mean drinks, and and this hip spot has it down pat.
Note: This was an invited tasting.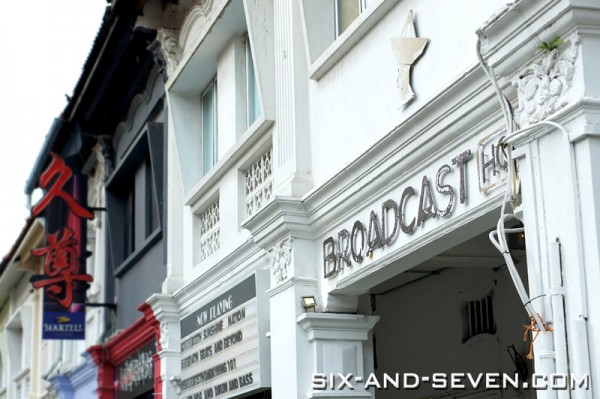 Broadcast HQ
107-109 Rowell Road
Singapore 208301
Tel: +65 62924405 | Website
Operating hours:
Tuesday – Friday 6pm-late
Saturday 12pm-2am
Sunday 12pm-10pm
Closed Mondays