It is truly the season of love. For the month of February, on the theme of Valentine's, Axis Bar and Lounge gives its Afternoon Tea a new coat of paint – a pink one for that matter.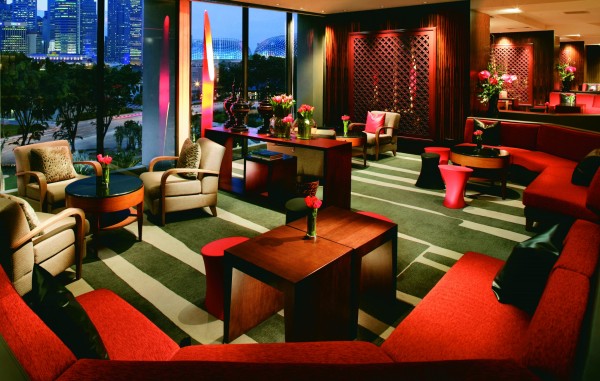 Tucked on the 5th floor of Mandarin Oriental Singapore, Axis Bar and Lounge offers a private oasis that overlooks the Marina Bay waterfront. Unlike many popular afternoon tea venues, Axis Bar and Lounge differentiates itself with a less ostentatious setting, and towards a more private dining culture where each table is ensured their own quiet privacy.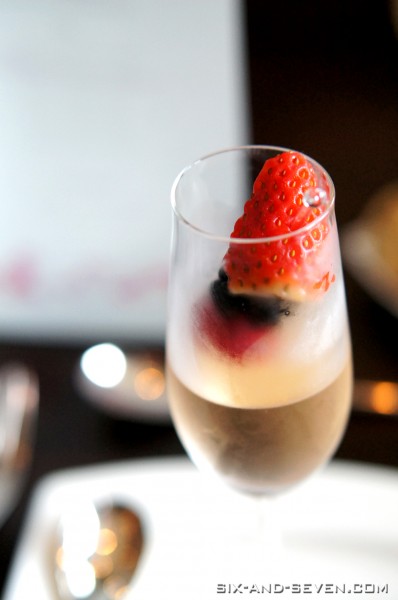 There is no better way to start an Afternoon Tea than with some alcohol. For the first of the 6-course afternoon tea, we were served a Rosé Champagne Jelly with Berries.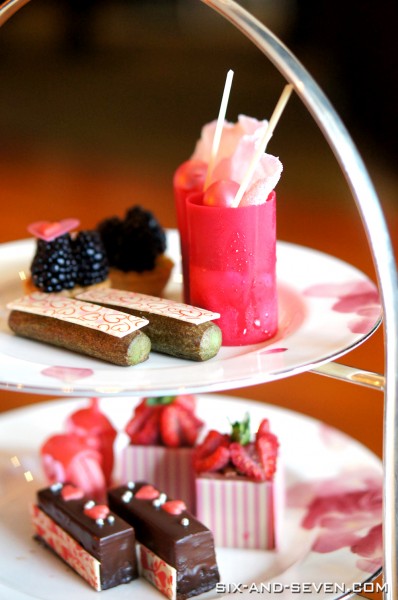 The Pink Afternoon Tea 3-tiered tray is a decadent selection of fanciful pastries that would make any girl swoon. The pastries look like they were churned out of a Hello Kitty store, with everything looking cute and decked with little hearts. The desserts do taste as good as they look, and the pink macaroon that comes fashionably in the shape of a bag is a personal favourite.
More evergreen items that can be found every other month too include traditional canapés of sorts – from egg moyannaise to cucumber and cream cheese. What really hit the spot for me was the selection of scones. They were served warm, a rarity, and it allowed for the butter to melt into a softer consistency that simply melts in your mouth.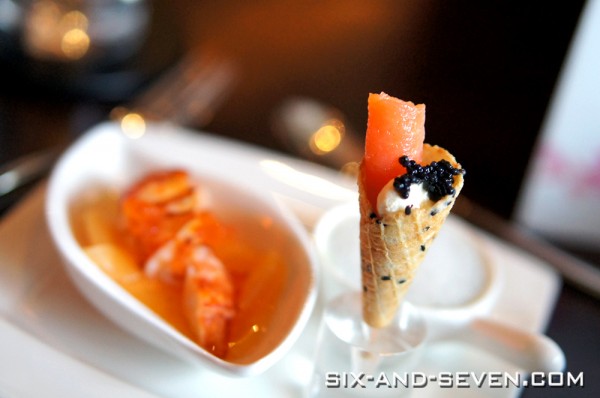 After the decadent 3-tiered tray, the menu moves on to a cute platter that includes a Salmon Cone, Lobster Salad and a Spinach Royal. The Spinach Royal was nothing to rave about, but the Salmon Cone was both interesting and tasty, while the Lobster's sweetness was accentuated with the addition of the sweet melon.
The afternoon tea ends off with a mushroom puff and a beef pie, followed by a selection of pralines. Generally, Axis Bar and Lounge makes a great afternoon tea venue for those looking for somewhere quieter to spend the afternoon. Their monthly-themed selection would also keep guests entertained with a selection of artisanal pastries catered for that theme.
Axis Bar and Lounge's afternoon tea is priced at $42++ per person, or at $80++ per couple. The afternoon tea is available daily from 3pm to 5pm, and and additional seating from 12.30pm to 2.30pm over the weekends and public holidays.
Note: This was an invited tasting.
Axis Bar and Lounge
5 Raffles Avenue, Mandarin Oriental Singapore
Marina Square, Singapore 039797
Reservations
Tel: +65 68853500
Email: dining@mohg.com