Once again it's time to hang up decorations in preparations to welcome the change of our Chinese zodiac. To celebrate the year of the snake this 2013, Hilton Singapore presents yet another luxe spread of Chinese New Year delicacies to augur good fortune and prosperity for diners.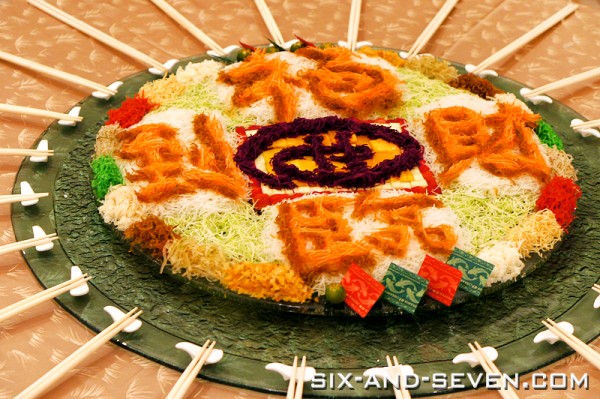 Available for order with their dine-in banquet menus is the Fortune Coin Yusheng ($528 for 30-pax). Created by Senior Chinese Chef Toh Choon Hock, this special dish—requiring 4-5 hours just to shape the ingredients and an auspicious Chinese quote—draws inspiration from ancient Chinese coinage.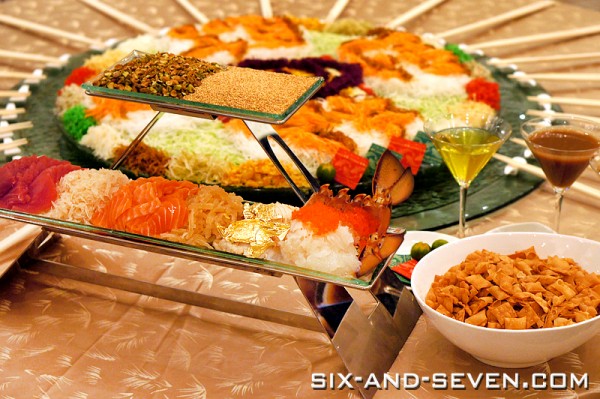 Besides the usual salmon sashimi toppings, the salad is complemented with tuna, fresh lobster, abalone and salmon roe, alongside truffle oil and gold flakes. Doused with Chef Toh's special plum sauce—a traditional recipe given a twist with fresh mangoes, strawberries, green apples and Taiwanese plum juice—the resulting tossed mixture is given a light, fruity and tangy touch that enjoyably doesn't weigh it down.
The Fortune Coin Yusheng for 30-pax ($528) is available from February 9th through 24th, and orders must be made at least 3-days in advance.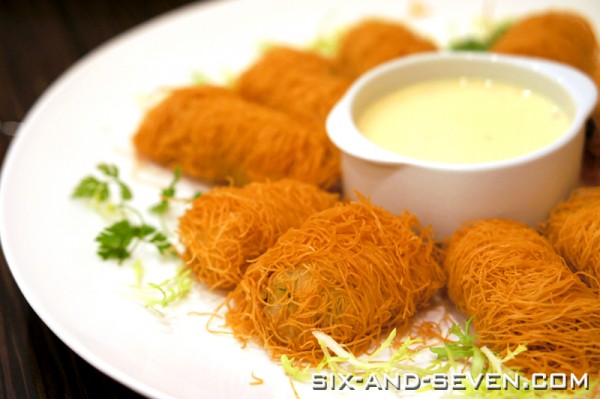 Chinese New Year highlights available on both their Prosperity Menu ($818 for table of 10) and the Reunion Dinner Buffet ($88 per person) at Checkers Brasserie include the Crispy Katali prawn & scallop roll and Stewed pork knuckle.
The rolls' delightfully crunchy exterior breaks neatly to reveal hot fillings of succulent prawns and scallops. The unique pairing of a homemade peach yoghurt sauce, accentuating the natural seafood sweetness, also differentiates this dish from other typical fried offerings.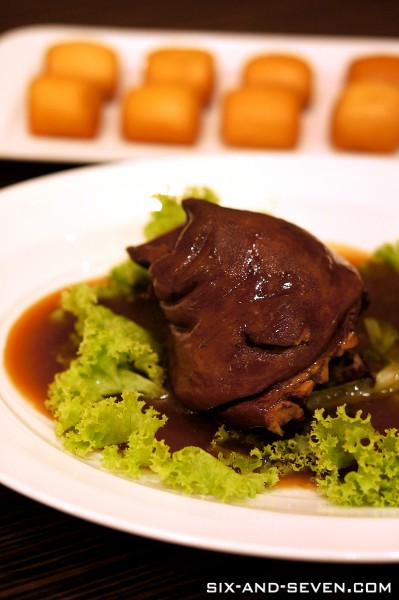 Chef Toh's deft execution is clearly demonstrated in this most flavoursome pork knuckle. Fall-off-the-bone tender with just enough bite left, the fatty meat is covered in a delicious, savoury gravy that makes me appreciative of the fried mantou's that comes with to wipe up any remaining goodness.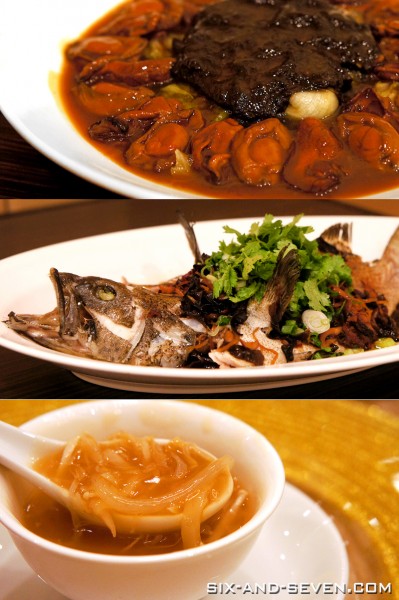 Buffet-goers get to enjoy select roast meats, fresh seafood on ice and a serving of Mini Buddha Jump Over the Wall, but the exclusive items on Prosperity Menu—such as the delicate Homemade style steamed garoupa and toothsome Braised baby abalone with dried oysters & black moss—also provides much to savour after.
I especially enjoyed the Braised fish maw—a comforting, homely soup with added conpoy, bamboo fungus and enoki mushroom for a savoury and umami touch.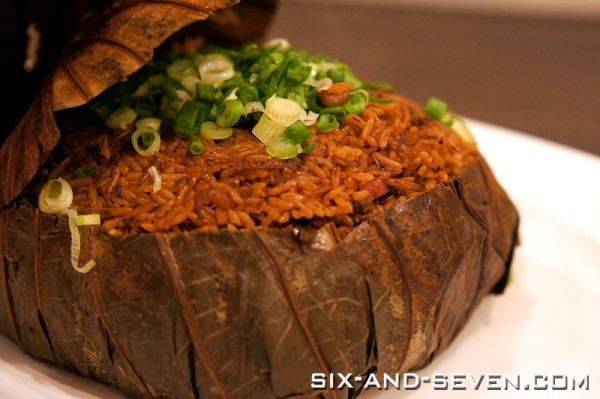 I usually shy away from most rice dishes during a Chinese meal as it can be a bit heavy, but the surprisingly fluffy Lotus leaf rice wins my over. Healthier and less sticky than as compared to a glutinous rice option, the fragrant steamed rice is packed with an assortment of luscious, moist preserved meat bits.
Enjoy a plenteous feast at Hilton Singapore with their one-night-only Renuion Dinner Buffet ($88 per adult, $42 per child) at Checkers Brasserie, happening on February 9th. Or for bigger familial celebrations, consider the Prosperity Menu ($818 for table of 10) or Harmony Menu ($688 for table of 10), minimum booking of 5 tables and reservations made at least 1-week in advance.
For reservations and enquiries, please call +65 67303390, or email sinhi.checkers@hilton.com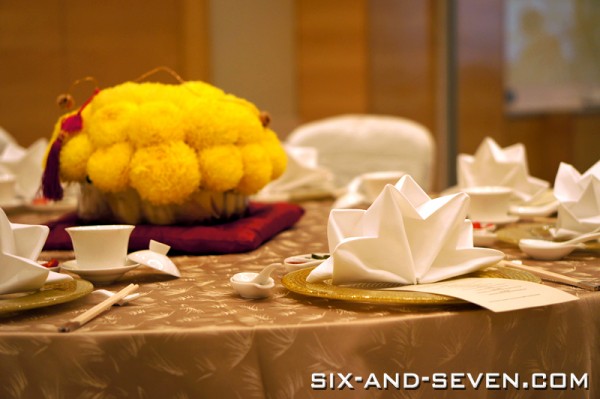 Hilton Singapore
581 Orchard Road
Singapore 238883
Tel: +65 67303390 | Website