To say Four Seasons Hotel Singapore is up for a gastronomic transformation would be much of an understatement. After a most impressive debut by new Chinese Executive Chef Alan Chan—at award-winning Cantonese restaurant, Jiang-Nan Chun—the luxury hotel builds up on the momentum with a new signature afternoon tea and a refreshed Sunday brunch experience.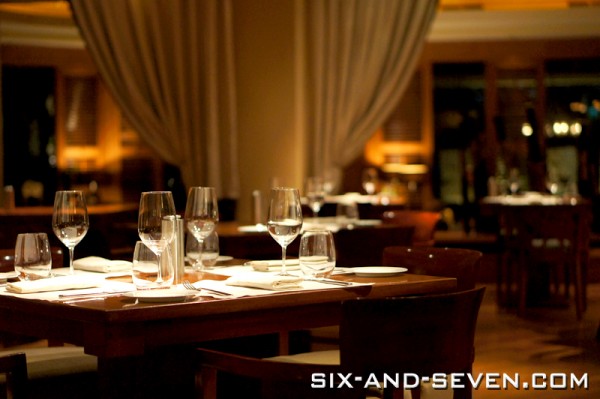 Famed for their scrumptious appetiser and dessert buffet, as well as a selection of popular local favourites, One-Ninety moves to shift the focus onto their applewood oven-grilled items with a newly created dinner menu by Senior Sous Chef Nicholas Owen.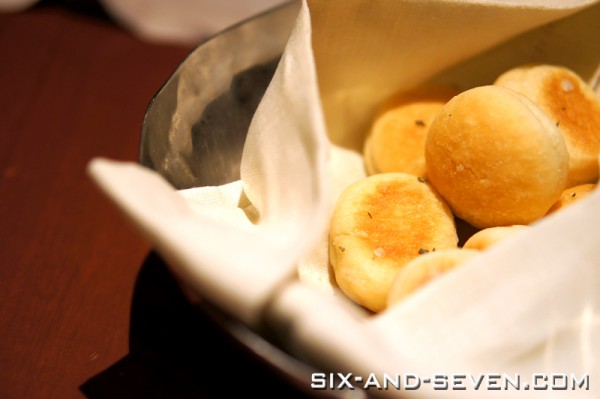 As we were introduced to their latest culinary update over mini-focaccia's—thoughtfully bite-sized for suitably classy and fuss-free enjoyment—the affable restaurant manager offers us some wine recommendations to accompany the dishes lined up through our evening.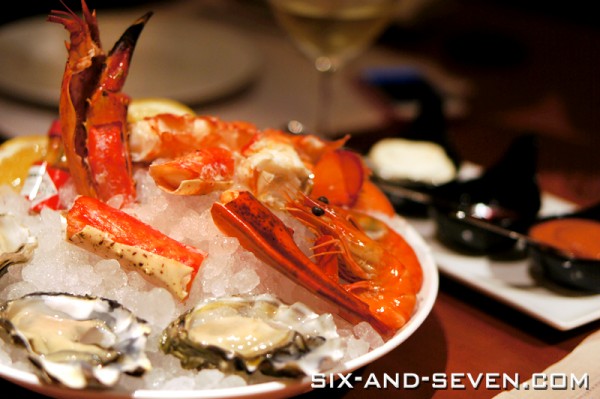 Just as conversation warmed up over Spanish white wine, the One-Ninety seafood platter ($52) makes an entrance. Literally "a little bit of everything" as the menu described, the platter for two presents fresh oysters, maine lobster tail, Alaskan king crab legs, poached tiger prawns, as well as adorable, tiny bottles of Tabasco. What really accentuated the dish though was the special yuzu mayonnaise—one of the three accompanying dips—which lent a complex taste and creaminess, giving the simple dish much depth.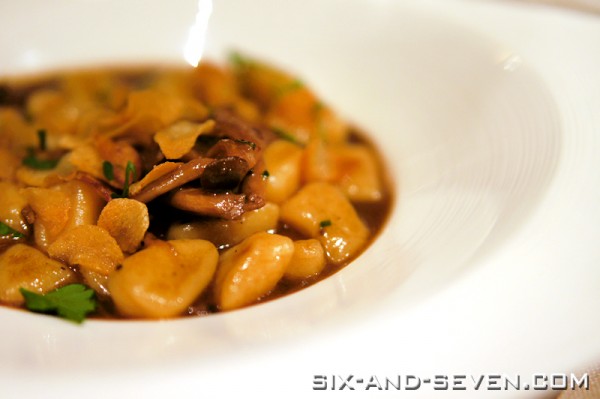 The Ricotta gnocchi ($17) may look like the run-of-the-mill gnocchi dish you may find at a hoard of other establishments, but one slurp of that full-bodied, rich mushroom broth will have you realize that looks can be deceiving. Topped with Shimeji mushrooms, that gave the dish extra oomph with its distinctive umami touch, it's almost too easy to not want to share this starter at all.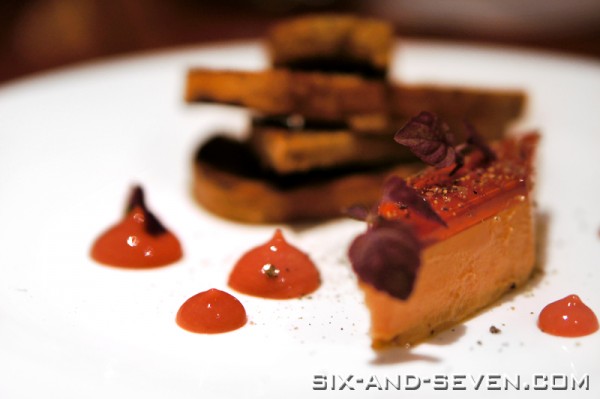 Using a technique refined over a period of 5-years, Chef Nicholas presents a Foie gras pavė ($26) so extremely smooth, it's hard to believe it wasn't a blend of flavoured butter. Highlighted with strawberry jam—a berry topping that changes seasonally—the sweetness reins in the flavours neatly onto the thin, grilled rye bread. Now, if only One-Ninety had a retail section.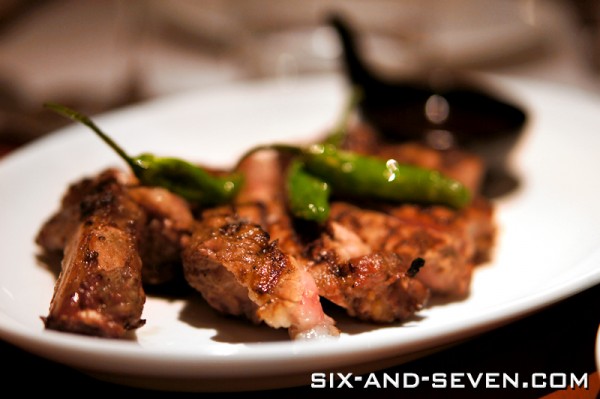 Raised on a milk formula supplement, the Dutch milk fed veal chop ($58/280g) was executed tender, creamy pink on the inside with a nicely browned exterior, courtesy of the applewood oven. While the accompanying sauce—my vote goes to the classic béarnaise—does well to add dimension to the dish, its success is not determined by it.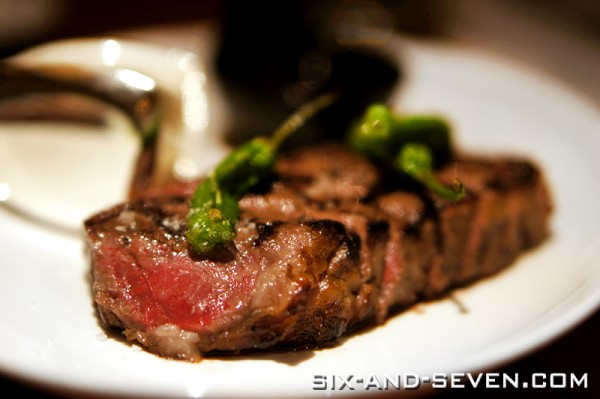 Beef-lovers will be almost spoilt for choice with 5 of the 9 applewood grill selection to be coming from cows. While it is easy to cook a good piece of meat well done, it takes a certain finesse to accomplish such an even doneness throughout the Tajima wagyu sirloin ($95/230g marbling grade 8-9) we witnessed that night. With a light seasoning of coarse salt—that gave mini bursts of saltiness as you crunch through them while chewing—the natural flavours of the meat take centre stage, and I humbly believe it is worth every penny.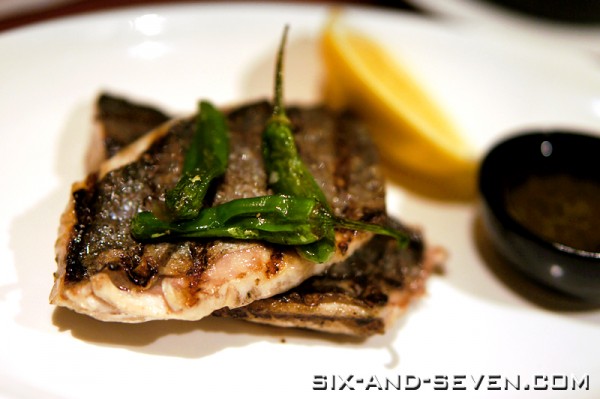 Pescatarians need not fret either as Chef Nicholas offers a choice between 3 grilled fish dishes. All grilled items are served with shoestring fries, mesclun salad and a sauce of your choice—classic béarnaise, natural jus, tamarind black peppercorn, black truffle buerre blanc or lemon herb olive oil. Diners who want a little something more can go for sides like the light Mouselline potatoes ($6) or the robust Smoked mushroom gratin ($6).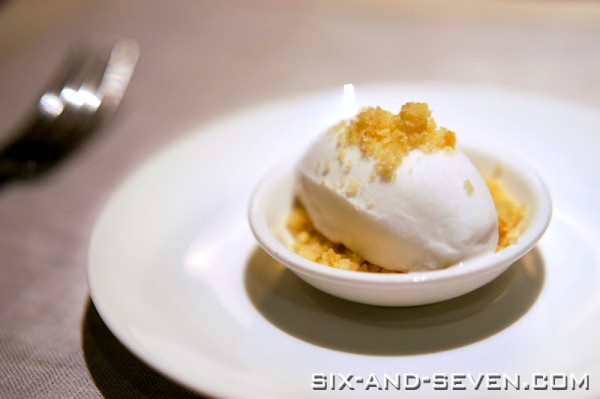 To cleanse our palate and prepare us for desserts was the timely arrival of a petite Coconut sorbet. With a touch of salt to bring out the flavour, the weightless sorbet made an extremely delightful prelude to my favourite part of every meal.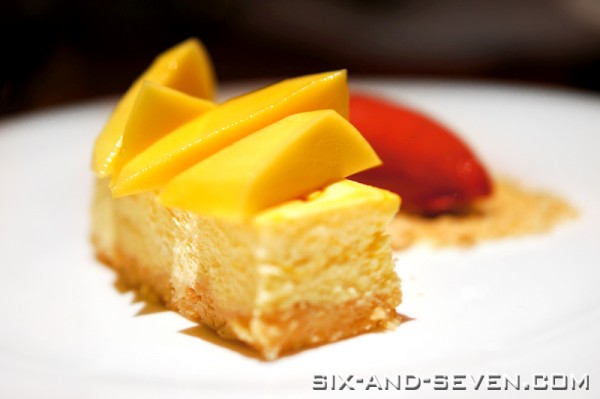 It's no secret that I'm predisposed towards chocolate desserts, but it was the Sydney Opera House-resembling Alphonso mango cheesecake that won me over that evening. Rich and creamy—more so than it was cheesy—and topped with sweet, ripe chunks of exquisite Alphonso mango, the cheesecake is delicately balanced by slightly tart raspberry sorbet, and is definitely worth a mention.
With impeccable and warm service, I only foresee One-Ninety to become increasingly popular, especially amongst those with discerning taste. Better hurry with those reservations.

One-Ninety
Four Seasons Hotel Singapore
190 Orchard Boulevard
Singapore 248646
Tel: +65 6831 7250 | Website
Opening hours:
Breakfast: 6.30am-10.30am
Lunch: 11.30am-2.30pm
Dinner: 6.30pm-10.30pm
Sunday brunch: 11.30m-4pm
Saturday mezze: 12noon-3pm