Formerly the Executive Chef and Director of Restaurant L'Osier in Tokyo, Chef Bruno Ménard is now based in Singapore, and brings to our shores the French techniques and culinary philosophies that has earned his work in Japan 3 Michelin stars for 3 years in a row.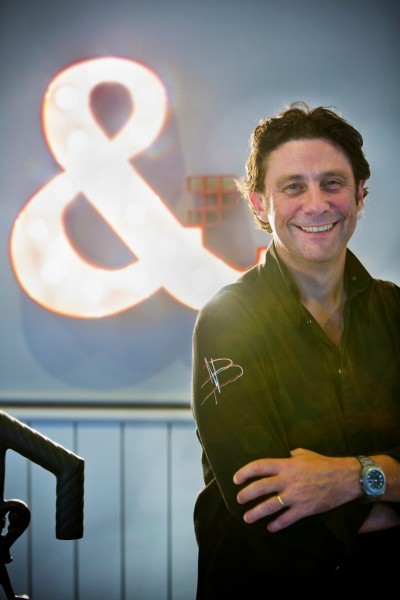 Six&Seven visited &Made at Pacific Plaza recently—read the review here—and got to catch up with the amicable chef. Do keep an eye out for another soon-to-be opened F&B concept that Chef Bruno will be helming as well.
How did you get started in the culinary industry?
I have been raised in a family with a deep culinary pedigree. Both my grandfathers were chefs and my father a highly accomplished chocolatier, so I guess this influenced my professional choices.
What is the philosophy behind your dishes?
I believe in 'neo-classic' French cuisine. Yet at the same time, I also like very much serving up novel and modern interpretations of classic dishes in fun and unexpected ways. This is what we do at &Made. We cook everyday dishes the gourmet way.
What is your favourite/proudest dish on the &Made menu?
After more than 2 weeks of opening, I would say there are 2 "signature" dishes at &Made. One is the 'B' Burger. The other one is the Toastoo Chili Crab.
The burger is a dish which is at the opposite of what I have cooked until now… I've tried to cook something different and innovative compared to the usual standards of the hamburger. To do so, my team and I pay careful attention to the selection of the ingredients; Beef is minced with a specific technique to seal in taste and deliver an uncompromisingly juicy patty. Barbecue Sauce, Ketchup, Onion Jams and Mayonnaise along side Aioli and Capers adorn the condiments list. All burgers are served with fries. All of which are my 'hand crafted' recipes, made daily. The 'B' Burger is made with dry-­‐aged beef, onion confit, caper/garlic sauce & Comte cheese.
Regarding, the Toastoo Chili Crab, it is exclusive to &Made right now, and specifically fashioned to expand peoples' concept of what everyday food can be. Toastoo is a buckwheat crepe toasted and sliced into triangles. As you crunch through the pocket, you will have an explosion of warm, savory taste that will keep you coming back for more. It is inspired by the famous Singaporean dish!
What is the biggest kitchen disaster you've experienced in your years of cooking?
So far, no big disaster!
What kind of dishes do you enjoy cooking at home?
I don't cook at home. My wife is the chef.
As a chef, you have to work with all sorts of food and ingredients; are there any particular ones that you tend to avoid?
Not really. Every ingredient is crucial. At every step of the recipe, we select the best ingredients to ensure we serve the best to our clients.
Could you share one culinary tip/secret with our readers?
I would love to but if I do, you won't find any reason to come back at &Made!