In this issue of Backlights, Six&Seven gets close to Chef Alain Devahive Tolosa—formerly of elBulli Restaurant and elBulli Catering, as well as several Michelin starred restaurants in Europe—executive chef of Catalunya, the latest contemporary Spanish restaurant to be making waves in Singapore's culinary scene.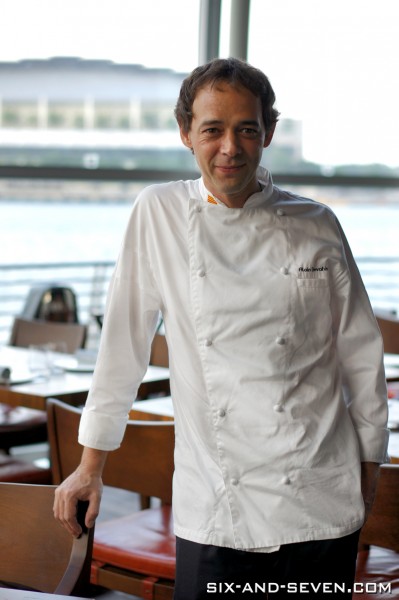 Opened barely over a month now, the restaurant nestled in the newly built The Fullerton Pavilion boasts a magnificent waterfront view of the Marina Bay area and usually requires a week's advance for dinner reservations. We hear there are plans to expand the restaurant to include open space atop the floating dome and we know it's going to be just incredible.
How did you get started in the culinary industry?
I decided to pursue this line out of passion; I've always wanted to be a chef ever since I was young. I was inspired by my parents and my heritage—both the Catalan and Belgium part.
What is the philosophy behind your dishes at Catalunya?
The main philosophy here is to recreate Spanish cuisine through recipes that we have tailored to match the concept for Catalunya. It's all about creating this a brand-new all rounded experience and trying to get people interested in Spanish cuisine.
What is your favourite/proudest dish on the menu?
I give each dish my own personal touch. All the recipes are not simply imported here to Singapore; we go through each of the recipes and adapt them to both the local palate, as well as the ingredients that we are able to source. You can say everything was 'made' here in Singapore. While many ingredients are available in Singapore, we do have to import things like suckling pigs specially from Spain to tomatoes from Italy and France, as well as special oranges from Australia that are grown from a Spanish tree.
[While Chef Alain did not specifically spell out a favourite dish, Six&Seven hears that he does take a fancy to "Suquet" with Scorpion Fish—an old-fashioned seafood stew.]
What is the biggest kitchen disaster you've experienced in your years of cooking?
Oh, I've had plenty of kitchen disaster, but I'm not going to tell you exactly what. I can say though that my biggest one actually happened quite near Singapore. All the products from the kitchen are handcrafted, so it's only not common that disasters happen. The difference between ice cream and a soup is only 10 degrees Celsius; considerably little margin for error.
What kind of dishes do you enjoy cooking at home?
I don't actually cook for myself if I'm at home, though I love to cook when I'm hosting guests. It's just a very different lifestlye that we have. When people are having fun or dining, we are working. When people are working, we are still working. So when I am free, I just want to experience other things besides cooking.
As a chef, you have to work with all sorts of food and ingredients; are there any particular ones that you tend to avoid?
Not really, though you can say my favourite ingredient is salt. Did you know that the word 'salary' comes from 'salt', as it was used as currency in the oldern days? Salt isn't actually used for saltiness; it is used to bring out the flavours of a dish, though too much can be disastrous.
Could you share one culinary tip/secret with our readers?
I've never kept any culinary secrets or techniques throughout my career. I believe in the sharing of knowledge, so if you're at the restaurant and you want to know more about a certain dish, you can just ask. Regarding the personal life though, everyone has their own secrets.