While some find its distinctive aroma repulsive or putrid, there are those from the other camp who simply cannot get enough of this thorny 'king of fruits'. The formidable durian may not have been raised as an issue by 'nosy' neighbours yet, but I say why risk a mediation case when you can celebrate with like-minded aficionados instead?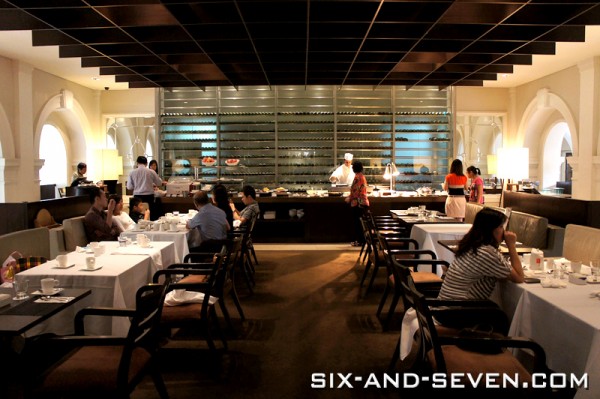 The highly anticipated annual Durian Fiesta returns to Goodwood Park Hotel, promising fans and connoisseurs alike a one-stop destination for their famed signature durian pastries and cakes, as well as some lush new creations.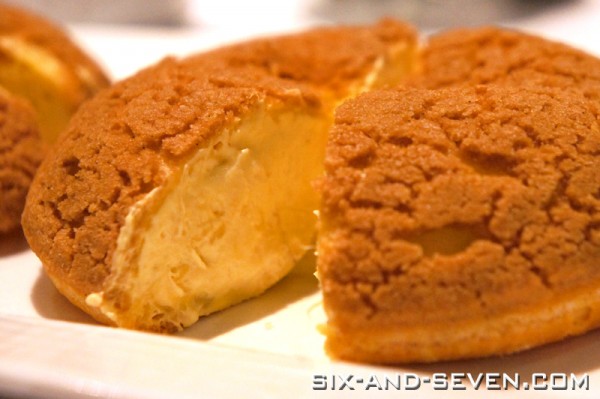 The 'Mao Shan' Power Puff ($16.80 per piece, available only at the Deli) may look like a 'Kopi' bun on the outside, but one bite into it and you can hear that dated coffee bun crooning "But the kid is not my son". Filled with thick, creamy Mao shan wang pulp, the large choux pastry is a sinful treat that could probably put some durians to shame. Best part of it all is that you can actually take public transport with it without being slapped a fine.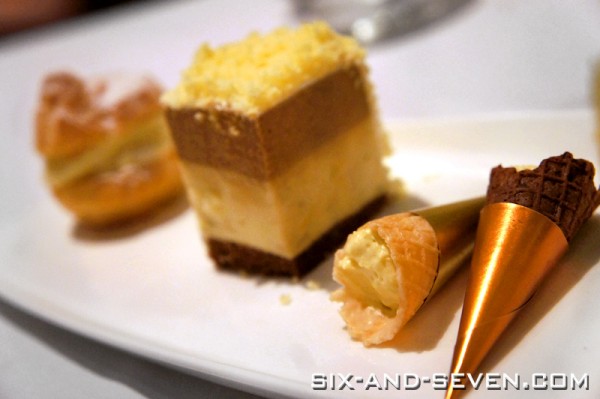 The Mini Chocolate and Vanilla Cones filled with Durian Mousse (available in the dessert buffet) is a light treat doesn't take much to enjoy, but it was the sophisticated Durian Cappuccino Cake (available in the dessert buffet or $10.80/slice, $55/1kg from the Deli) that got my attention with its rich cappuccino mousse, that accentuates the bittersweet D24 mousse, and a chocolate sponge to round off the flavours nicely.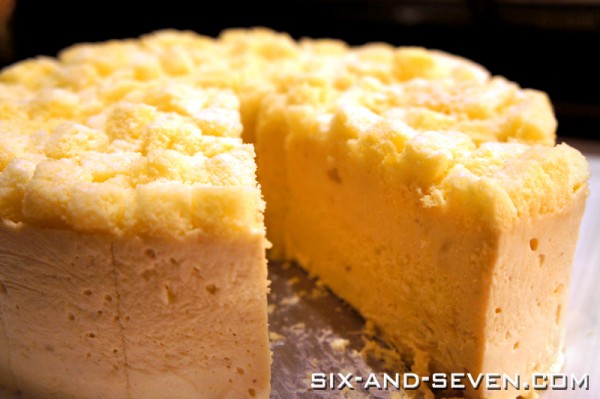 The legendary creation that sparked off the whole annual promotion, the unbelievable light Durian Mousse Cake (available in the dessert buffet or $10.80/slice, $58/1.3kg, $112/2.5kg from the Deli) packs a velvety, powerful punch of pure durian gratification that is sure to satiate even the fussiest durian fan.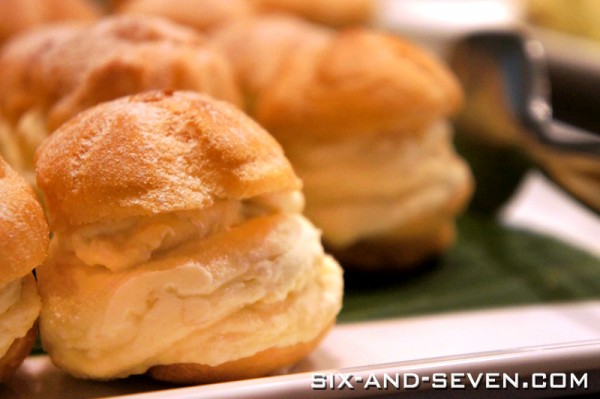 Besides the various items mentioned, the promotional dessert buffet lineup at the Coffee Lounge will also feature their signature Durian Puffs and a 'live' station where the chef whips up Durian Crepes ($8.80/piece, $60/8-pieces) on the spot. The smooth durian pulp rolled in a light and fragrant pancake makes a perfect afternoon tea bite to go along with a good read and some tea.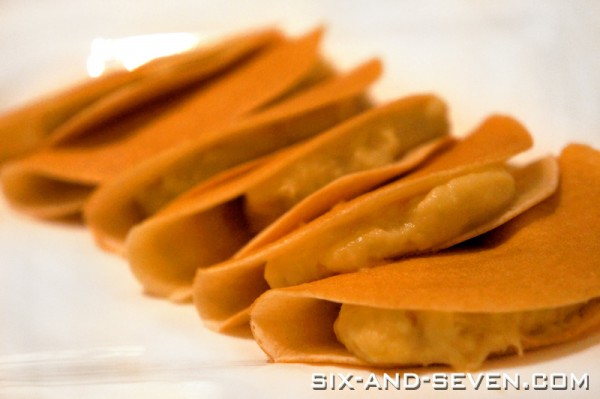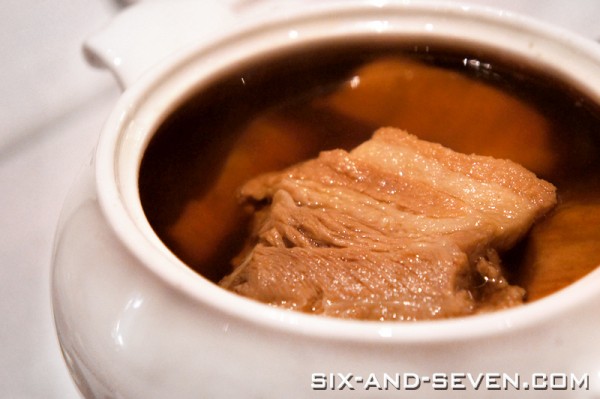 Those who want something savoury before going all out on the dessert buffet or durian pastries can consider the Bak Kut Teh ($19), a new item on their a la carte menu. Served with fried dough fritters, preserved vegetables as well as a choice of steamed white rice or Mee Sua, the generous portions of pork ribs, presented in a homemade white pepper-based clear broth that doesn't overwhelm, were cooked evenly and surprisingly tender – no short feat for such chunky pieces of meat. Other new items include Paper-wrapped Chicken and the Poached Soy Chicken with Rice.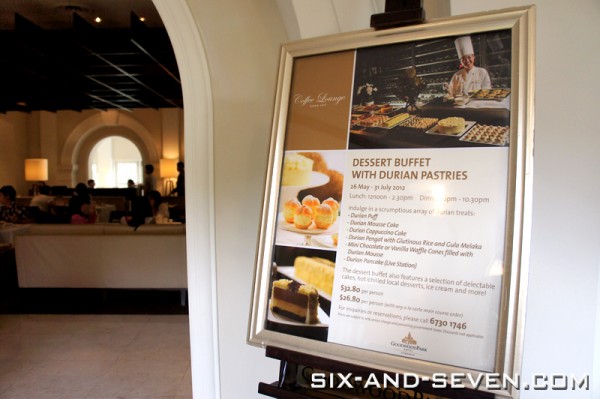 Running through 31st July 2012, the Durian Fiesta promotional items can be bought from the Deli – order form here – or enjoyed along with a selection of cakes, hot and chilled local desserts, ice cream and more in their Dessert Buffet. Prices are as follows: $32.80/pax (Dessert Buffet with Durian Pastries only), $26.80 (Top-up with any ala carte main course order).
Diners may also enjoy the dessert buffet with durian pastries along with the popular Taiwan Porridge ala carte buffet or 'Design Your Own' Local Degustation Menu. For more information and credit card promotions, please visit here.
Note: This was an invited tasting.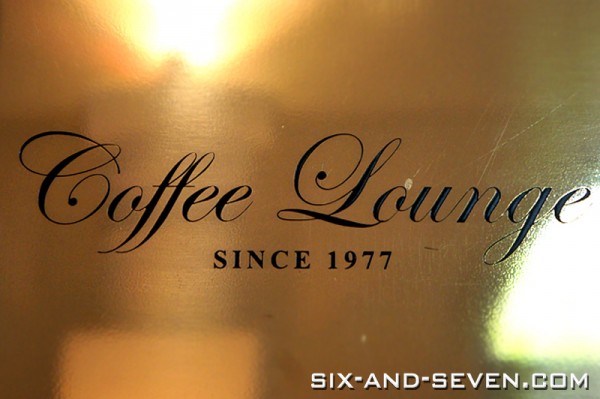 Coffee Lounge
22 Scotts Road, Lobby Level
Goodwood Park Hotel, Singapore 228221
Tel: +65 67301746 | Website
Operating Hours:
Lunch Dessert Buffet: 12noon – 2.30pm
Dinner Dessert Buffet: 6pm – 10.30pm
The Deli: Daily 9am – 9pm