Just when I thought pizzas couldn't get any fancier than deluxe ingredients and top-grade pizza ovens, acrobatic pizza chef Pasqualino Barbasso sweeps into town at Palio, Resorts World Sentosa, with his intricate pizza dough flipping and spinning actions.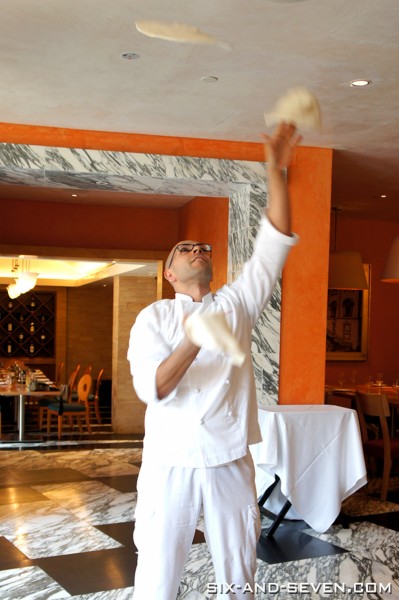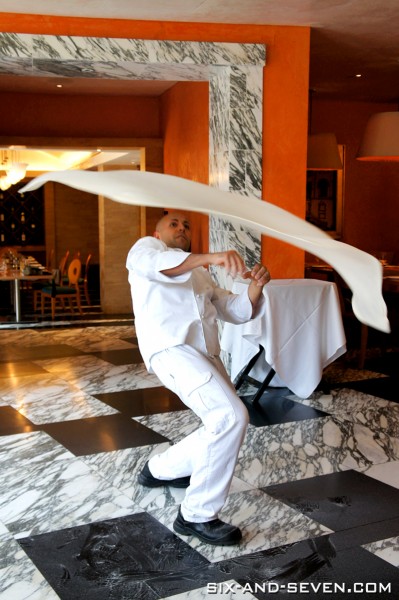 Besides putting on a show for restaurant guests and other spectators—where he warms up to twirling three pizzas at a time before attempting a staggering 1.9m-wide pizza—the two-time acrobatic pizzaiolo world champion will also be serving up some of his signature pizzas in a special a la carte menu during his stay through 8th July.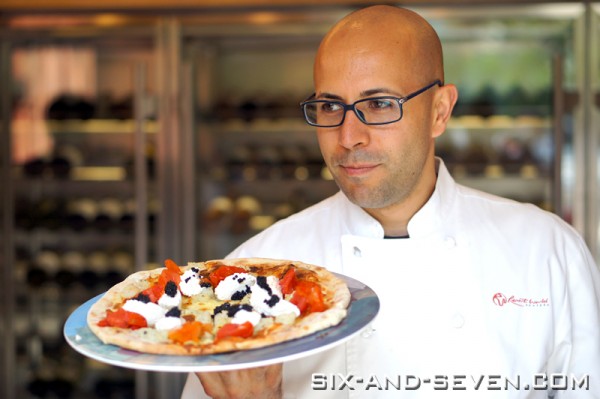 "Bigger doesn't mean better", Chef Pasqualino explains after he completes his performance. He shares that a keen understanding of one's equipment and proper handling of the dough to achieve the right texture is imperative.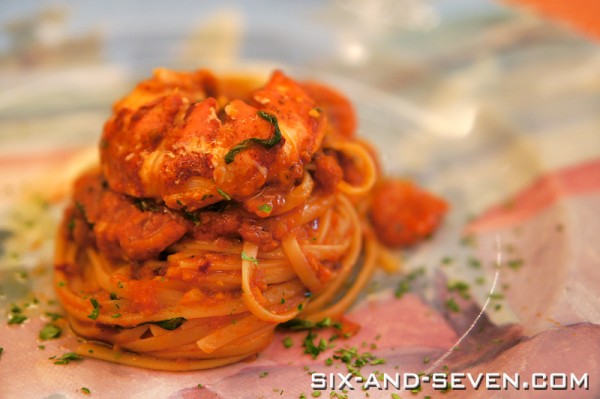 He leaves us with Palio's signature dish of Linguine all'Aragosta ($45. Sampling portion shown, actual portion suitable for sharing) as he heads off to whip up some wood-fired pizzas for us at the restaurant's open kitchen. Executed perfectly to al dente, the pasta had a good bite and held the Arrabbiata sauce well. I usually tend towards cream-based pastas, but the sauce was like a good sambal—spicier and more addictive with bite—and brings out the natural sweetness of the fresh lobster.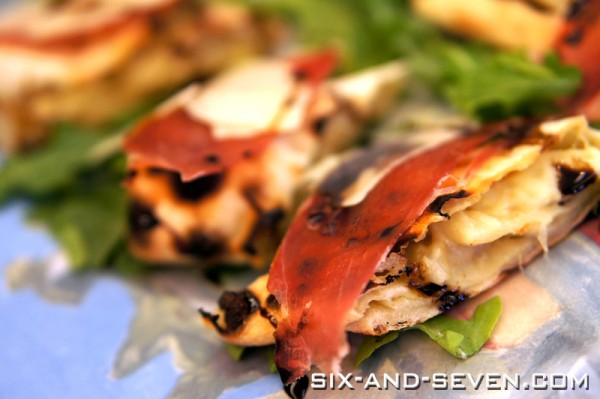 The rolled-up Arrotolata ($34, 12" large) pizza is packed with molten mozzarella which simply oozes in your mouth when you bite into it. The Parma ham strips lend a light sweet-salty taste to the dish's subtle smokiness and mild artichoke sauce, but it is the rucola salad that is the MVP, as its distinctive tang rounds off the different flavours nicely.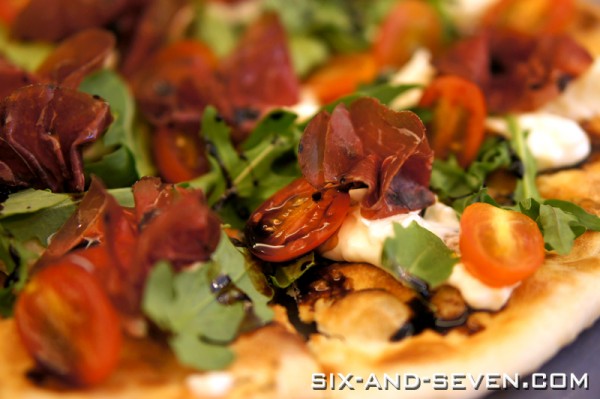 The Bolero ($34, 12" large) comes out thin and slightly crisp, and is best enjoyed with your hands – as it breaks under the use of utensils. The Burrata cheese makes a soft and creamy contrast with the Focaccia pizza base, and allows the juicy cherry tomatoes and Bresaolo (air-dried beef, salted beef) to shine. The drizzle of aged balsamic vinegar reduction further enhances the sweetness of the beef, making it even more palatable.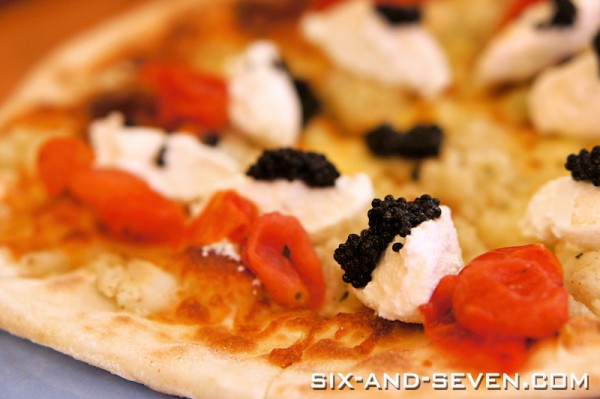 Still keeping to cheeses as the main players in his pizzas, Chef Pasqualino serves up Ricotta in the Cenerentola ($32, 12" large). The surprising use of roasted potatoes gives the dish an earthy, 'green' taste, which highlights the caviar well, but I can't help feel that the dish was a touch dry. Perhaps the use of mash, or a creamier cheese, would have been more suited to my liking.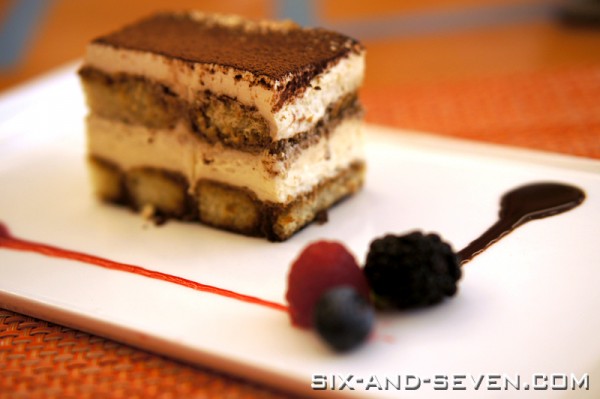 Do plan ahead and save some space for Palio's signature Tiramisu ($14). It is, by far, one of the most balanced tiramisu I've ever enjoyed; the rich coffee is just right, without overwhelming, the ladyfingers were moist, not soggy and the mascarpone at just the right lightness. Unless you're allergic to cheese, or coffee, this dessert is certain to please.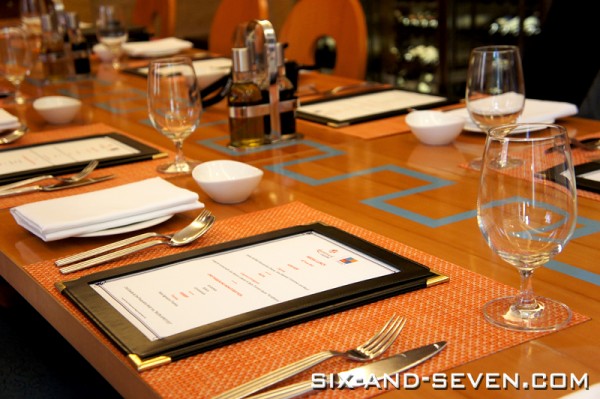 Catch Chef Pasqualino in action at Palio from 5.30pm – 6pm daily, through 8th July, or sign up for pizza-baking classes – Adults ($38++/pax: July 7 and 8, 1 complimentary large pizza) and Kids ($25++/pax: July 5 and 6, 1 complimentary medium pizza) – where he'll flaunt some stunts as well. Call 6577 8899 for inquiries.
Palio may not be the most conveniently located Italian restaurant, but with warm service, eclectic interior concept and a very affordable 3-course $18 Set Lunch makes it worth a trip down.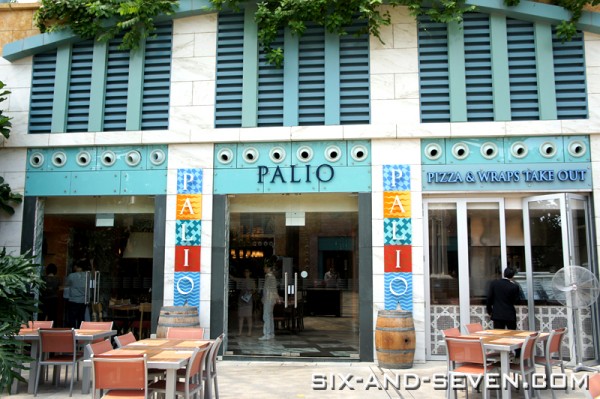 Palio
39 Artillery Ave
Resorts World Sentosa, Hotel Michael Level 2
Singapore 099958
Tel: +65 65778899 | Website
Opening Hours:
Breakfast: 7:30am – 10:30am
Lunch: 12:00pm – 2:30pm
Snacks (Pizza Only): 2:30pm – 6:30pm (Daily)
Dinner: 6:30pm – 10:30pm (Sun – Thurs)
Dinner: 6:30pm – 11:00pm (Fri, Sat, Eve of PH & PH)