Rosy-cheeked Chef Albert Tse may hold a blue Singapore I.C., but his heart lies in Japan—where his work at Conrad Tokyo's award-winning, avant-garde China Blue restaurant has obtained his team and himself a Michelin star for the past four consecutive years. As part of the 2012 edition of the World Gourmet Summit, Six&Seven was invited down to Chef Albert's Epicurean Delights event, where we had a taste of his modern Chinese cuisine at Golden Peony, Conrad Centennial Singapore.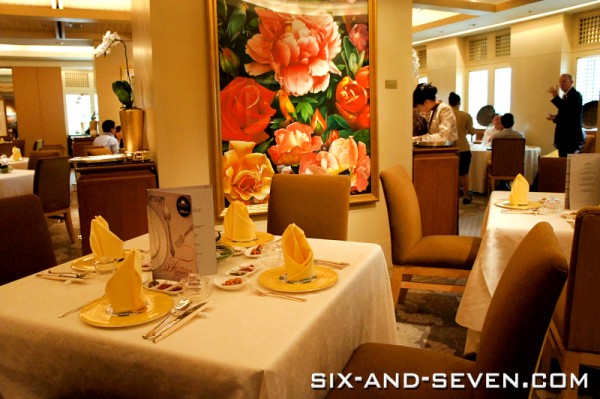 With a firm conviction in the potential of Chinese cuisine, Chef Albert is one of the new generation chefs who believes in passing down 100% of his skills and knowledge to the future generations. "Cooking comes from the heart", he says, so feels one must be happy in order to whip up great dishes – and from what Six&Seven enjoyed, I would say Chef Albert is a happy chap indeed.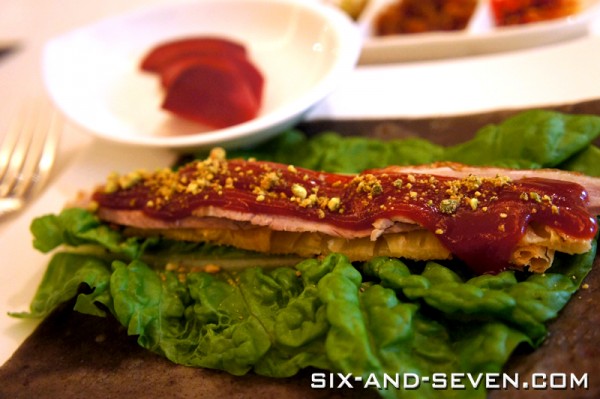 Using a select combination of ingredients, Chef Albert manages to create a layered experience where the ingredients play off one other. Rolled up into a sushi-esque creation, the tender, flavourful duck meat, crisp, oil-free beancurd skin, crunchy lettuce and sweet pineapple complemented each other on a subtle black sesame pancake wrap. What I enjoyed most about the dish was the thoughtful red wine apple bits accompaniment, which acted identical to a pairing glass of red wine and really enhanced the flavours.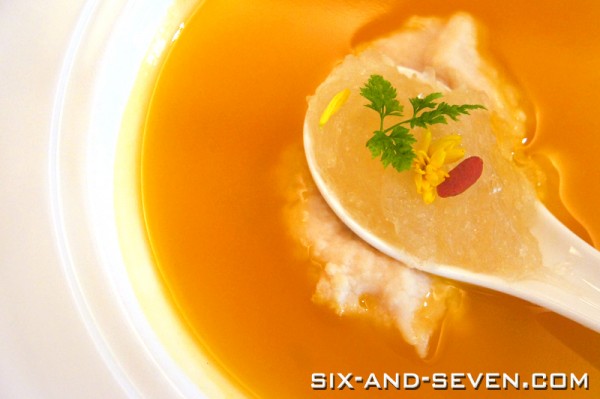 Instead of the same ol', watery bird's nest soup we'd expected, Chef Albert serves up a spoonful of delicate bird's nest atop a potato-chicken mash in a fragrant, pumpkin-orange puddle for his Superior chicken broth of bird's nest. Mixing up the three results in a gooey coalescence, reminiscent of baby food, but surprisingly satisfying. Usually a clear and mild dish, this interpretation definitely lends a much-needed breath of colour – from the carrot sauce – and taste, with its potato-thickened, rich chicken paste.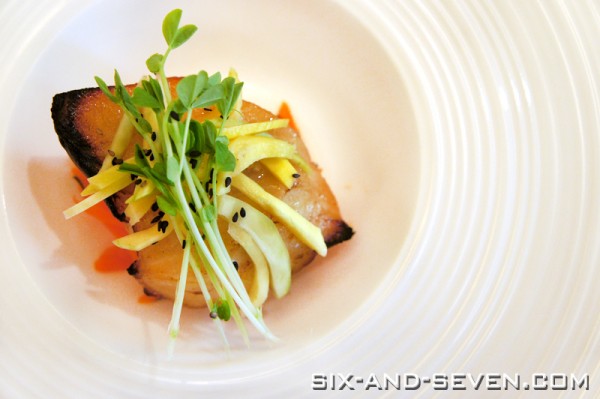 Think 'Char Siew', otherwise known as Chinese-flavoured barbecued meat, but a fish version and you'll have this Baked silver sea perch. The tender white meat possessed a deep, smoky flavour usually only experienced with red meats in Chinese cuisine. Served with a piquant mango salad, and an orange juice- and cointreau-infused bed of carrot shreds, the seemingly simple dish is elevated with the teaming of different textures.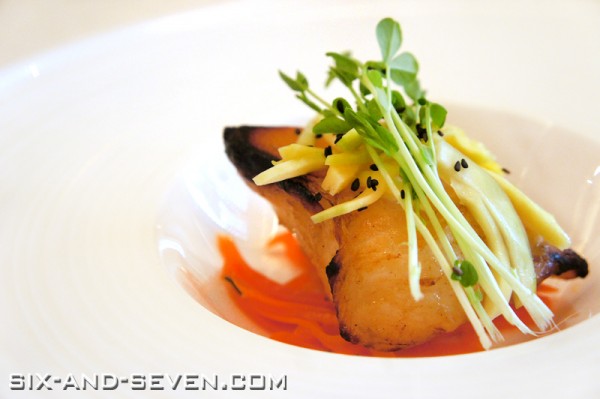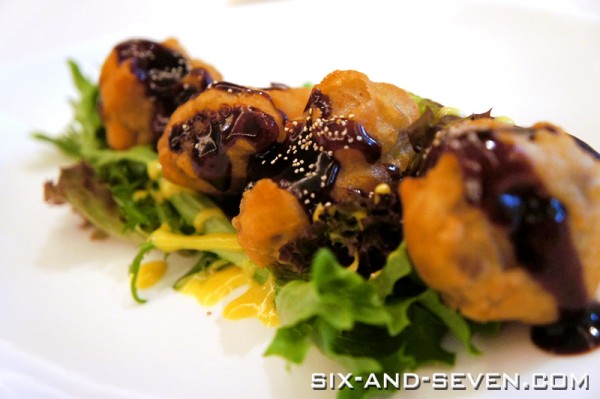 I usually prefer my Wagyu in the form of a steak, or a Josper-grilled patty in between some buns, so I was baffled when Chef Albert decided to present chunks of Golden-fried Wagyu. It may have lacked the gratification one gets from cutting into a full-fledged striploin, but the chef deserves much commendation on his ability to maintain the tenderness of the beef, without overcooking it, despite its beautifully fried, crisp exterior.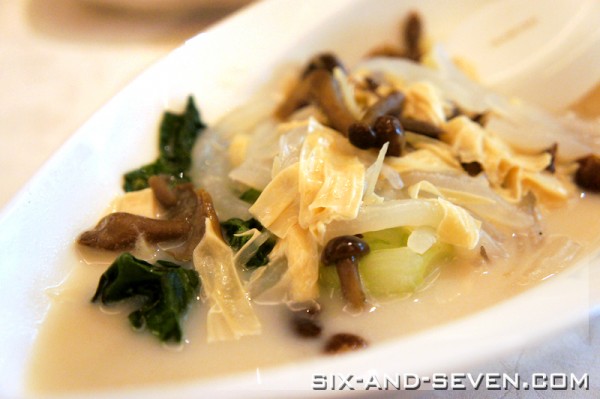 The carb dish that comes near the end of a Chinese meal is usually heavy and filling, because it's rude to let your guests leave hungry, but the chef's modest choice of Poached 'Mee Tai Mak' is pleasantly light. Cooked in a soy milk gravy, that is suitable even for strict vegetarians, with a refreshing hint of ginger, the dish acts similarly to a starter, rousing our appetite for desserts.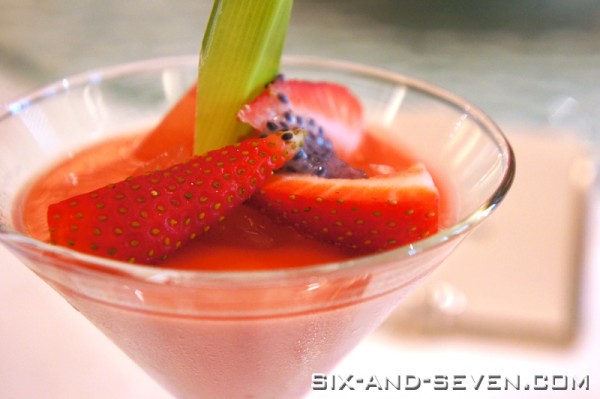 While this dessert of layered chilled strawberry ice cream mousse with strawberry jelly did not blow me away, I must confess I was relieved it was not of the usual puddings sorts. That being said, it's almost impossible to go wrong when you mix fresh strawberries with Häagen-Dazs ice cream, and this delightful dessert certainly hits the spot for something sweet to end the meal with.
Chef Albert may no longer be demonstrating his style of modern Chinese cooking at Golden Peony, but with a kitchen team who has trained under him during the period he was hosted there, I am confident meals at this award-winning Cantonese restaurant will not disappoint.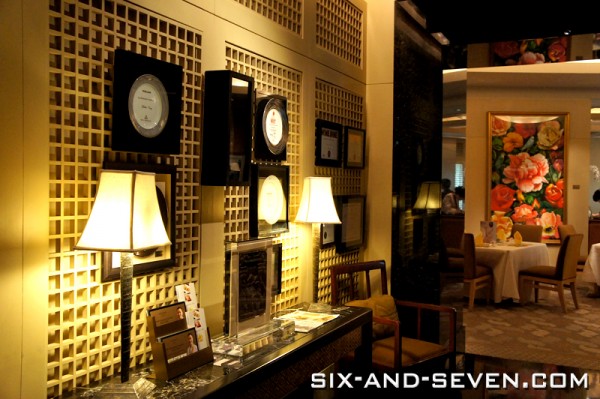 Golden Peony
Two Temasek Boulevard
Conrad Centennial Singapore, Level 3
Singapore 038982
Tel: +65 64327482 | Website
Opening Hours:
Lunch 11.30am – 2.30pm
Dinner 6.30pm – 10.30pm