In this day and age of universal vilification of all things starch and sugar, nothing spells 'indulgence' better than strolling into a hotel lounge decked with dainty decorations of carbs, and simply allowing oneself to savour each and every bite without being apologetic.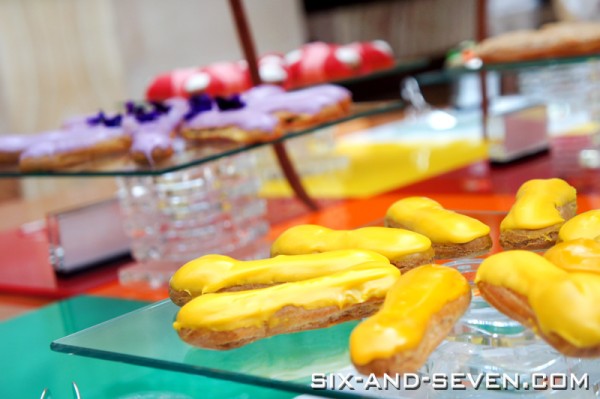 As we slowly move towards a carbophobic culture, where the 'carb-eating' is soon replacing Hugo Boss suits as the new power move for alpha males—and perhaps soon to be the next Olympic sport—what better display of power than Executive Pastry Chef Terence Pang's delectable range of specially created éclairs variations for Chihuly Lounge's new Summer Weekend Afternoon Tea.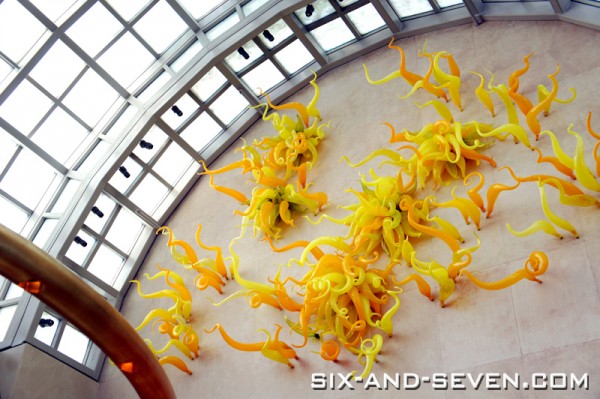 Walking into Chihuly Lounge, the opulent glass sculpture by famed American glass artist Dale Chihuly is first to welcome you, before the friendly staff seats you on understated, chic ostrich leather seats, or the comfy sofa area should you arrive in a bigger group. There is an air of sophistication as soothing Spanish tunes are performed live, and paired with a powerful air-conditioning system, the illusion that I was dining in a classy foreign museum was complete.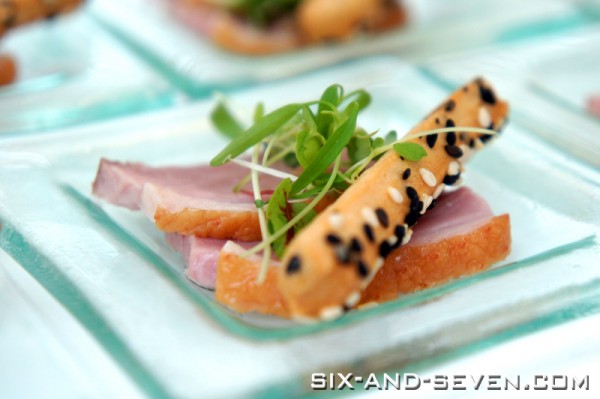 The afternoon tea spread was spilt into 3 sections. The first held a range of hors d'oeuvre, mini sandwiches and pastries, and some cooked items.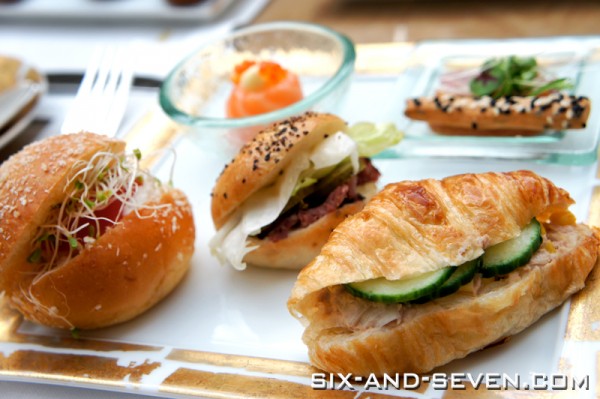 Of the sandwiches, the Tuna mayonnaise may be a crowd-pleaser—with crunchy cucumber slices and refreshing sweet corn that punctuates the distinctive tuna mayo, enveloped in a light, buttery croissant—but my favourite was the Smoked chicken. The slightly sweet carrot roll, studded with sugar flakes, held a creamy chicken mix with a juicy slice of tomato and alfafa make me feel like I was having a chichi version of a kids' Happy Meal burger. The Beef pastrami, however, was a tad too piquant for me due to the mini pickled gherkins.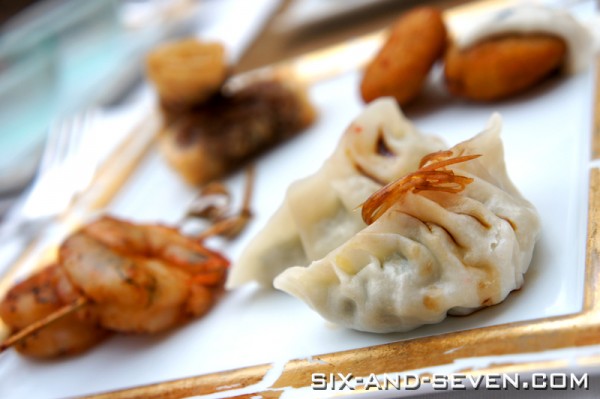 While the Steamed seafood gyoza should appease all that require something dim sum-like in a buffet spread, it was the wonderfully executed Barbecued prawn kebabs with a thick smoky flavour, and the Asparagus Roll with a drizzle of sweet honey soya sauce, to counter the savoury, tender ham and prosciutto ham slices, that were the highlights of the cooked items.
The standard dessert counter by the side offers up a small selection of neatly sliced fruits, scones and their homemade ice cream. While my favourite condiment of clotted cream was not to be seen, the scones here had just the right firm bite to it, slightly reminiscent of a Southern 'biscuit', and is probably best paired with the light yet creamy strawberry ice cream plus a light drizzle of chocolate sauce.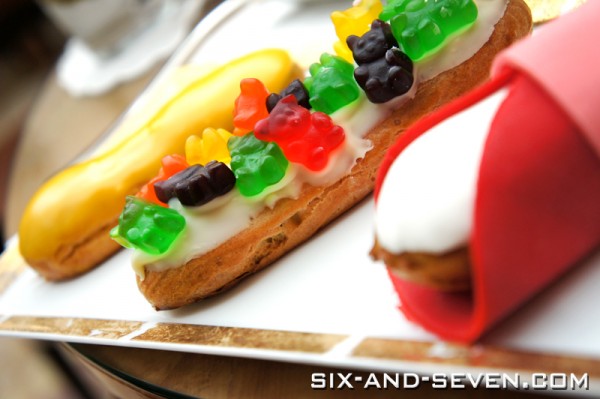 Every three months, Chef Pang whips up a new set of temptation—or challenge, to the body-fat-fixated—for people to revisit Chihuly Lounge, and starting this June, éclairs are his weapons of choice.
I dove straight for the most colourful-looking of the lot: the Cotton candy éclair. Looking like something straight out of Katy Perry's California Gurls video set – I'd half-expected a flash mob to happen when I bit into it – the gummy bear-topped was fun to eat, but not exactly the best party on the tongue. The strong, saccharine scent of gummy bears hit you even before you bite down, and overwhelming everything including the filling and pastry itself. Perhaps it would have been better to be less generous next time around, or diners could try the éclair separately.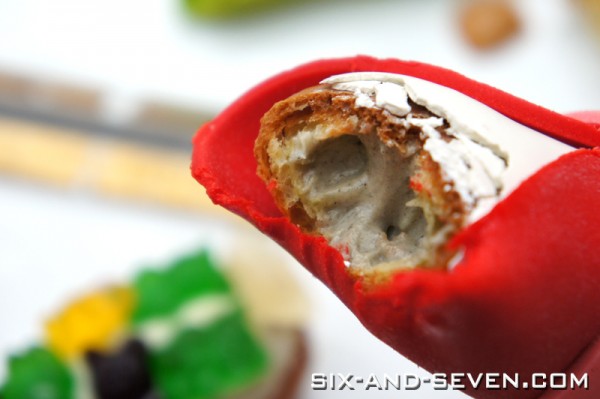 While it does resemble an overstuffed red bowtie in some sense, the Black sesame éclair was not just for show only. Packed with velvety, fragrant black sesame paste that is offset nicely by the pastry and its sugared top layer. While the marzipan doesn't lend much flavour at all, I give the chef points for the pretty packaging.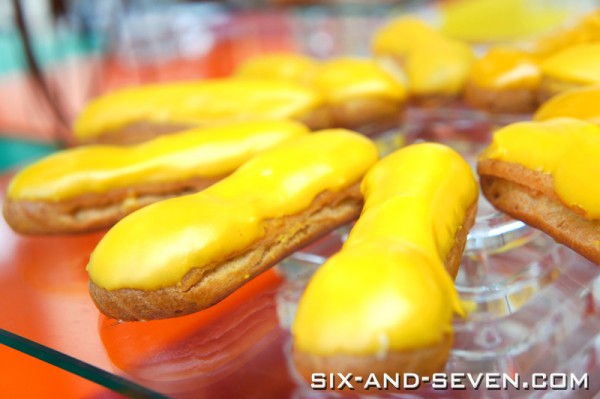 My mother raves on about passion fruit all the time, but I have never been one for it in my dessert. However, with Chef Pang's Passion fruit mango éclair, I may well be a convert. Managing to balance the sweetness with its natural tartness, this uplifting creation helps refresh the palate as well.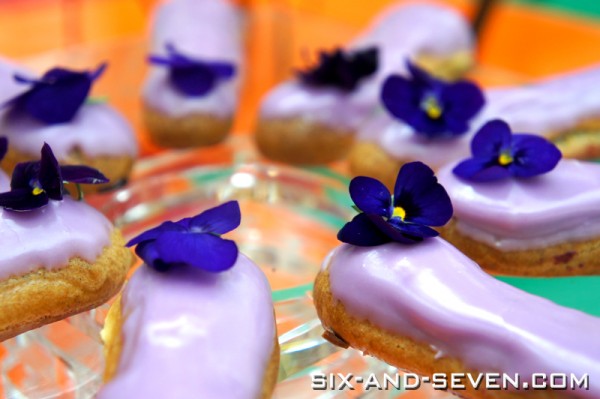 With 12 variations to choose from, there's definitely something for every craving; the Caramel éclair, sinfully coated with a thick layer of crunchy caramel and a flowy, smoky toffee filling; the Mac-clair, an éclair interestingly sandwiched into a macaron and filled with a light pistachio filling; the Casis violet éclair, almost too pretty to eat and filled with a rich blackcurrant filling.
Service is only too impeccable at the Chihuly Lounge. Every plate—even the small hors d'oeuvre plates—were cleared within a minute of being done with it, it was as though the staff were stalking us. Even a crushed straw wrapper I left on the table was gone in a matter of seconds – they didn't even allow me that customary play-twirl around my little finger.
The Summer Weekend Afternoon Tea éclair promotion runs till August 26th 2012, and is priced at $48 per adult (inclusive of freshly brewed and decaffeinated coffee and a selection of teas) and $24 per child (6 to 12 years of age). Available on Saturdays and Sundays from 2:30 p.m to 5 p.m.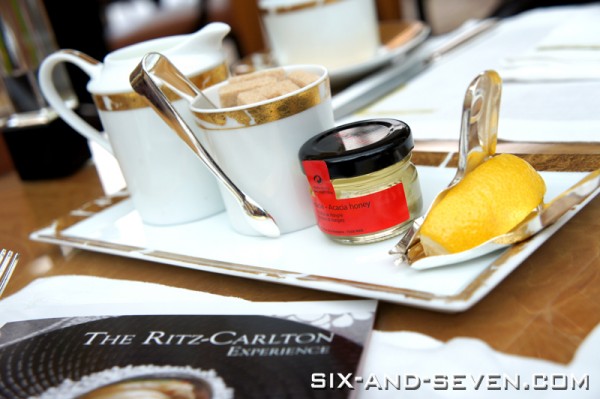 Chihuly Lounge
7 Raffles Avenue, Lobby Level
The Ritz-Carlton, Millenia Singapore
Singapore 039799
Tel: +65 64345288 | Website