As a child, my mother told me never to gobble down my food; but at times when the food is so delectable, I cannot help but to stuff everything down before my stomach can signal my brain to stop. Regent Hotel Singapore presents their new executive chef Laurent Varachaud, a chef that cooks as well as he looks and has a gag reflex that leaves many women embarrassed.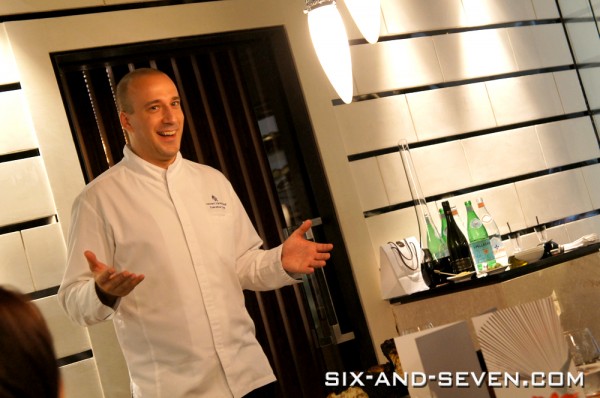 Six&Seven was recently invited down to Regent Hotel to sample some of Laurent's culinary skills. Apart from being able to mouth an entire chocolate tart in one bite, Laurent brings together the best flavours of Asia Pacific and Europe on a plate.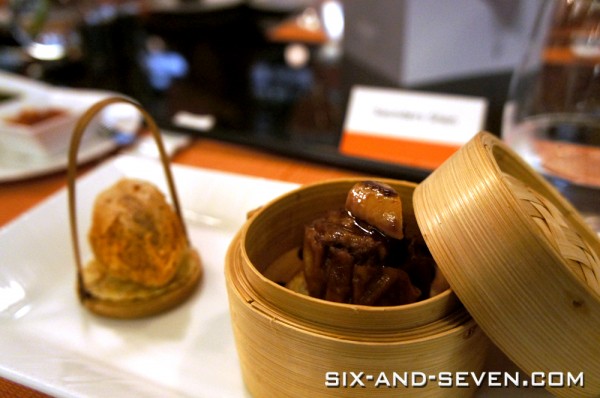 We started the meal with Steamed foie gras dumpling with duck confit and crispy dumpling. Inspired by his tenure in 4 Seasons Maldives, Chef Laurent uses a lightly spiced yellow fin tuna that gave it a distinct taste and consistency that sets it apart from your Ayam brand tuna we are used to.
Oh but the duck confit dumpling is another story altogether. This dish has officially set the benchmark for Siew Mai. It may look deceptively like an ordinary Hong Kong treat, but the substitution of pork for duck confit gave this simple dish an entire new perspective. The foie gras at the top sealed the deal for me.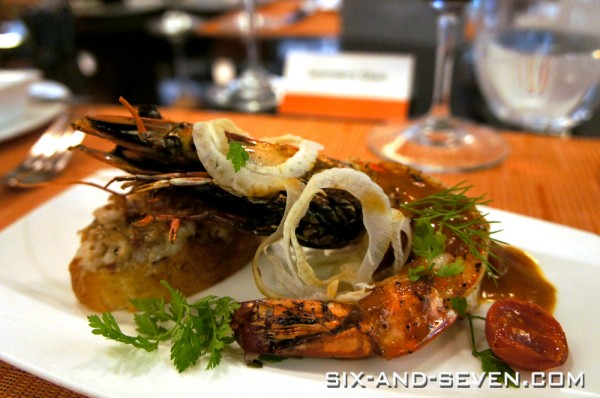 Other favourites that day included the Prawns. The enormous prawns, which were probably on a heavier protein diet than I am, were immensely fresh. They were grilled to around 85% so that the prawns would retain its translucent crunchy feel and also avoid overcooking the tail ends.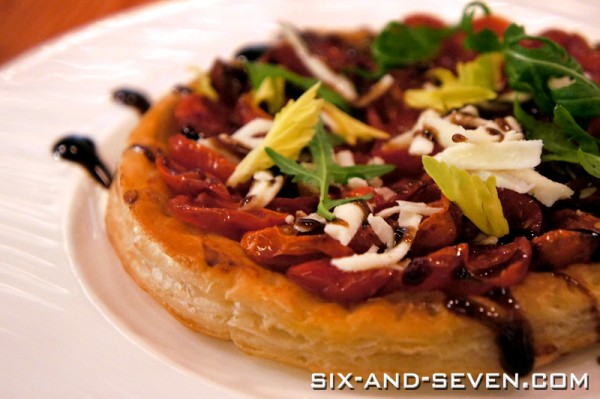 The tart, which Chef Laurent insists it is not a pizza, was also a worthy mention. Inspired by his mom's recipe, this simple and hearty dish was made using the freshest of ingredients.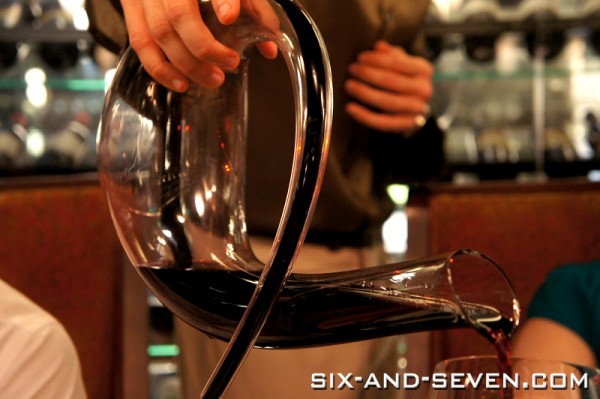 Chef Laurent certainly left us with a good impression, and we are excited to see his creations reflected in Regent Hotel's menu. Additionally, wine connoisseurs may be delighted to know that Basilico's sommelier Martin, is Asia's first to be Riedel certified. Basilico has certainly brought the best to the table by incorporating Riedel into its glassware collection.
Six&Seven would like to thank Regent Hotel and Siew Leng for hosting us. We would also like to thank Camilla for her continuous support, and all the best in her new position.