It had been a while since I last caught up with a dear friend. Wanting a snazzy place in town, yet without the raucous lunch hordes, we decided on Bedrock Bar & Grill. Located at Pan Pacific Serviced Suites, right outside the Marché entrance of 313@Somerset, it was the perfect blend of convenience and exclusivity.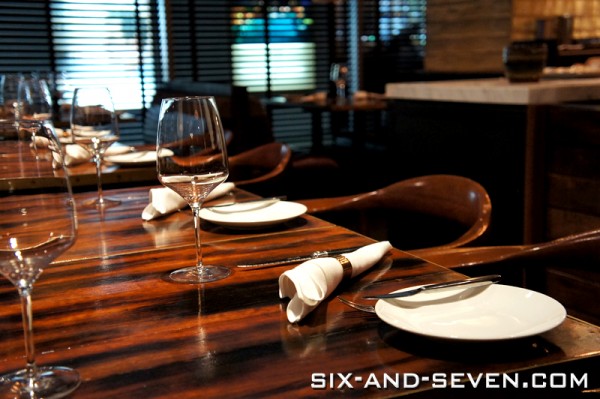 Walking through the bar entrance, it was as though we fell down Alice's rabbit hole, albeit without the crazy freefall. The interior was wonderfully executed, rustic with some modern decadence, and with Americana music in the background, it felt almost like I was back in the U.S of A. Now, if only they could tint the restaurant windows further to block out the executive lunch zombies, which would complete the illusion.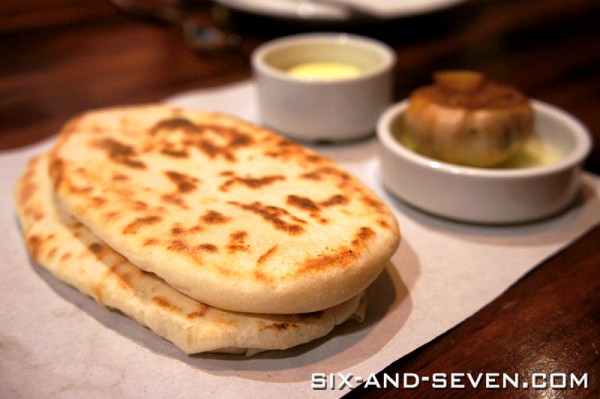 It's been too many times since I've had boring buns to start off the meal, so my interest definitely piqued with their freshly baked à la minute, naan-looking bread. While I was quite puzzled to if the thin parchment was a more economically setting, the 'naan' soon distracted me with its light dusting of flour and fluffy texture.
The roasted garlic was a neat touch, something you truly don't come across at many establishments. Garlic does not taste like garlic after it's been roasted, so feel free to dig in to sweet flesh. The oil, however, I'd recommend not to touch unless you have a taste for the piquant.
We decided on the Roasted bone marrow ($24) starter as my dining companion had never had bone marrow before. While I have enjoyed soup tulang before, this was an entirely different experience. Served like bamboo shoots cut down the middle. The marrow itself was jelly-like and had the consistency of fresh oysters in the mouth.
There was a very delicate smoky flavour to it, which herbs and spices unfortunately mute. The toasted bread pairing, however, really helped to accentuate the marrow's buttery, smoky nature. If Bedrock starts selling this bottled up as a bread spread, I'd be the first in line to get it.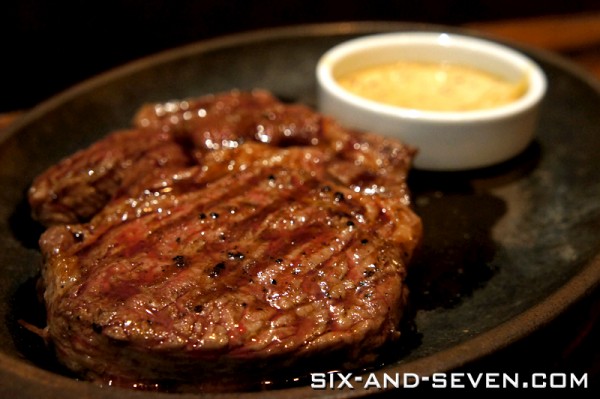 My friend opted for the set lunch—either a 2- or 3-course set with a choice of set—so he only needed to make the effort to choose a main. I usually like my steaks medium-rare, but his Grilled Ribeye steak ($32 for 2-course, $38 for 3-course) done medium-well was surprisingly well done, and not in terms of doneness. It might not possess the pink center that I was accustomed to, but the steak was very tender and succulent, and I would go as far as saying it was one of the better steaks I've had recently.
The accompanying Diane sauce had a mix of caramelized onions and pepper, highlighting the rich flavours of brandy in the creamy sauce which is very well-paired with the steak. The alcohol has already been burnt off, so you don't have to worry about returning to work red-faced.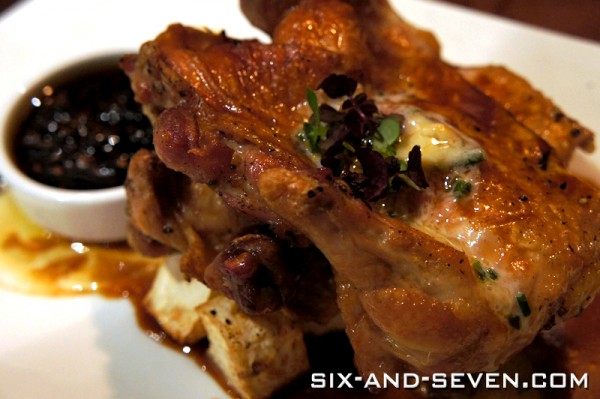 Usually, restaurants that specialize in one meat tend to fall back on the execution of others. However, my a la carte choice of the Applewood grilled chicken ($35) proved that case wrong for Bedrock. The chicken was grilled to a nice golden-brown, the meat cooked very evenly with a subtle fragrance to it, from the apple wood. I liked how parts of the skin were done to a sinful crisp, playing up my guilty pleasure and the dimensions of textures. The two slightly flattened halves of the chicken reminded me of Ayam penyet, though this is definitely a more 'atas' interpretation of the Malay dish.
What I'd thought to be tofu underneath were actually roasted cubes of celeriac. Its crunchy texture, almost akin to onions, played up the tenderness of the chicken. The pairing chilli oil dip would probably appeal more to Saunders than it did to me. The lingering spiciness on my tongue soon escalated into a heat wave, and water is advised. Fans of Ma La Huo Guo will probably see the appeal.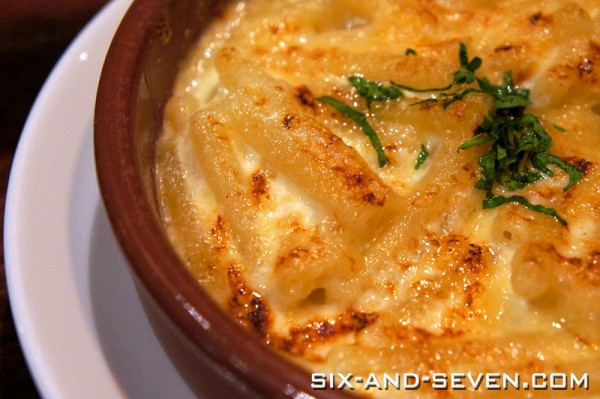 The Bedrock mac n' cheese ($18 a la carte) impressed with its use of rigotoni pasta and blue cheese in the creamy mixture, definitely fresh interpretation of this brunch dish. Personally, I like cheese so I felt that the blue cheese could have been stronger, but my dining companion felt the hint of that acquired taste was adequate. Bedrock has also managed to attain a texture that is not too gooey, unlike those seen in Pizza Hut commercials, which can prove to be messy.
We also ordered the Sautéed mushrooms ($18 a la carte). While the chef has managed to eliminate the gamey taste of the fungus, I think he was a smidgeon heavy-handed with the salt while preparing this serving for us.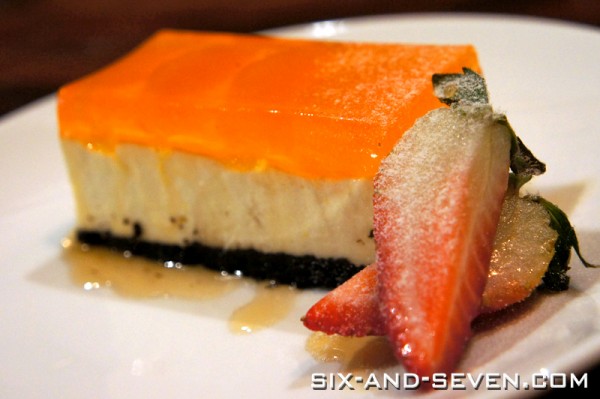 When I first laid eyes on the Dessert of the day that came with the set lunch, I was skeptical about it. Surprisingly, he Orange cheesecake was not a letdown. It had a firm, yet creamy touch to it, similar to that of a tofu cheesecake. I liked that they used real fruit in the layer of almost luminescence jelly.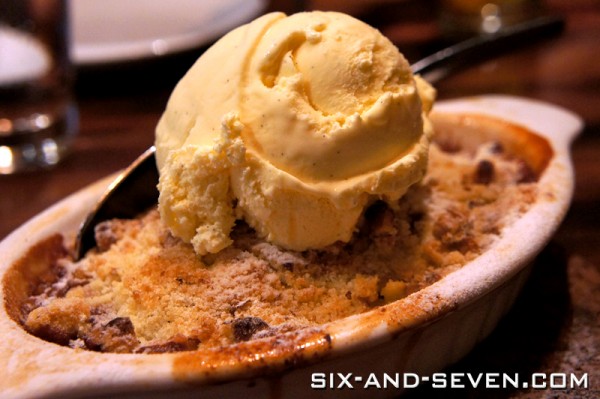 When they said that the Bedrock Crumble ($22) was for two, they did not exaggerate. The sweet, yielding baked apples and aromatic walnuts, and crumbly streusel gave it a very hearty texture, which reminds me of breakfast granola. Breakfast for dessert, I can't think of anything more splendid and sinful at the same time.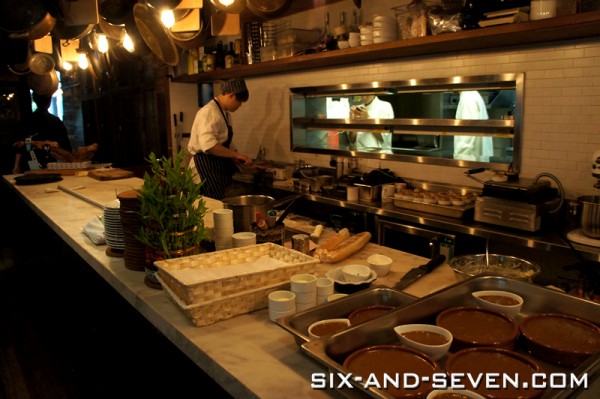 While Bedrock may be named after the town The Flintstones were set in, there is nothing backward about this establishment. Service was impressive; the staff was friendly and polite, really putting forward the Pan Pacific hospitality. While they close at 2.30pm for lunch, the manager did not rush my dining companion or myself, when we stayed beyond that mark.
American Express cardmembers will be pleased to know Bedrock Bar & Grill is under the SELECTS programme, which entitles cardmembers a 10% discount on all a la carte dishes for lunch.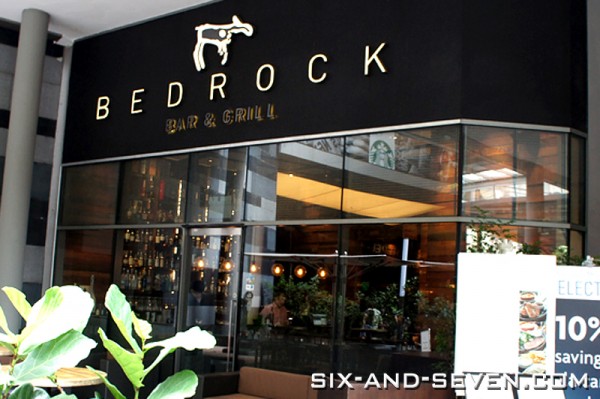 Bedrock Bar & Grill
96 Somerset Road
#01-05 Pan Pacific Serviced Suites
Singapore 238163
Tel: +65 6238 0054 | Website
Opening hours:
Mon–Sat: 12pm–2.30pm, 6.30pm–12am
(Closed on Sun)
As we value honesty and integrity here at Six&Seven, all food reviews have been paid for by our writers.