Singapore is an island of food- and buffet-lovers – it's probably the reason there are so many buffet restaurants locally. After hearing much about Basilico (and 'cause I'm a big fan of The Regent Singapore's Tea Lounge), I immediately jumped at the chance to try it out during Restaurant Week. There might not have been much of a discount for that promotion, so Six & Seven investigates if it provides us that bang for buck.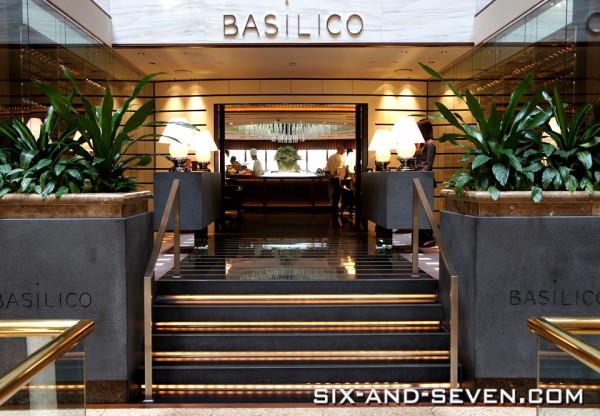 Stepping inside, I was pleasantly surprised with their layout of the buffet. Often, the different types of food laid out in a way that you have to recall where each section is. Here, everything is within view, which makes planning your meal easy.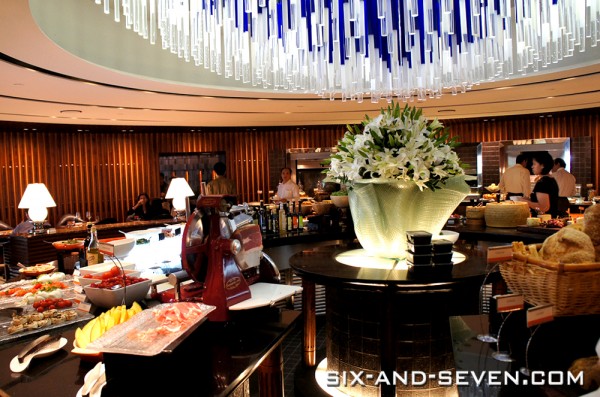 Centre Aisle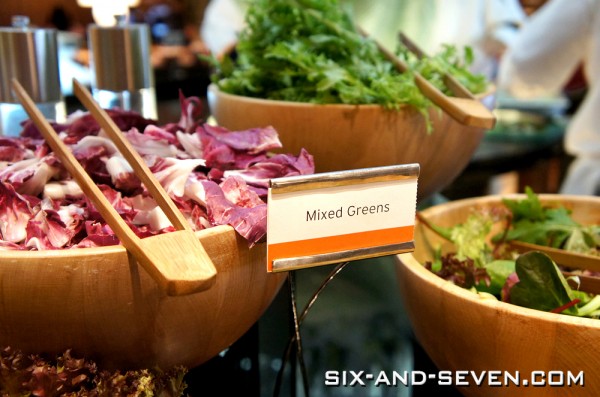 At Basilico, there is one thing you can be sure of: abundance. Even at the salad bar (centre aisle), we were spoilt for choice!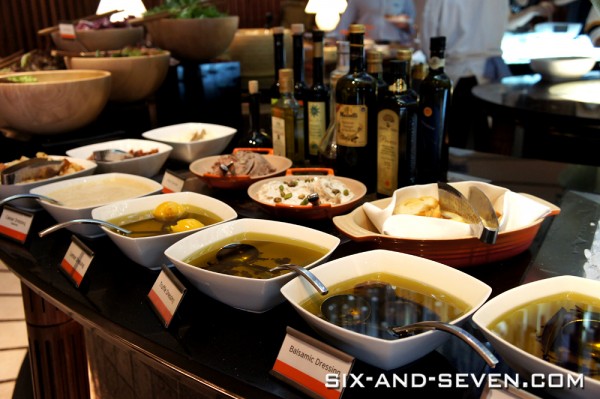 Besides the fresh, leafy greens, there was a whole range of dressings, from truffle or lemon dressing to bottles of aged balsamic vinegar as add-ons, no two salads are the same experience.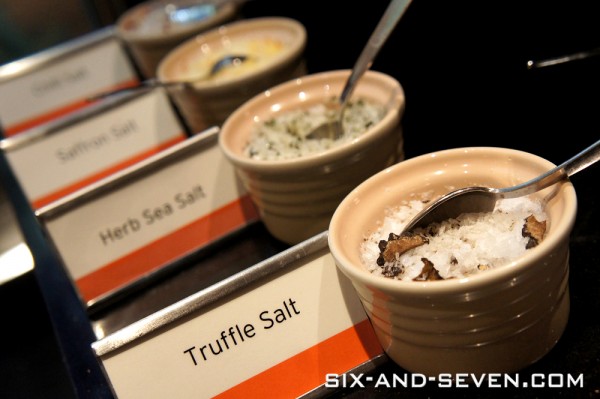 Or you aim straight for the infused salts. Yes, you saw right, truffle salt!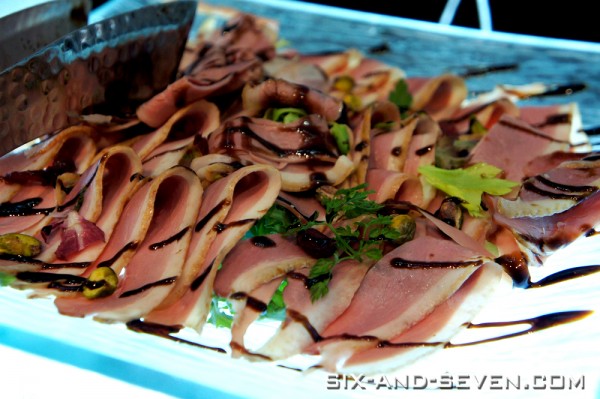 The smoked duck salad is a definitely must-try! The little drizzles of sweet sauce did aplenty to highlight the succulent duck slices.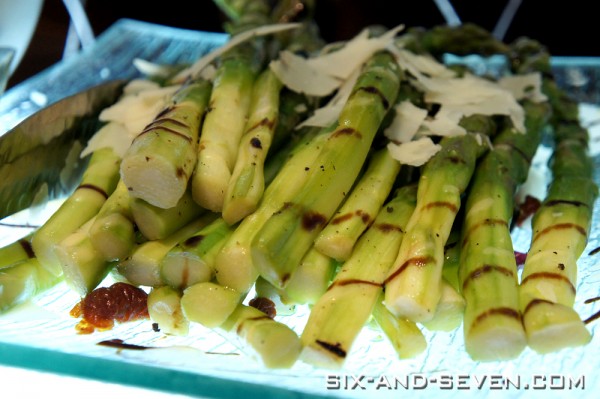 The asparagus salad features huge pieces of the fresh vegetable, perfect for people who like their greens or as a side when you feast on meats.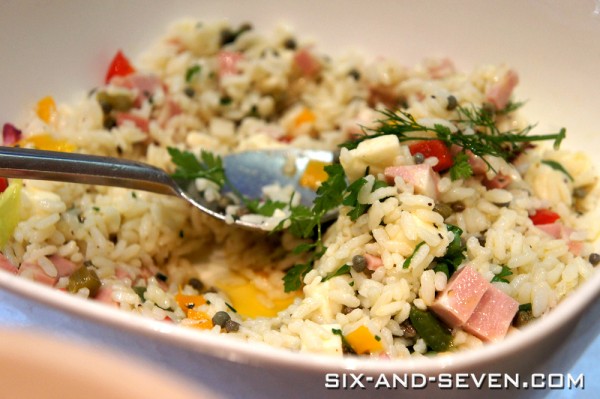 The risotto salad is done al dente, the separate grains providing some bite. I much preferred mine soft and creamy, so I did not take much of a fancy toward this dish that could probably be a wetter 'fried rice' substitute for Asian tourists.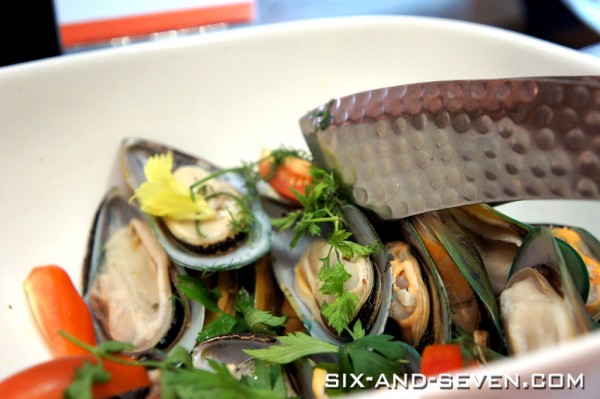 Besides the more standard salads – yes, there is more – there are also more indulgent salads like the smoked salmon salad or the oyster salad.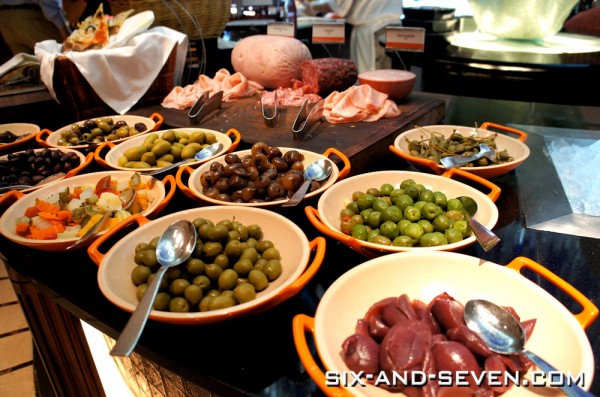 Or go for the savouries. A wide assortment of pickled choices and hams is available. Try the thinly sliced parma ham and sweet melon combo. Delish!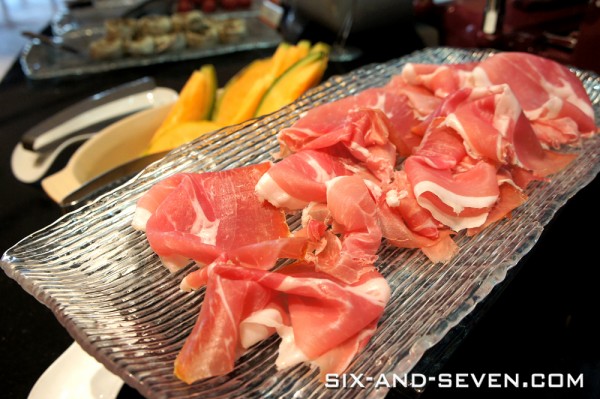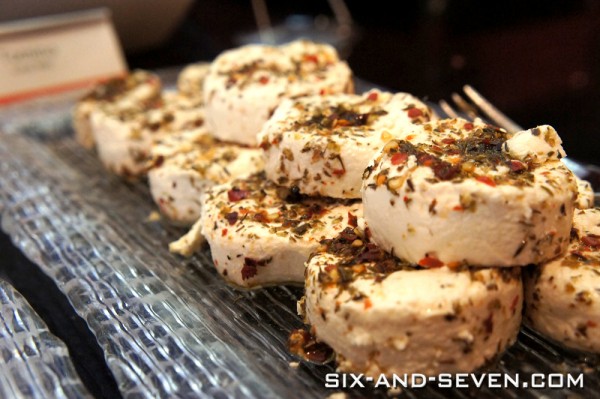 And now, cheese. Besides the wet cheeses like tomino (goat's milk), mozzarella (buffalo's milk) and treccia (cow's milk), ample hard cheeses are placed near the condiment area for the picking! As a cheese-lover, I enjoyed the variety.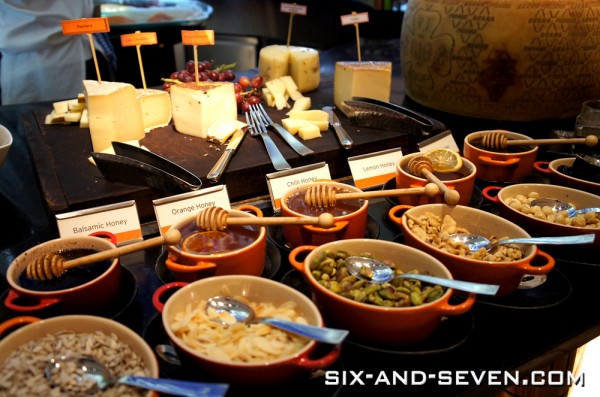 Have I mentioned the range of condiments available? The wide-spread of the different honey's, toppings and jams alone is enough to confuse!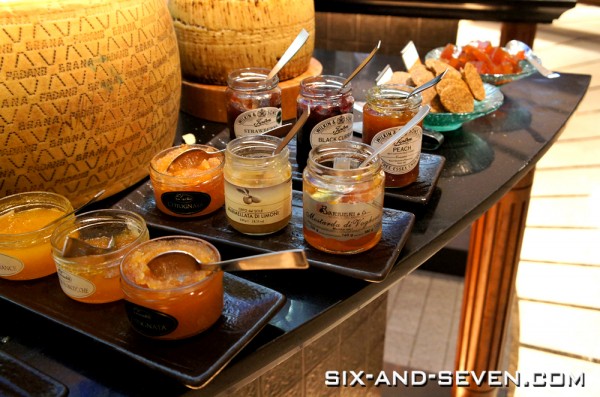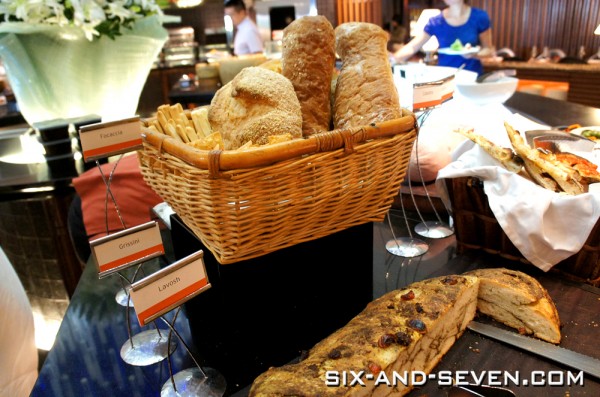 An easily overlooked area is the bread station. As someone who's concerned over his waistline, carbs are usually not my first priority, but with my first bite, I was hooked! Everything was executed perfectly; it was how all breakfast tables should be like.
Side Aisle (Food)
Yes, we've only just begun. There is a lovely selected of roasted and grilled items to enjoy at the hot food section.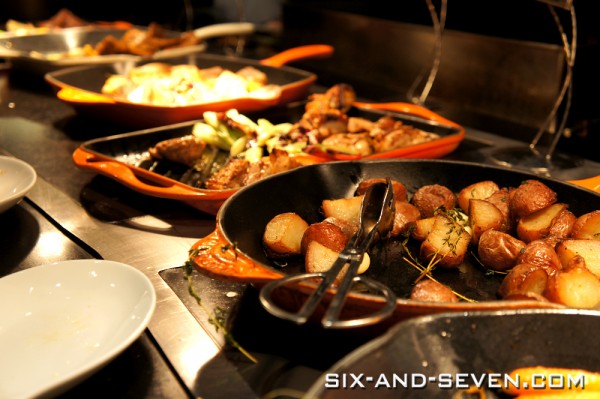 Potatoes are my guilty indulgence. (If there were potato crisps, I'd taken a whole plate of them!) Having had experiences with overly hard or salty versions, I am happy to say that the rosemary-roasted potatoes here were firm and flavourful (and we definitely had more than just a few.)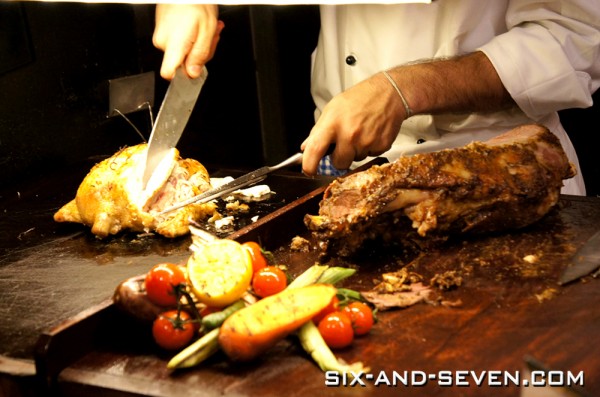 There is also a chef stationed around the corner to cut and serve slices of the tender roasted chicken and roasted beef, great with either horseradish or herb mustard.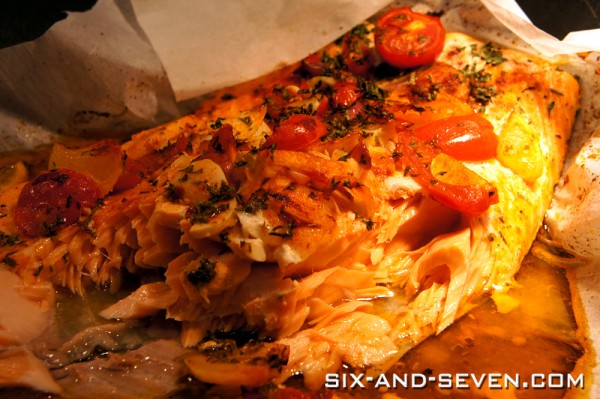 Of all the meats, the roasted salmon stood out with its hearty flavour and freshness. The way they've transformed this simple dish is amazing.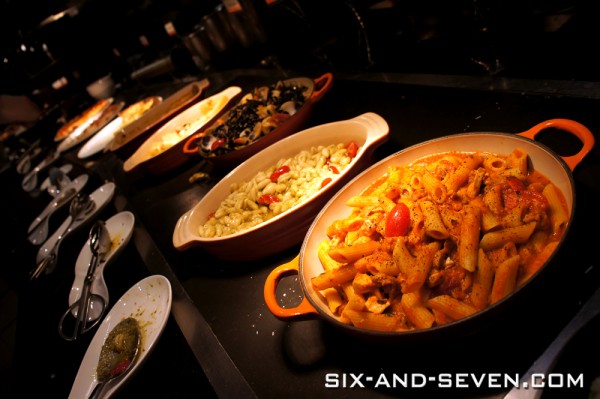 The pasta station is definitely not to be missed! Besides the gnocchi in basil sauce which I didn't fancy, everything else was scrumptious. Filled with springy Wagyu beef and pork, the lasagna was full of flavour and textures.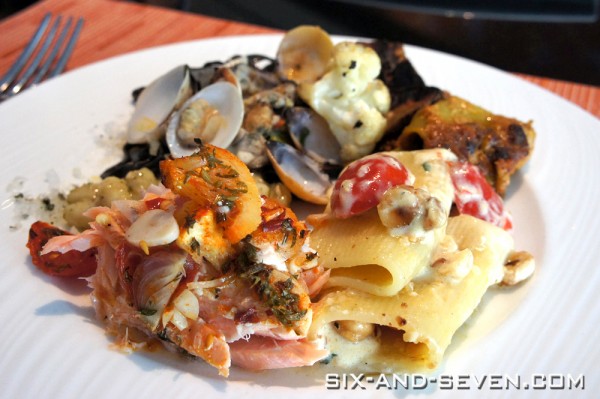 The cream sauce penne surprised me with the bits of small sweet, cherry tomatoes and fragrant nuts, giving a whole new dimension to the dish.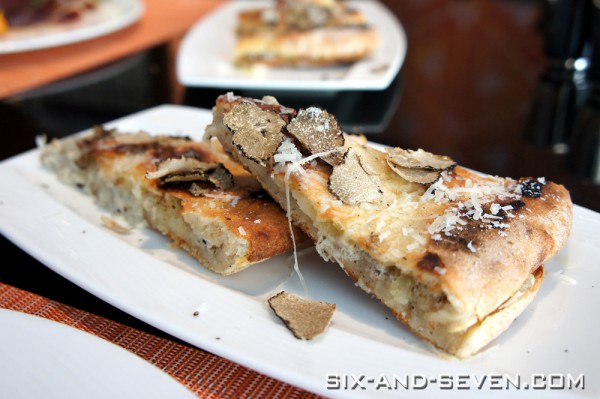 One of Basilico's signature dishes, Focaccia Mascarpone, a pizza-looking baked Italian bread came with truffle-infused mascarpone cheese, Cepe mushroom spread and topped with rich black truffle shavings was simply divine.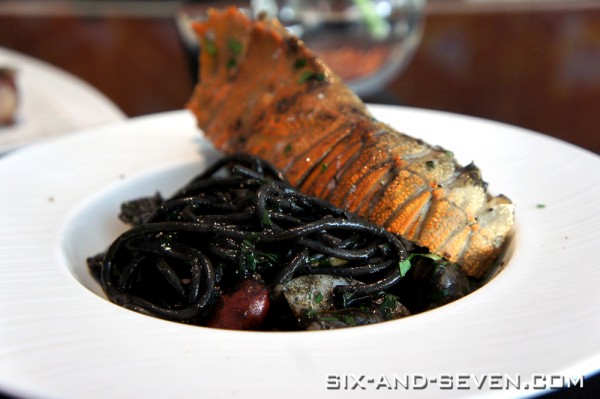 For a foodie like me, it must come as a surprise that this was my first time trying squid ink pasta. I've usually stuck to cream-based ones, but who knew something so black could be so creamy and flavoursome? I'm a convert now.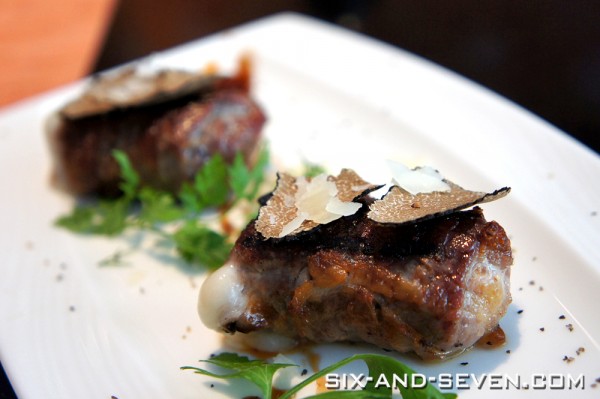 The next signature dish (which name escapes me) is a dish of grilled Wagyu beef  enveloping cheese served with a red wine reduction. Perfectly cooked on the outside with juices sealed in, the dish had a distinct smoky taste. Even Saunders who isn't a big fan of cheese enjoyed the unique texture of the dish and smooth molten cheese.
Standalone Island (Asian)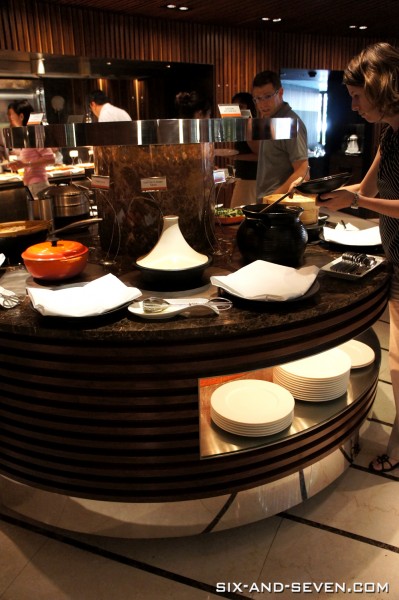 Yes, you saw right – a standalone island of Asian cuisine. It was like a little Chinatown in the middle of Italy!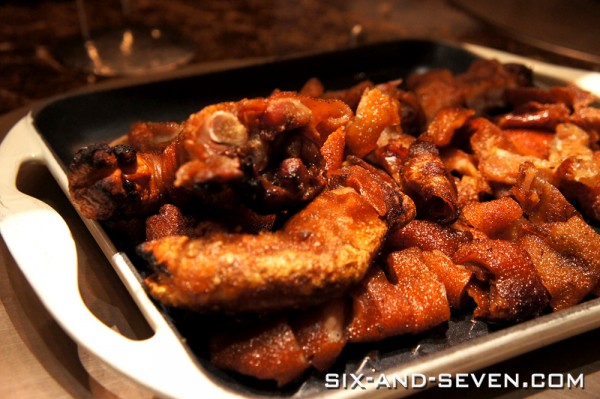 Besides the very 'obviously Asian' cooked greens and other dishes, the sinfully crispy roasted piglet and individually 'packed' Loh Mai (glutinous rice) caught our attention.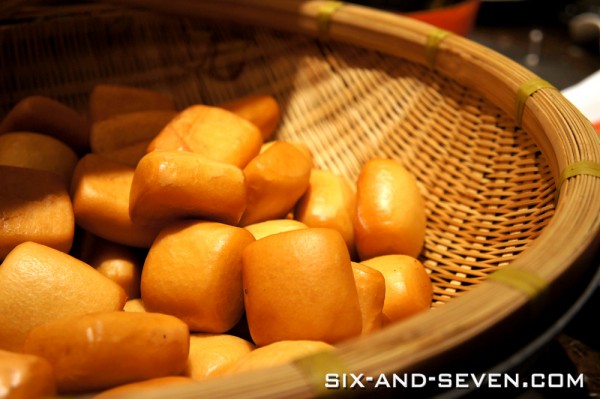 When we saw the Man Tou, we immediately thought of dipping it into some chilli crab gravy, which was sadly not available. A sweet and spicy prawn curry was the closest replacement, but filled the gap nicely.
Side Aisle (Desserts)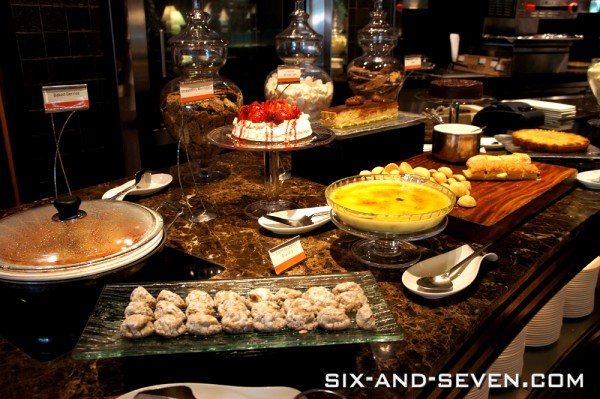 No buffet is ever complete without a dessert section, and Basilico sure has that covered. Seeing the spread they have to offer, I feel that their $18++ 'half-buffet' is worthwhile even if you just attacked the desserts alone. Just look at all the goodies up for grabs!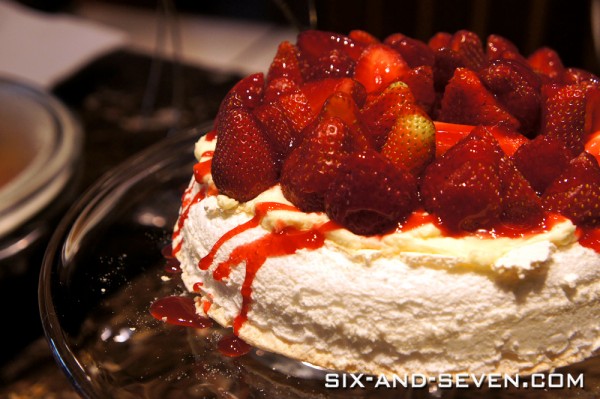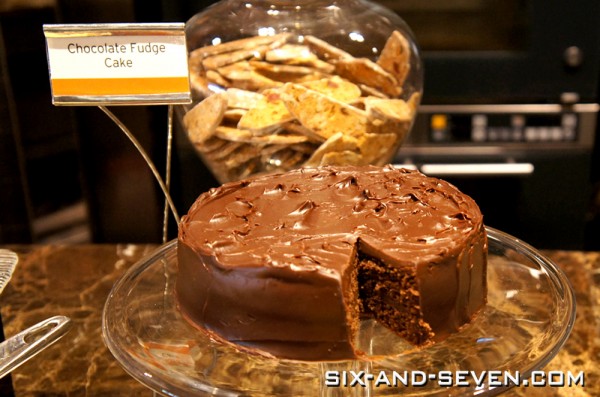 If you like your cakes, then the rich chocolate fudge cake a must-eat!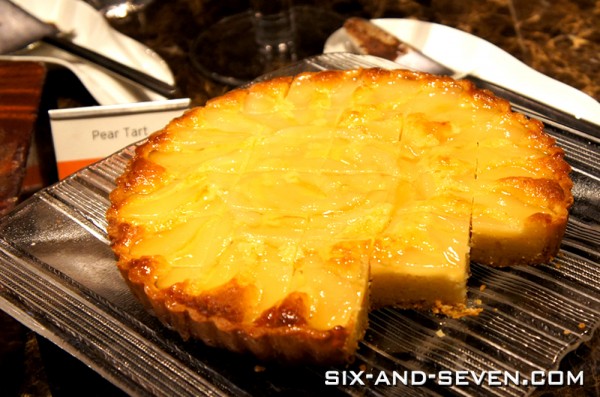 Saunders, who bakes as a hobby, gave the pear tart his approval (and even went back for seconds), so this is one to lookout for.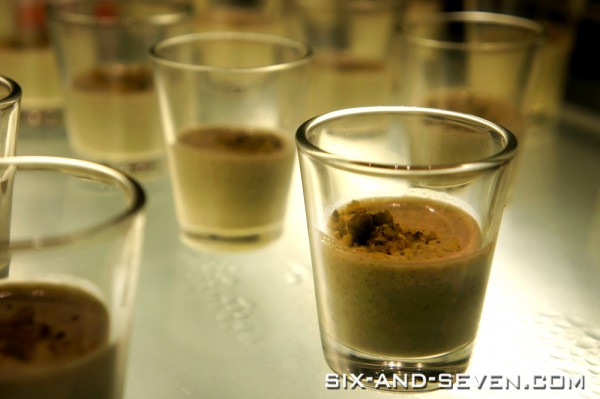 I'm not usually a fan of pistachio, but the smooth and delicate pistachio panna cotta had me craving for more.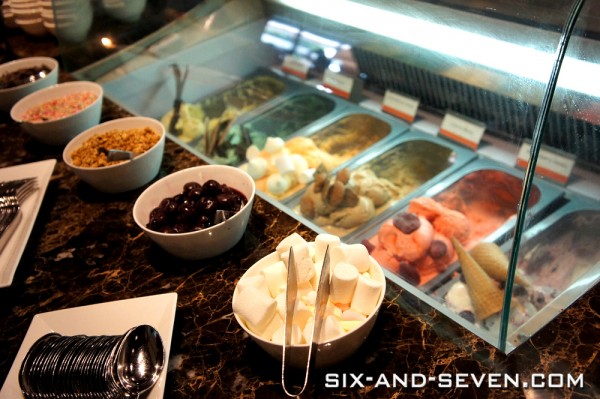 I did not have the chance to taste their in-house made Italian gelato (damn you, time that waits for no man) but I overheard diners describing how it's of just the right sweetness and goes really well with the dense, mushy baked berries!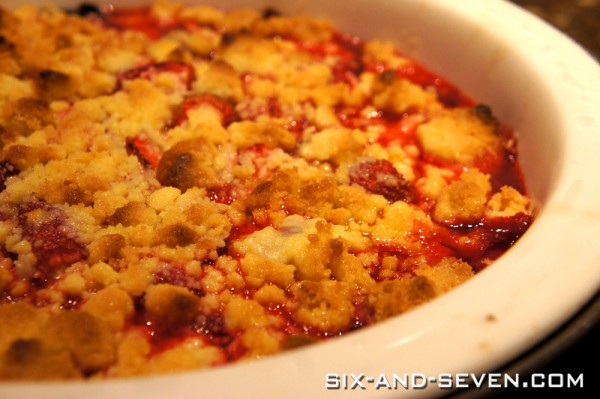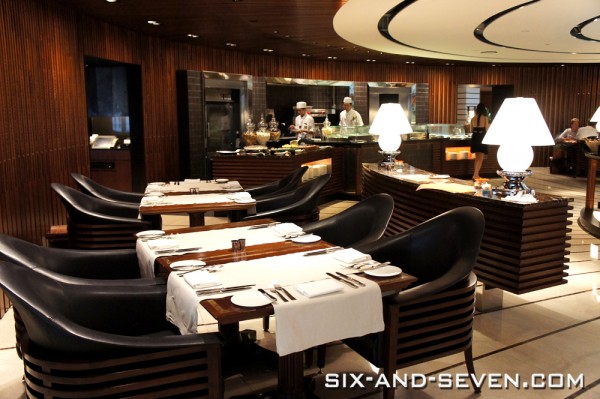 Basilico is a fine-looking restaurant with remarkable food. With quality food and personable service provided, the $42++ weekday lunch buffet price tag is more than justifiable. Diners looking for a splendid place to try an Italian spread should definitely head down. Another point I like is how there is enough space between tables so you can still dine in comfort. Ask for the seats by the pool if possible, the view is great!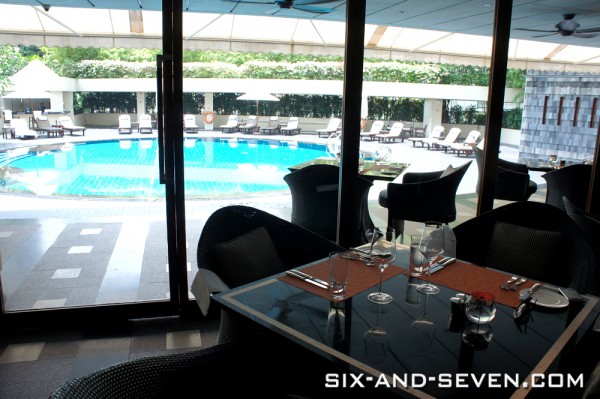 It's not always that Saunders and I come to terms on our preference for food, but our experience at Basilico is definitely putting this into our 'To Recommend' list.

Did it turn us on?
Chef Angelo of Basilico certainly did.
As we value honesty and integrity here at Six&Seven, all food reviews have been paid for by our writers.
Basilico
Level 2, The Regent Singapore Hotel
One Cuscaden Road, Singapore 249715
Tel : +65 6725 3232
Weekday Lunch Buffet $42++ | Saturday Lunch Buffet $46++
Sunday Brunch Buffet $69++ | Daily Semi Buffet Dinner $69++